School's (almost) out for summer! The summer holidays are a wonderful chance to spend time with our families, friends and loved ones. It's a time where we want to get outside and make the most of the longer, brighter and warmer days. Summer is truly a green time of the year and you can also make the most of it, and build memories, with green, eco-friendly summer holiday activities for kids.
If you were worried about how you were going to fill those weeks ahead, you've come to the right place! Embrace your little ones' curiosity and creativity this season with some eco-friendly activity ideas from us…
Fuel their imagination: eco-friendly toys & playsets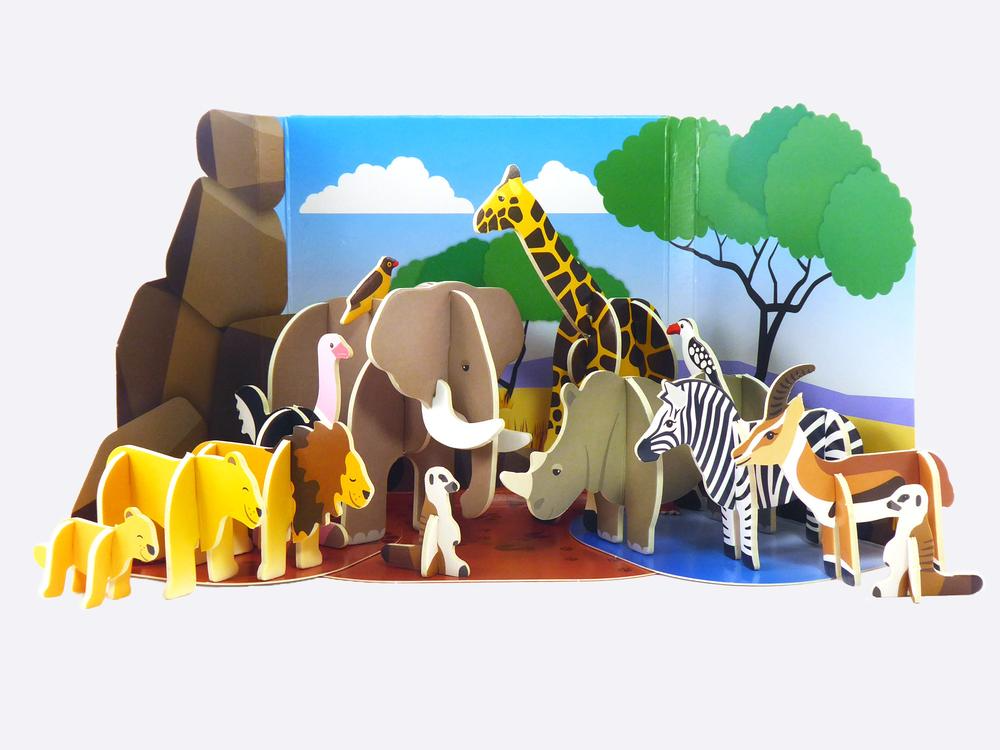 Whilst toys are important for learning and developing creativity and imagination, there's a need for toys that are not only play-friendly but also planet-friendly. About 90% of all toys are made from plastic and given the ongoing plastic pollution crisis, this is huge a concern for our planet.
Offering sustainable alternatives, Playpress create buildable, eco-friendly playsets, for ages 4+ years. They believe in the power of planet-friendly, hands-on fun, with toys designed to let children play creatively while helping them develop key motor and cognitive reasoning skills and are made here in the UK
Playpress is made from Playboard, a sturdy material that's strong enough to stand up to everyday adventures but also completely FSC® (FSC-C004309) certified, recyclable and biodegradable. They also use vegetable-based inks and water-based glues that are vegan, biodegradable and ocean-friendly.
Reading time: climate change adventure books
Books are a fantastic way to open our minds to new experiences, learnings and stories, at any age. They can be both educational and fun and The Tinaglings Climate Change Adventure Books tick both of those boxes! Learn about climate change in a fun and exciting way with environmental children's books that can teach both you and your little ones, more about how you can help save the planet!
The Tingalings children's picture book series follow 5 loveable creatures, climate adventures, exciting animal rescues, fun facts and climate solutions for mini-Earthlings! The Books are printed in the UK on recycled paper (100% post consumer waste). Meanwhile, all profits are donated to Mabel's Enterprise, where all profits go to Mabel's Fund to pay for inspiring school trips in the highest pockets of child poverty in the UK.
Click to shop The Tinaglings Climate Change Adventure Books
Get in the garden: plant some 'Dino Poop' wildflowers
The kids will love getting their hands all messy with this 'Dino Poop' mini DIY seed bomb kit, containing a wildflower seed mix to make 2-3 seed bombs- just add water at home. Then the fun can continue, going outside to find the perfect patch to grow some bee and butterfly friendly wildflowers. This mini seed bomb kit is a great activity for children which can be done indoors (or out), which is great if you're not a fan of clutter hanging around your house.
Click to shop Sprinkles of Nature
Get artsy: soy wax crayons
These handmade non-toxic soy wax crayons comes in a variety of super cute shapes, with a blue, green, red and yellow themed crayon in each pack. Soy wax is made from soybeans and is a natural and sustainable alternative to traditional paraffin wax crayons. They're designed to be easy to grip, allowing little hands to explore this new texture and shape.
Sprinkles of Nature herald children as their inspiration when creating these and other plastic free, reusable or biodegradable products.
Click to shop Sprinkles of Nature
Connect with wildlife: build a bug hotel
A cosy hotel for creepy crawlies and a great opportunity for children to be involved with learning more about their natural environment, this DIY bug hotel is the perfect nature adventure!
The adventure starts with a scavenger hunt for the children to seek out some extra materials for the mini beasts to enjoy. As the kids learn about insect habitats they will also discover who might come and stay in their hotel and watch as the insects settle into their new home. After the hunt, it's time for the kids to get creative with their cut-and-stick seed paper bug hotel scene. They can mix up their own natural, plastic-free glue mix and stick on their bugs and signs however they choose. Then it's time to construct their bug house.
As the seed paper begins to weather away from the bug house the fun doesn't need to stop. You can choose to plant this in the garden or tear up to plant into pots and watch as new flowers bloom. Children will love building their bug hotel to keep in the garden, discovering who has moved in and what different materials attracts different insects.
Click to shop Sprinkles of Nature
Get in the kitchen: bake some delicious treats
Okay, maybe cooking in the kitchen isn't the first thing that comes to mind for summer activities. But a friendly reminder, here in the UK, a cloudy overcast day is never off the table. So, for those typically British summer days, a spot of baking is the perfect family activity.
Creative Nature believe products that claim to be healthy, should also be tasty. Why have a healthy diet if you're just not going to enjoy yourself?! All of their mixes are vegan-friendly and allergen-free, with all-natural and organic ingredients to help you feel your absolute best! Bake them with friends, family, or your kids this summer for a fun and tasty treat that brings everyone together!
Get out in nature!
Of course, one of the most obvious activities to embrace in summer is to simply get out in nature! Harness their youthful sense of wonder and adventure and explore new places. If you're planning on heading off the beaten track or simply going to relax in the park, Pip & Henry offer perfect eco-footwear solutions.
Pip & Henry is committed to producing eco-friendly shoes, using innovative materials such as Pineapple Leaf Fibre, organic cotton, and recycled rubber. They use 100% recyclable and compostable packaging, and produce in small batches are committed to ensuring factory workers are paid fairly in good working environments.
Have a great green summer
Whatever activities you choose to enjoy this summer, keep both your kids and the planet in mind. After all, it is the younger generations who will be the ones to live with the realtime implications of the climate crisis, unless we all take action. As put by UNICEF Executive Director Anthony Lake. "Today's children are the least responsible for climate change, but they, and their children, are the ones who will live with its consequences". That doesn't mean that we can't still make the most of summer and create precious memories. Instead, it means approaching fun activities in a conscious way, to ensure everyone, including Mother Earth, can have the best time possible.
Click here to shop the full Eco-Friendly Summer Holiday Activities & Essentials edit.