London is bursting at the seams with new and exciting vegan restaurants. With so much to choose from, we have compiled a guide for you of the best vegan restaurants in London that you can't miss! A place full of culture and diversity, London has hundreds of options and interpretations of vegan cooking to offer.
Whether you're in North, East, South, or West, Veo has got you covered with the most delicious vegan cuisine coming from all over the world, straight to your doorstep. Skip to your area in the list below, or browse the whole city…
---
Central London Vegan Restaurants
Club Mexicana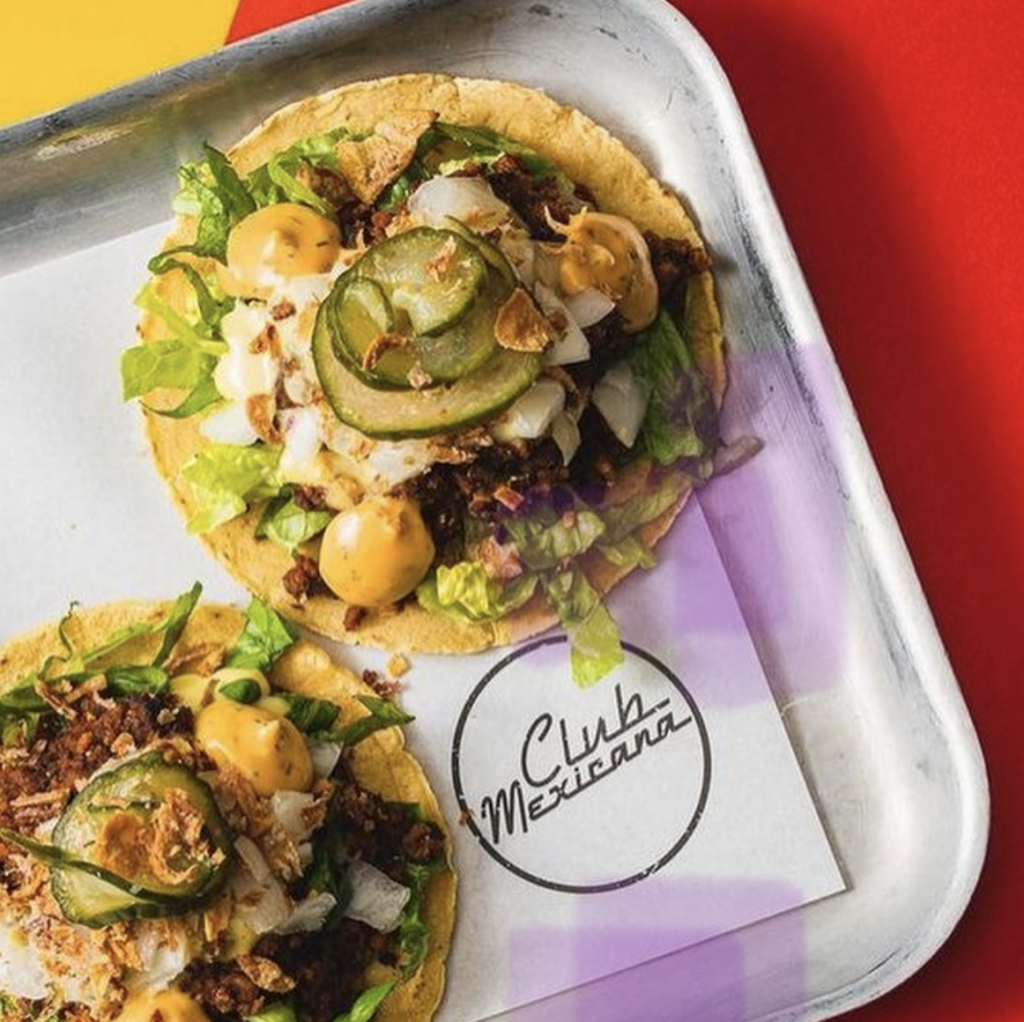 Take a trip overseas, to the bold and zingy flavours of Mexico. Club Mexicana will have you transported in no time with tacos, burritos, and much more filled with layers of spice and silken guacamole all combined and all vegan. The restaurant holds two locations, one in Kingly Court just off of Carnaby Street, and the other in Seven Dials Market, making it the perfect stop off for a busy day of shopping. Club Mexicana also offers a Taco Tuesday special, with all you can eat tacos for just £15 per person.
Adesse by Mathew Kenney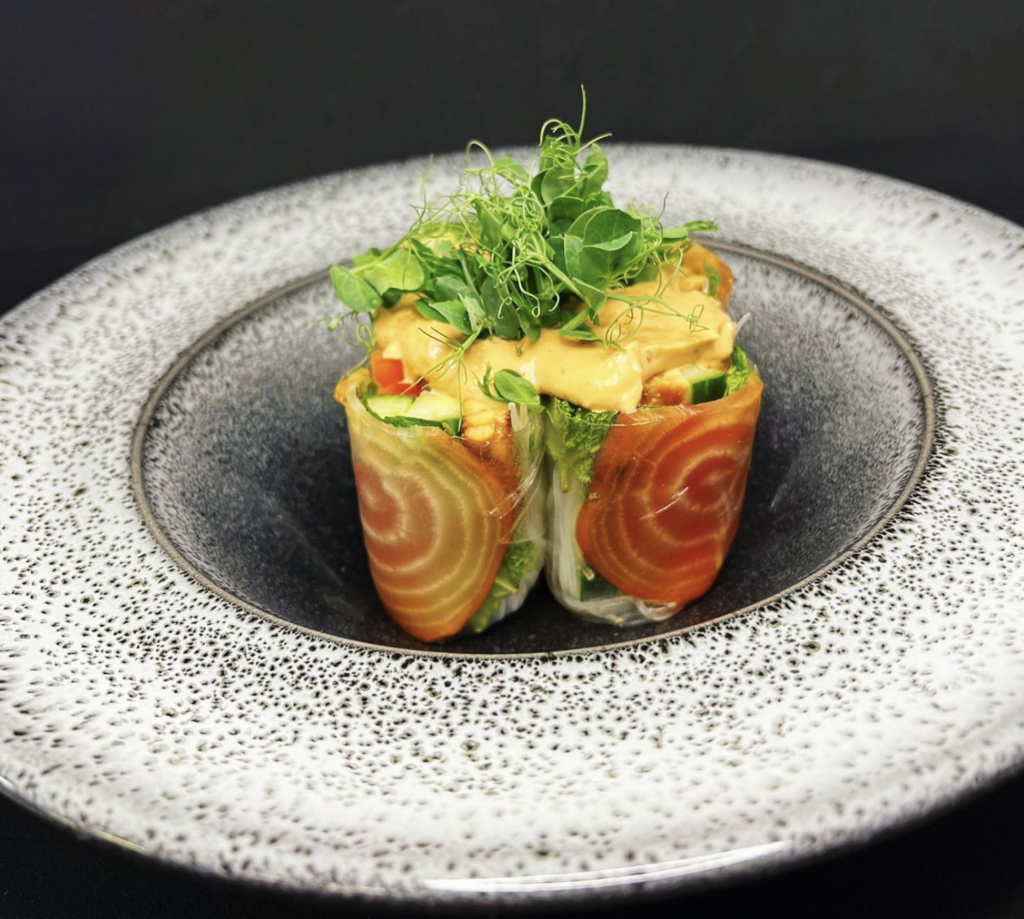 A new spot on the map, Adesse is a globally inspired, locally sourced vegan restaurant. Started by chef Mathew Kenney, the restaurant focuses on high-quality ingredients to create fresh takes on well-loved dishes. Plotted in the centre of one of London's most prestigious stores, this is a fine dining experience with a twist. The restaurant itself replicates that of a 1930s Parisian brasserie with its gold-framed bar and warm chandelier lighting. Adesse serves opulence at a relative price.
123V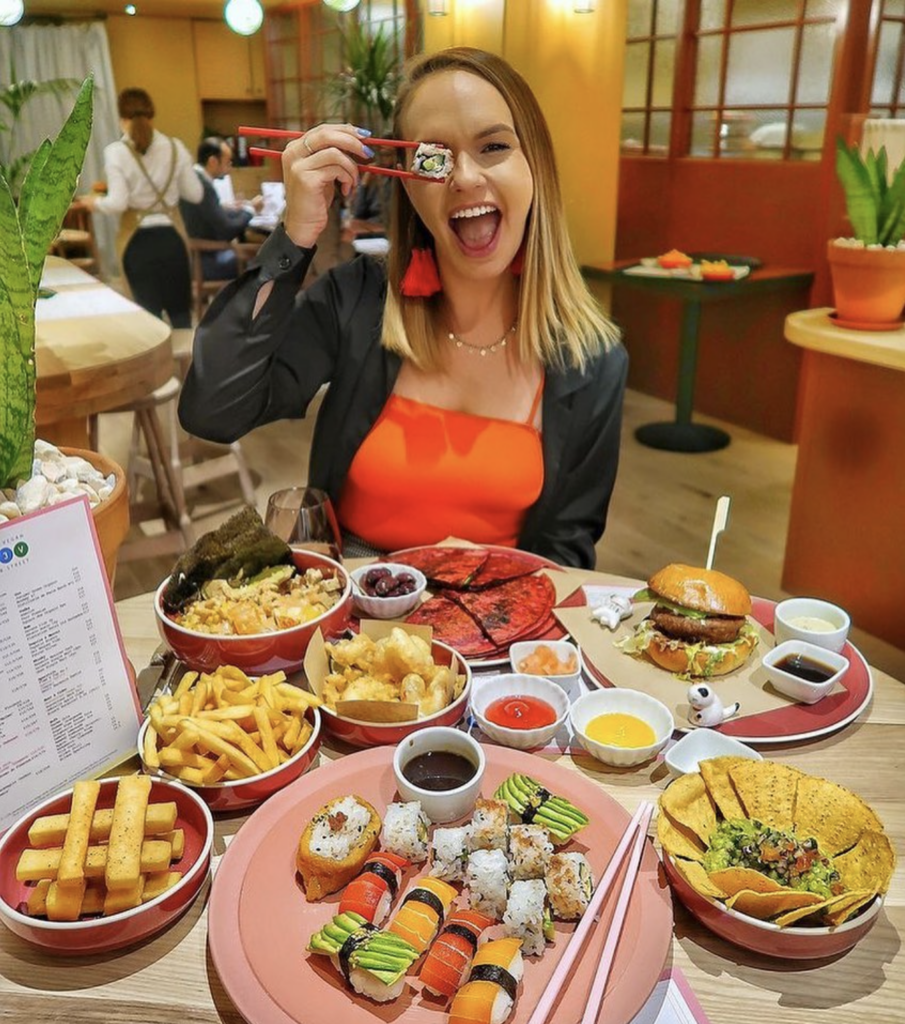 123V is the new restaurant by vegan chef Alexis Gauthier. Making vegan dining accessible to everyone, this restaurant covers all continents in its menu. From vegan sushi to plant-based burgers, there is no stone left unturned when it comes to reinventing the meaty classics. 123V is open for breakfast, lunch, and dinner, so if you fancy perching up and watching the world go by all day to make your way through the menu, we don't blame you.
Mildreds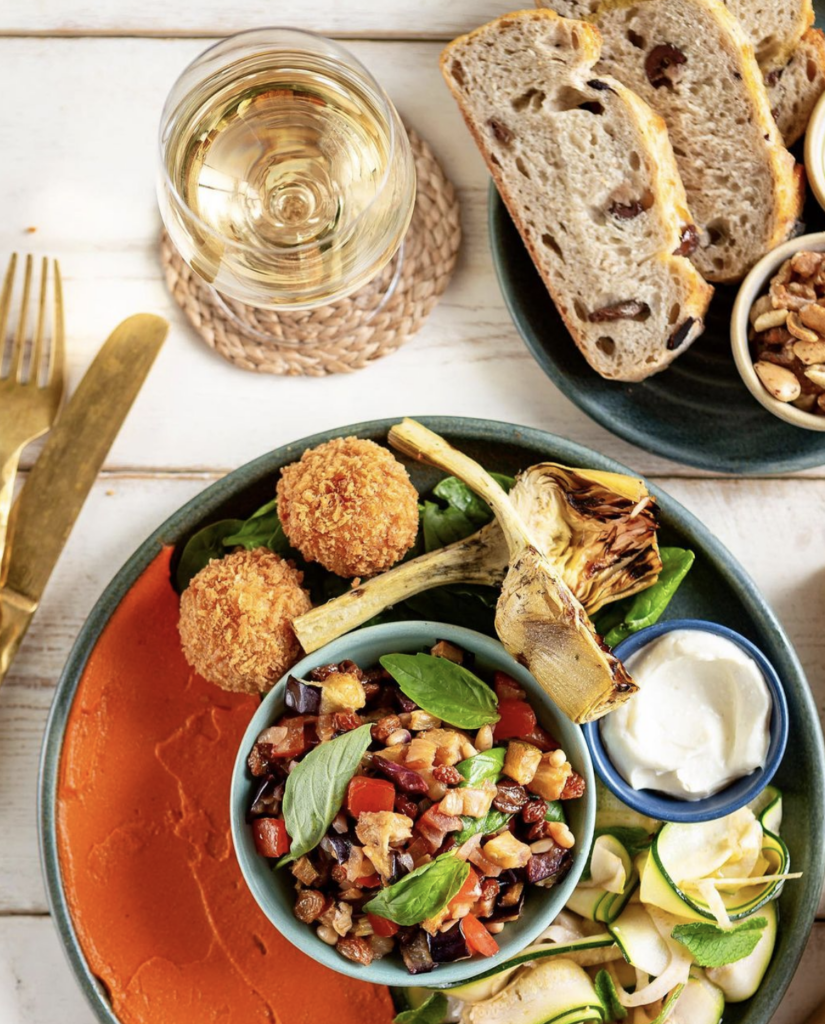 Having been around for 30 years now, Mildred's was plant-based way before the days of mainstream veganism and Greggs vegan steak bakes. One of the OG (original) vegan chains, Mildred's has mastered the art of plant-based cuisine. With a menu that will get your taste buds tingling and a laid-back space in Covent Garden to fill all customers with ease, this is a dinner spot not to be missed.
Mallow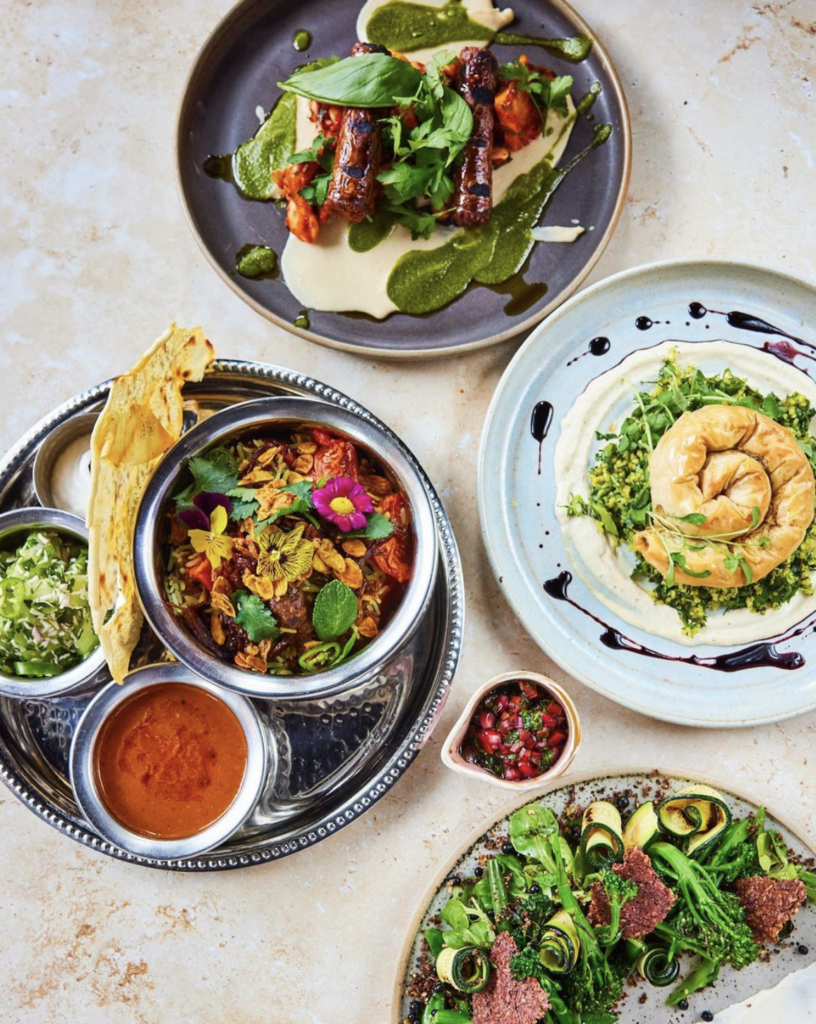 From the team that brought us Mildred's, we also have Mallow. Located in the heart of Borough Market, this restaurant focuses on cooking entirely vegan and sustainable. Ingredients are sourced locally, and from small businesses such as the fresh fruit and veg in Borough Market. These seasonal fruits and veggies are then transformed into delicious hearty meals, that are great for the body and soul.
Vegan PizzaExpress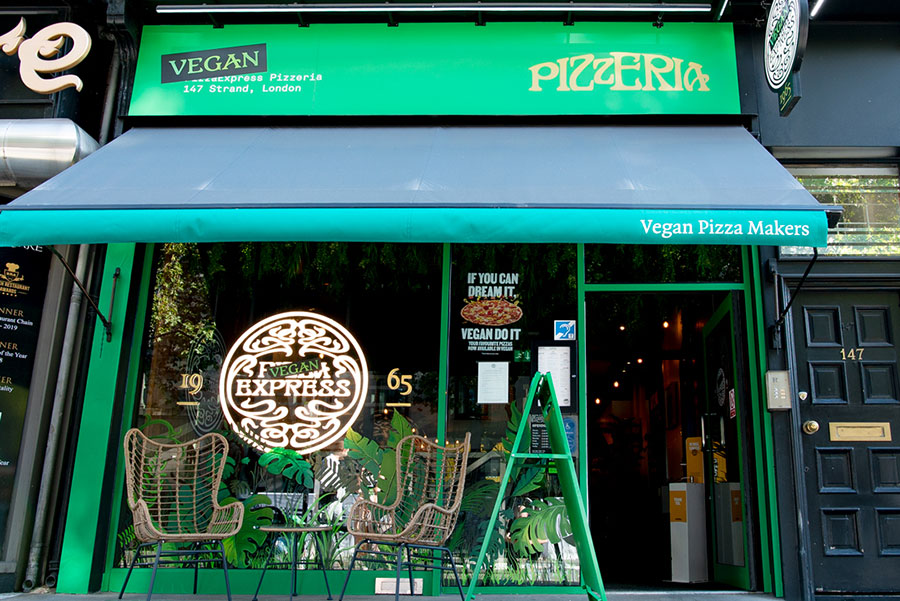 The renowned pizza chain PizzaExpress recently opened its first ever vegan restaurant in Aldwych earlier this year. After great success with trialling a few vegan options such as the Sloppy Vegan and Vegan Giardiniera, the doughball loving owners decided to open an entirely plant-based restaurant. The menu still features many of the same pizzas as the original restaurants, they're just made with tasty vegan alternatives, proving that going vegan doesn't mean giving up what we know and love.
Itadaki Zen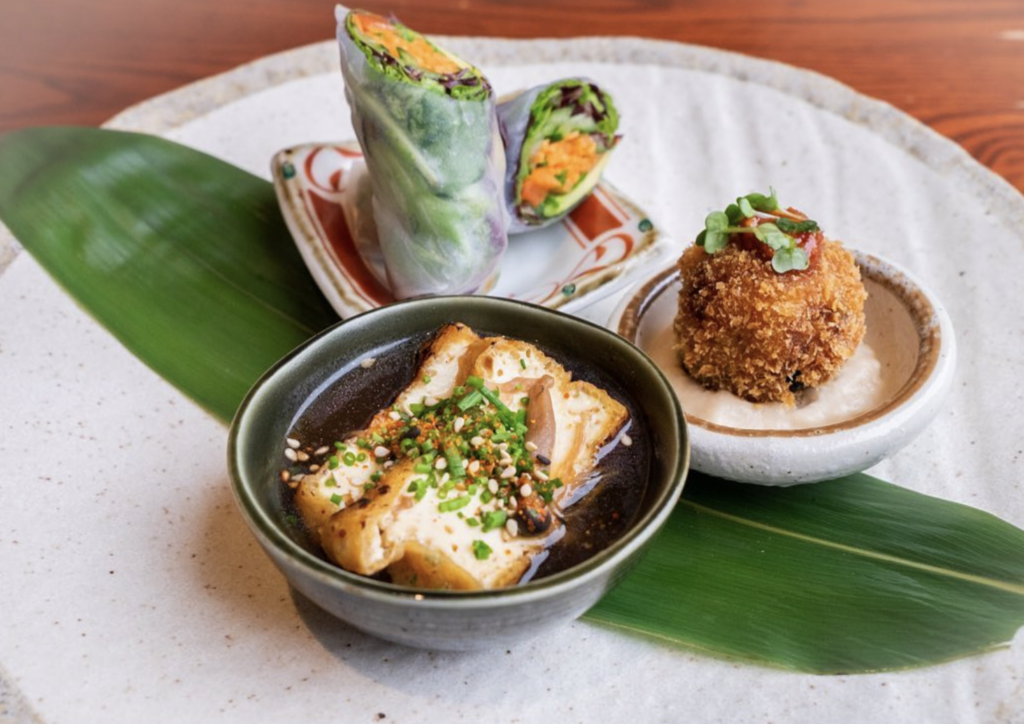 Japanese food is not often associated with being vegan, as one of its main components relies on raw fish for flavour and texture. Itadaki Zen has challenged those assumptions and created an incredible Japanese vegan restaurant that is bursting with umami goodness. The menu is small but not limited and captures all the gloriously rich and salty flavours of Japan. With homes in London, Paris, and more, there's a reason this charming restaurant has gone international.
Holy Carrot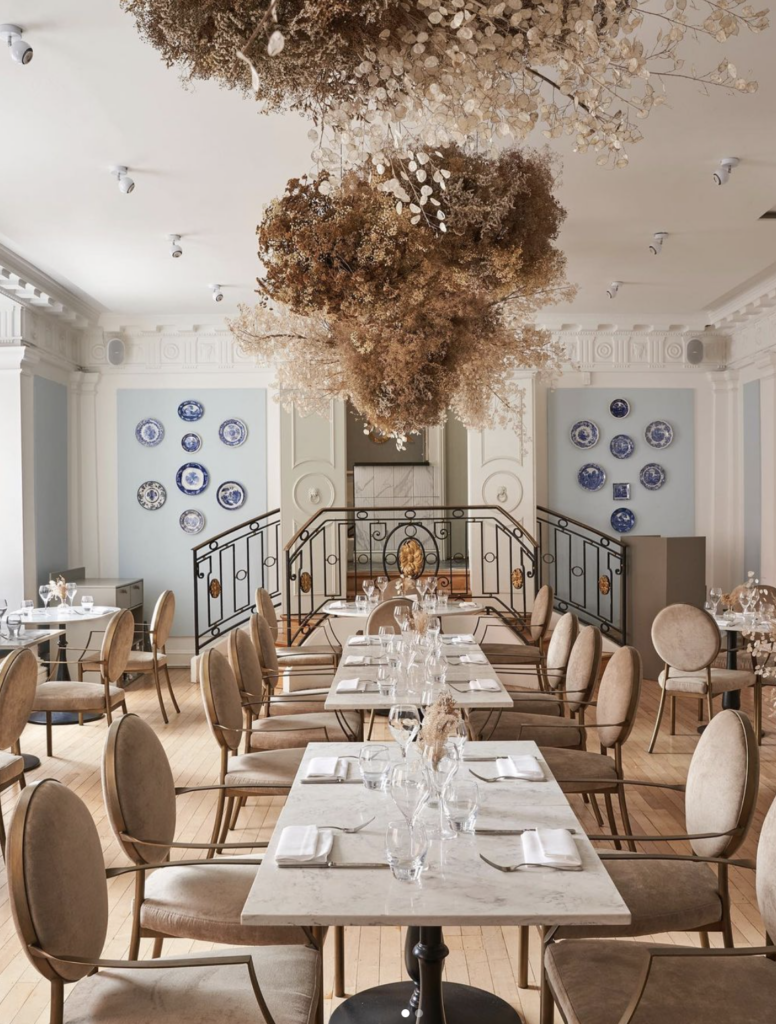 Holy Carrot is the elegant dining experience that fulfils all our Bridgeton fantasies. With Pampas grass galore and a large open fireplace, this enchanting setting is great for any special occasion. The magic of this restaurant, however, goes far beyond its appearance, as Holy Carrot's menus offer vegan takes on global cuisine such as Sexy Tofu and Holy Maki. The restaurant also offers an afternoon tea experience that is gluten-free, dairy-free, and sugar-free.
Update Autumn 2023! : "After two wonderful years, it's now time for us to officially say goodbye to our beloved site in Knightbridge. Holy Carrot will be relocating to a stunning new location in the bustling heart of Notting Hill – opening its doors later this Autumn 🎉 The new flagship Notting Hill site will offer an even more vibrant and exciting atmosphere, with a modern and stylish interior that we just can't wait for you to see. Stay tuned for updates on our official reopening date…"
---
North London Vegan Restaurants
Purezza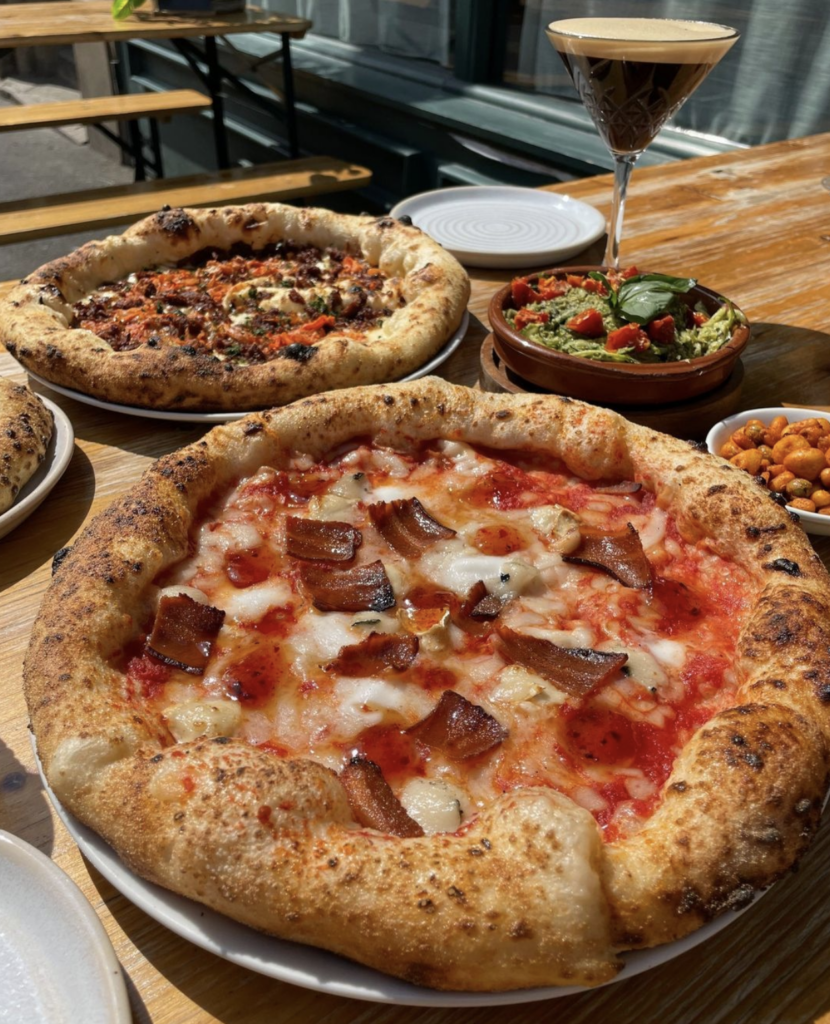 The UK's first ever vegan pizzeria, Purezza are trailblazers when it comes to the wonderful world of vegan pizza. They wanted to home in on the traditional methods and taste that we have all grown to love but recreate them in a way that was kinder to our planet. Well, mission accomplished because Purezza is a multi-award winner, including the National Pizza of the Year award. The relaxed and communal setup boasts of an inclusive dining experience, that lets the food do the talking.
And not forget us northerners (at Veo), there's a Purezza in Manchester now too! See: A Manchester Guide To Plant-Based Eateries
Powerplant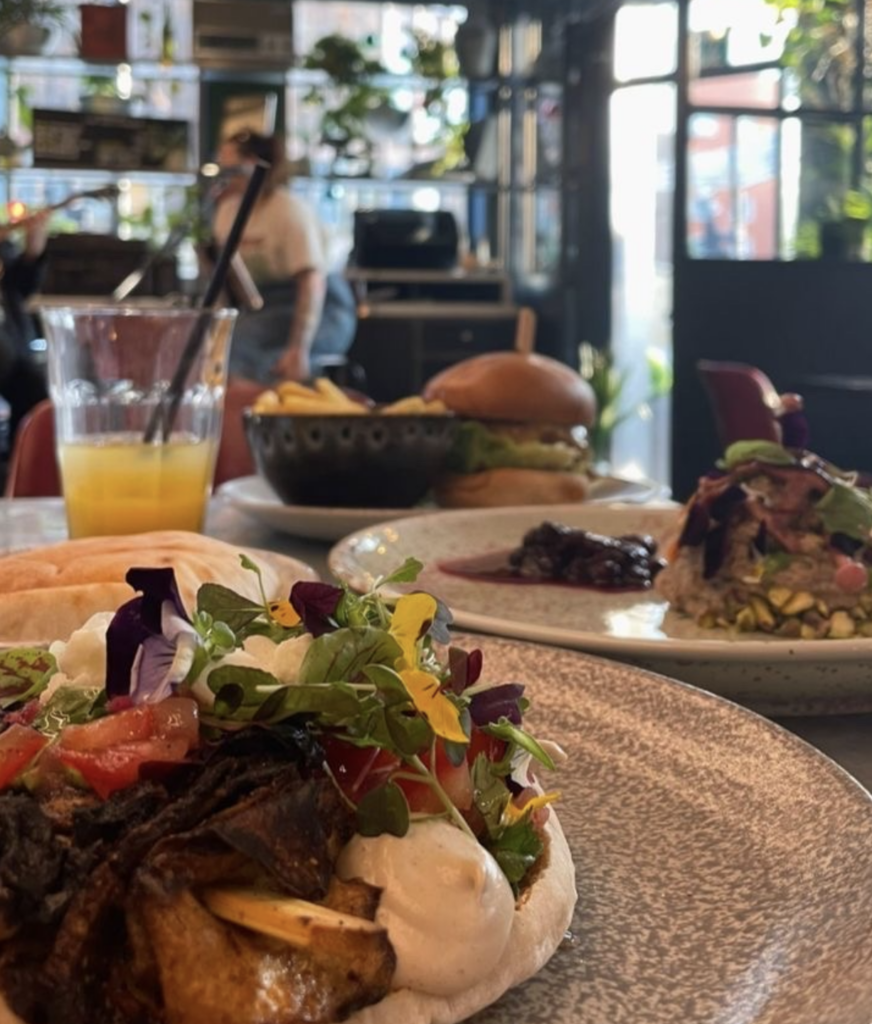 Immerse yourself in a culinary masterpiece at this plant-based wonder in Camden. Proving that vegan cooking can be just as exciting as other restaurant experiences, Powerplant creates a multi-sensory experience that is healthy and delicious, all whilst being sustainable. Powerplant takes its residency in the trendy Selina Camden, with Lukas Dawidowicz as Head Chef. The menu is a celebration of seasonal cooking with options such as the winter risotto and cauliflower katsu curry.
Keren View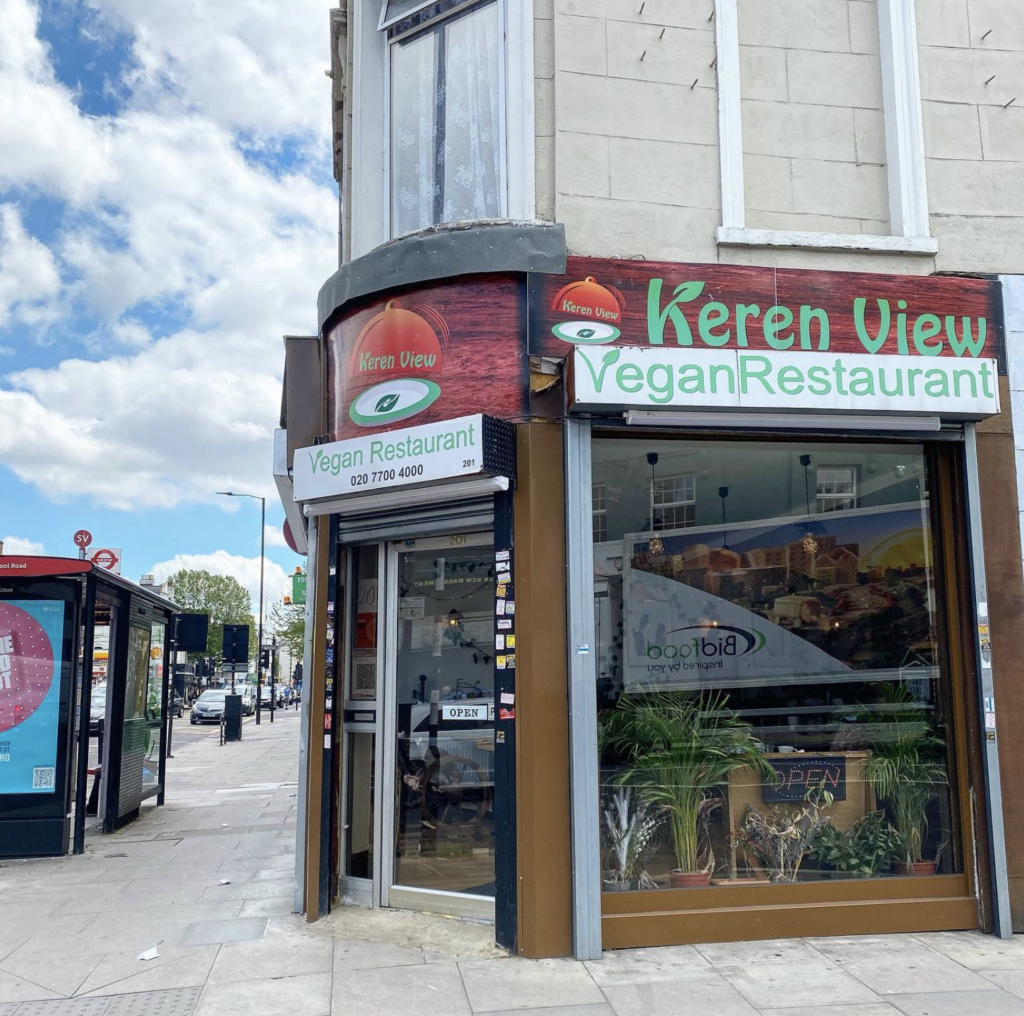 Visitors have described Keren View as one of the best vegan restaurants in London. The name of the restaurant is based on the city in East Africa, where this nature-adorning space gets its inspiration from. With a warm and homely presence in the heart of North London, the staff and interior equally provide a home comfort that is difficult to find in a restaurant. The menu is traditionally Eritrean cuisine but entirely vegan. Focusing on food that is nutritious, this vegan African cooking with have your tastebuds buzzing with excitement.
The Muddy Puddle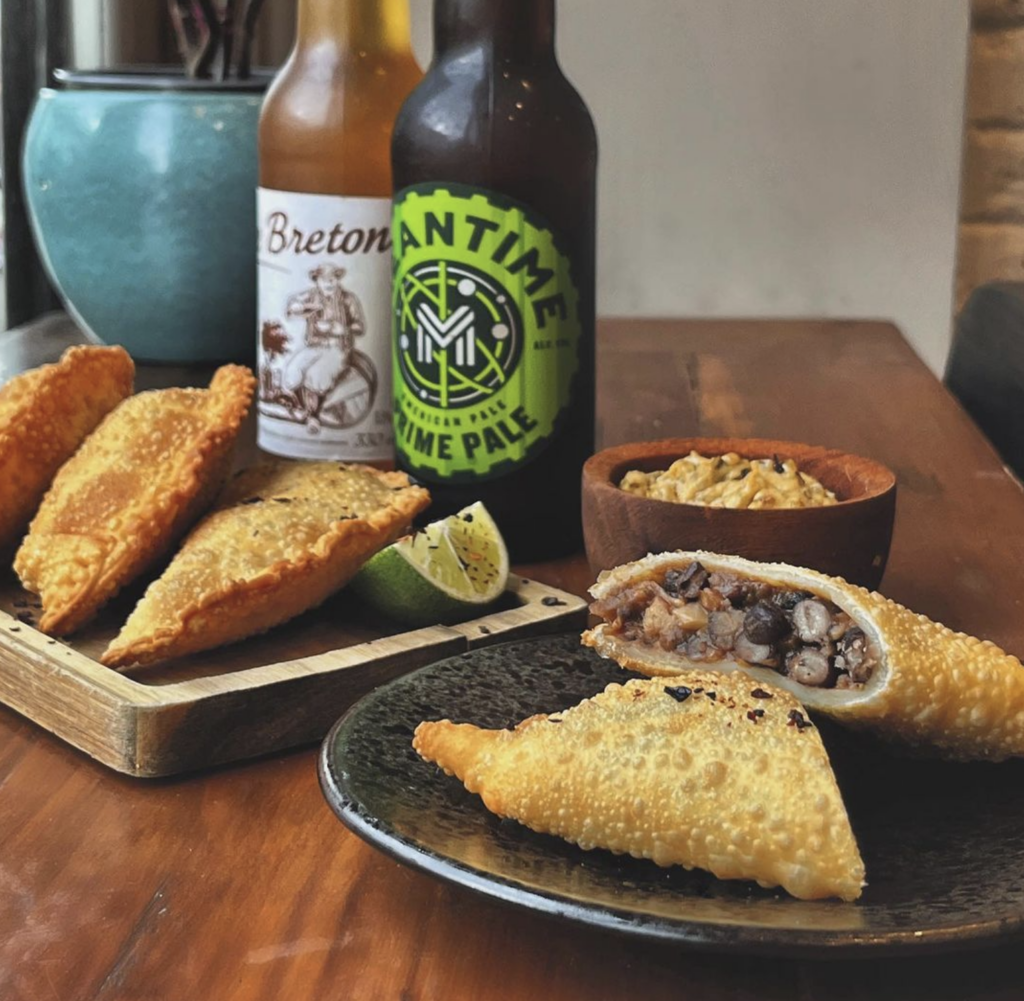 This laid-back café is perfect for a catch-up with friends over coffee and vegan empanadas. Serving up a range of brunching favourites, and delicious vegan cakes for a sweet treat there is something for everyone at this cosy café in Stoke Newington. A particular perk for the warmer months that are coming, The Muddy Puddle also has a garden area to soak in the sun under their loquat tree and sip away on their selection of freshly made juices.
No menu is available online
Rudy's Vegan Diner
CLOSED: Reported March 2023
The restaurant is now closed, and as such removed from our Best of London Vegan guide. We're unsure of the exact reasons for closing, but were able to find some highly questionable social media activities by Rudy's Vegan Diner, which Sean O'Callaghan called out in his post 'How NOT to run a social media account' which introduces with "It has not been a good run for Rudy's Dirty Vegan Diner lately." Yes we agree, and we'll leave you to have a read of the post if you fancy. But even without Rudy's, thankfully there's 49 more amazing plant-based eateries to choose from! 😄
Tofu Vegan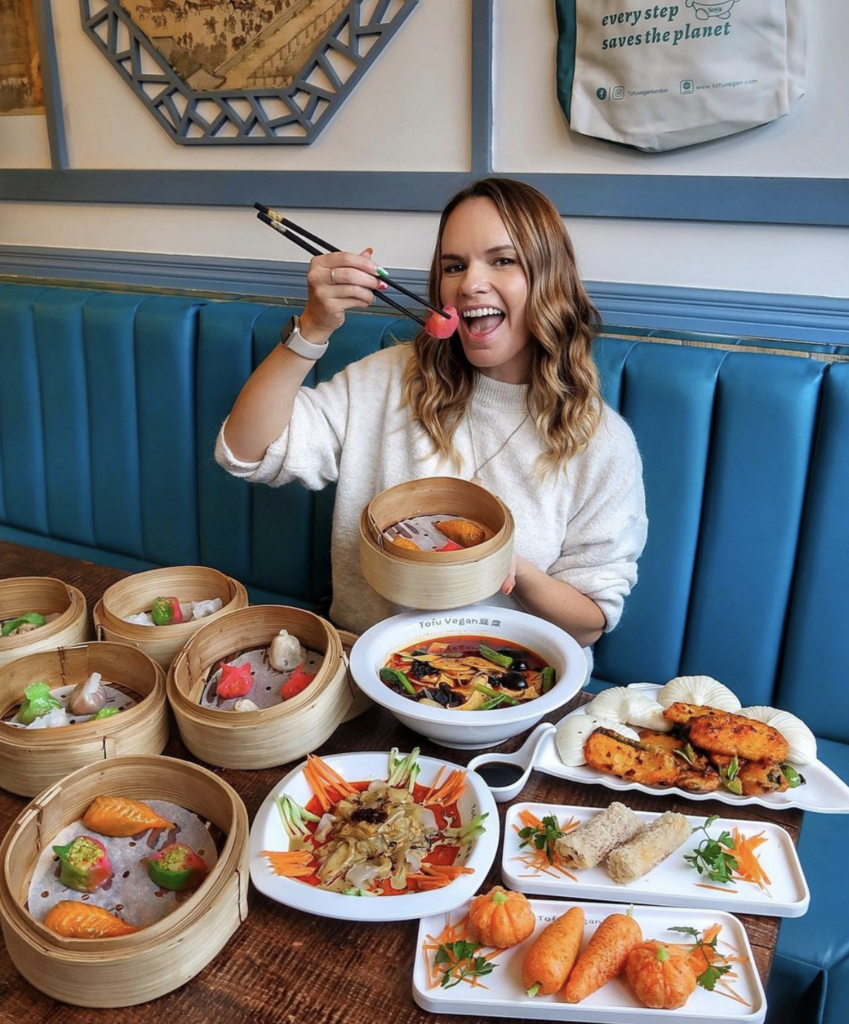 Tofu is an entirely vegan Chinese restaurant, that creates beautiful plant-based versions of traditional Chinese dishes. All their dumplings and wontons are hand-made in the restaurant and accompany a range of spicy and sweet 'chick'n' options. The unpretentious atmosphere and top-quality food make this restaurant a must-visit for vegans, vegetarians, and meat-eaters.
No menu available online
Owee Vegan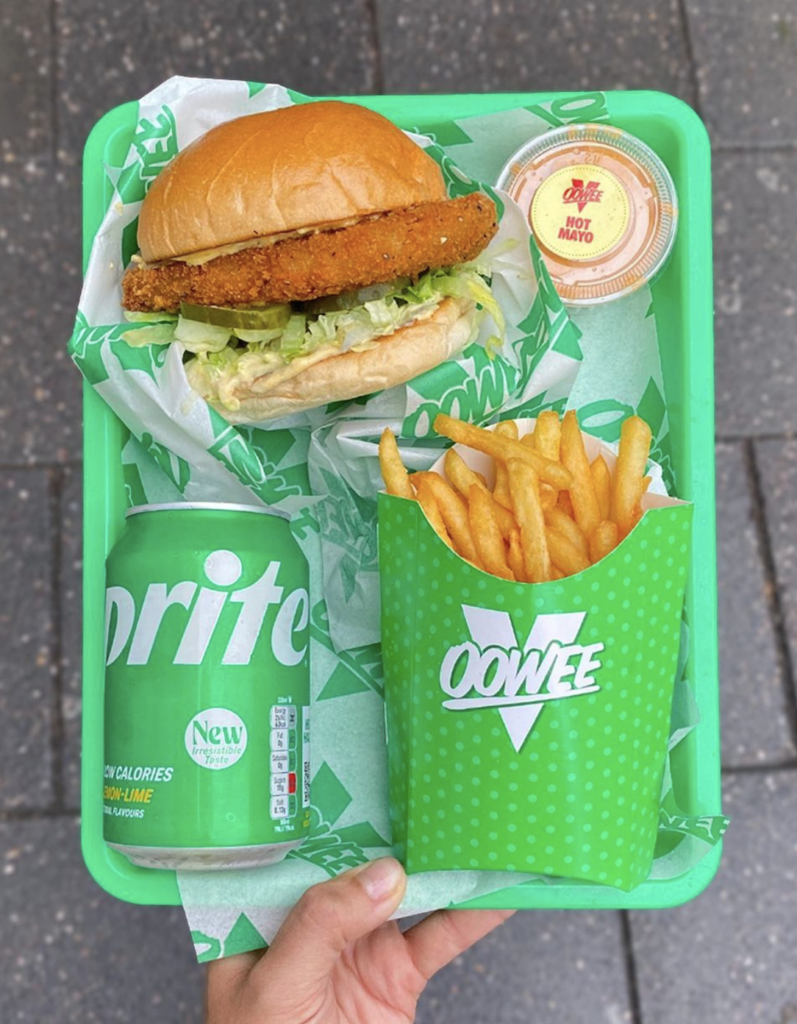 Fast food has stepped up a level at Owee Vegan. Bringing London an irresistible range of burgers, chick'n strips, dirty fries, and sides, this is the one-stop shop for all your vegan fast-food needs. Not only is the food fantastic but the restaurant itself offers a relaxed environment that separates it from the rest. Owee vegan prides itself on creating an atmosphere where both staff and customers are treated as friends, and the restaurant is a shared experience. Community is at the heart of what they do and making sure customers have the best experience possible is imperative.
Comptoir V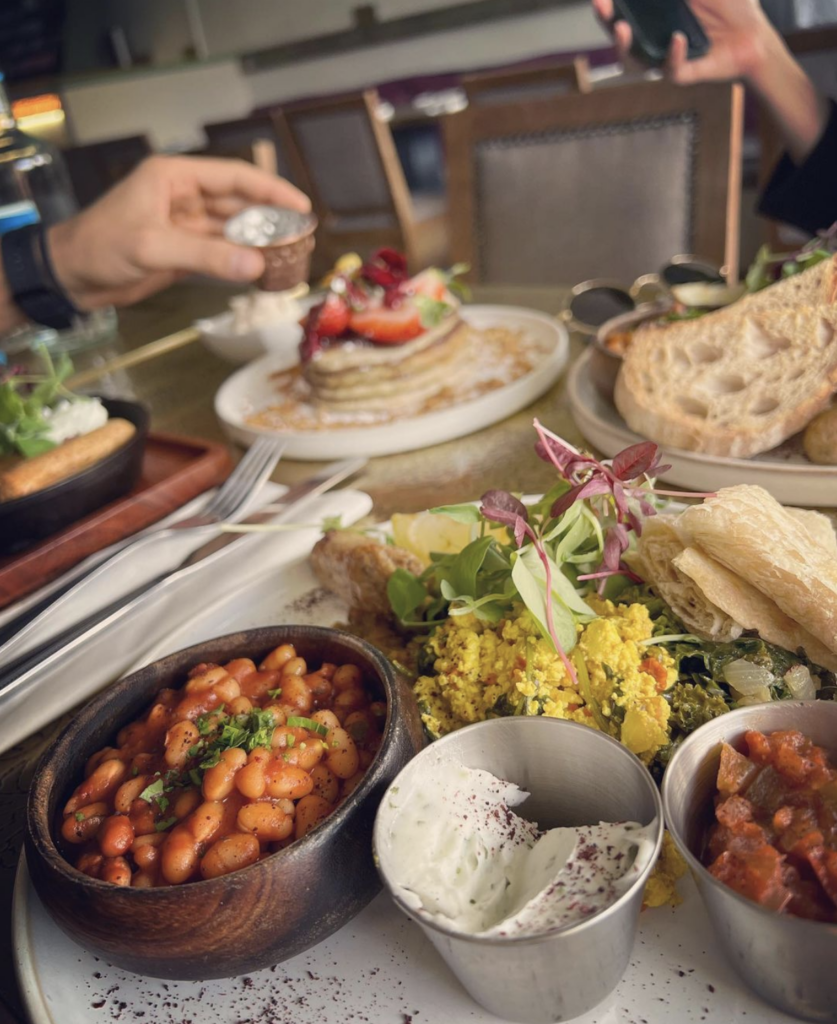 If you love brunch as much as we do, then look no further than the ultimate brunch spot in North London – Comptoir V. These colourful plates of goodness are as much a feast for the eyes as they are for the stomach. Located in Kensal Rise, the vibrant restaurant takes influence from middle eastern flavours to create rich and aromatic meals that will lighten even the coldest days. With stacks of pancakes or buddha bowls to feed the soul, there is plenty on offer for a warming brunch experience.
Clean Kitchen Club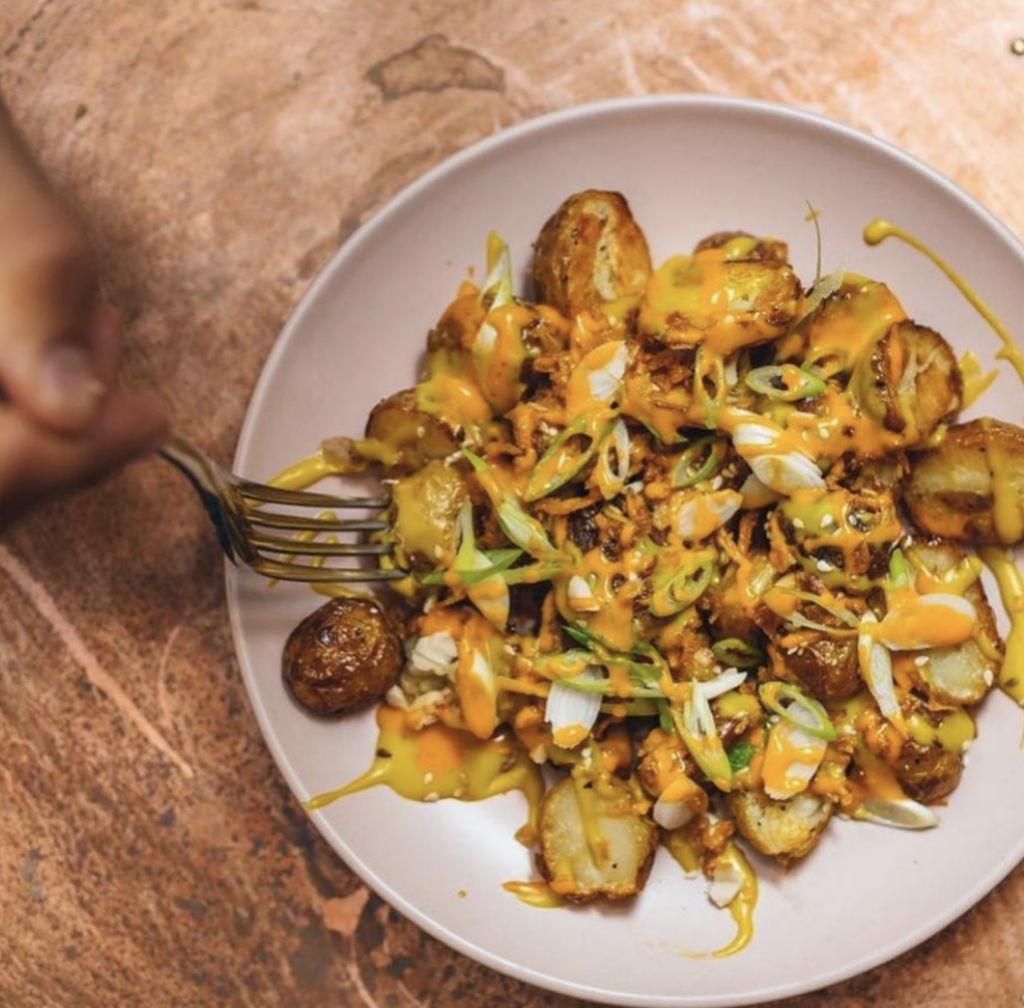 Starting only in 2020, during the first lock-down, Clean Kitchen is already taking London by storm. The concept behind the restaurant all began when Mikey Pearce (the Clean Kitchen Club founder) found himself struck ill with Covid and decided to make lifestyle changes to improve his health. A year down the line the Clean Kitchen Club went from a Deliveroo service in Brighton to a residency in Camden's trendy Buck Street Market, where they serve plant-based, sustainable food every day.
Genesis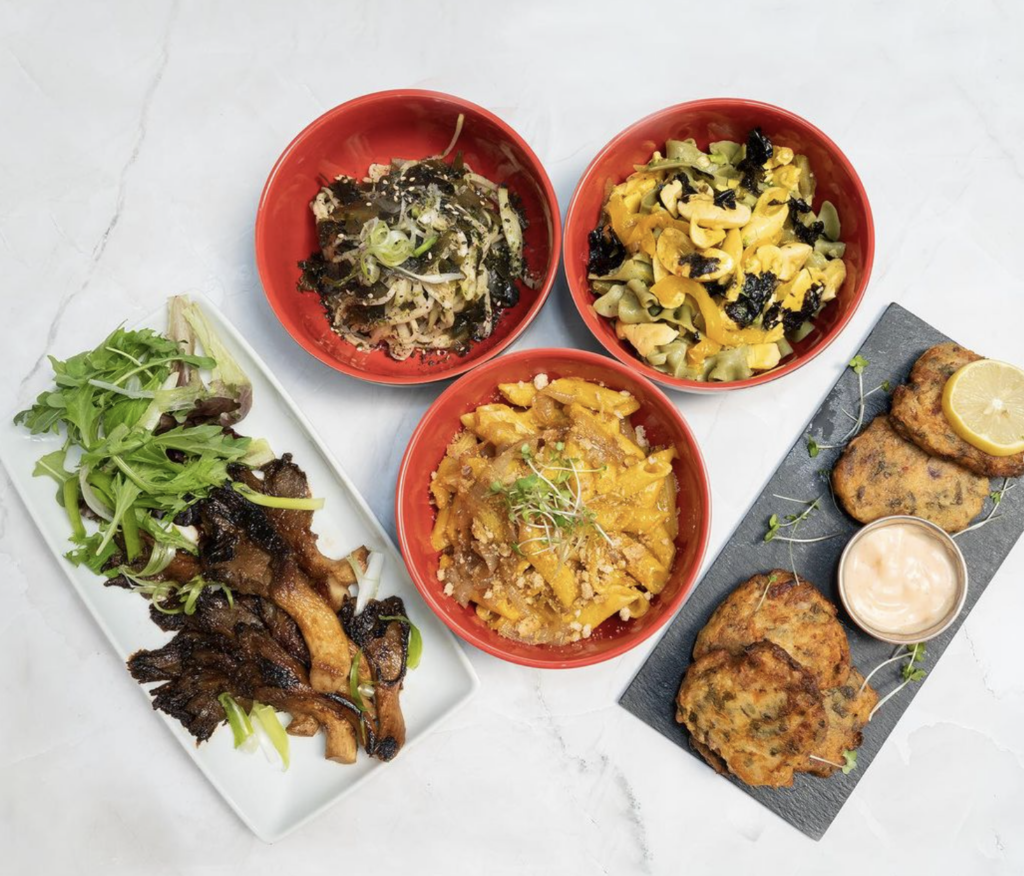 Coming very soon to their permanent residency in Palmers Green is the much-loved restaurant Genesis. Having been set up in Spitalfields Market in Shoreditch, the plant-based concept restaurant has found a home in North London, where it will be opening shortly. Combining vegan cooking and alchemy, this restaurant found its niche in delicious plant-based meals that are not shy of being original.
No menu available
---
East London Vegan Restaurants
Alter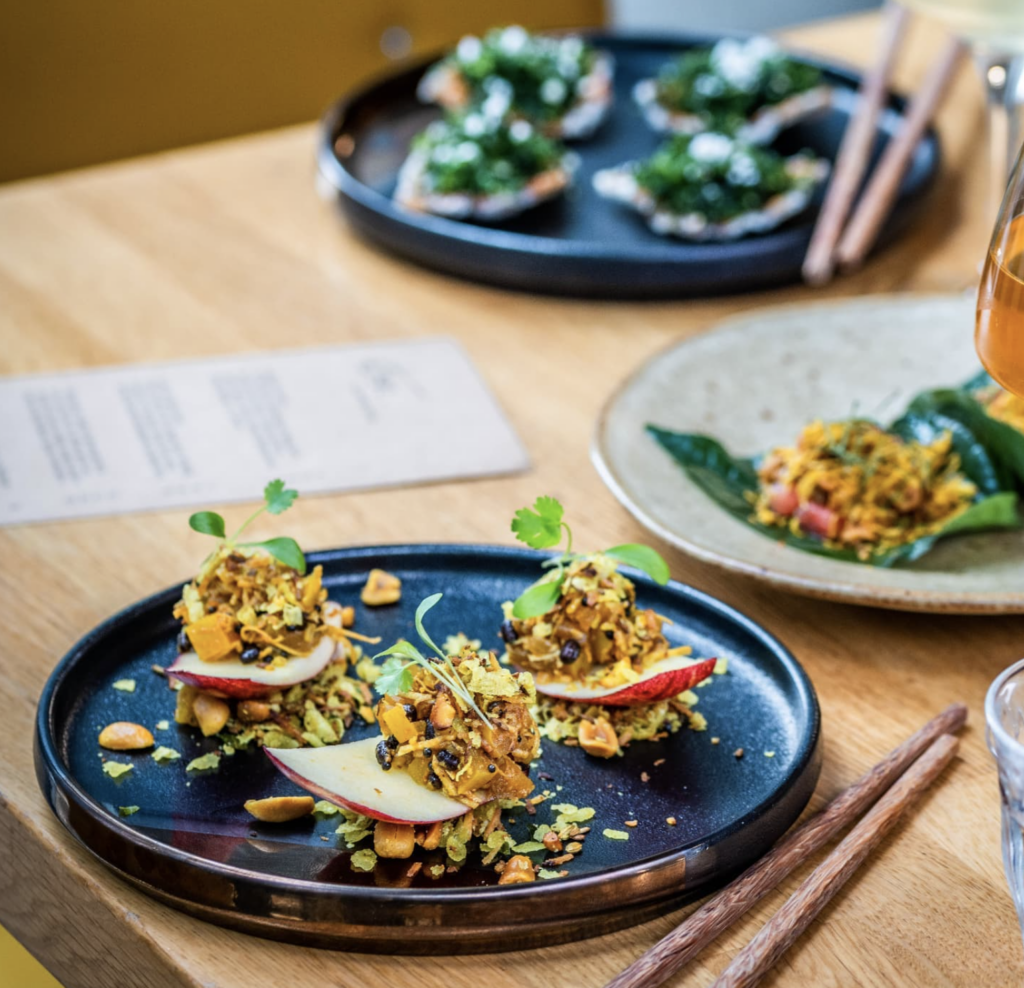 Taking inspiration from street food markets from all over the world, Alter was started to challenge how we picture vegan eating. Instead of trying to recreate meat-based dishes, with meat substitutes, Alter works with the hope of celebrating flavour without trying to replace meat. Being as inclusive as possible, Alter also offers a gluten-free menu. The restaurant is based inside the Leman Lock Hotel, in Aldgate East. An area thriving with culture, it makes for the perfect fit for such an exciting restaurant.
Love Shack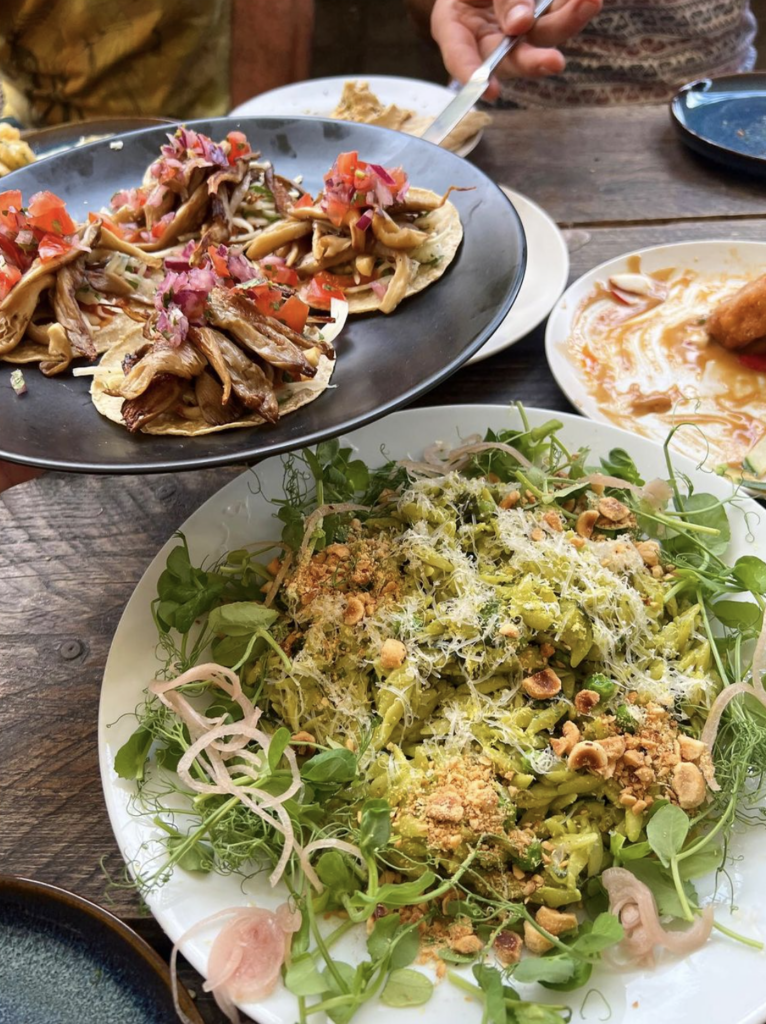 Love Shack is the space of tranquillity and positivity that we all need in London. Spread over three exposed brick arches in the heart of Hackney, this little slot of paradise is everything that you could need after a busy day in the city. The food is fresh and fun, and the drinks menu boasts a whole range of cocktails and "hotails" to get the party started. Possibly best of all the Love Shack is also dog friendly, meaning our favourite furry companions are also in for a great evening.
Vegan Yes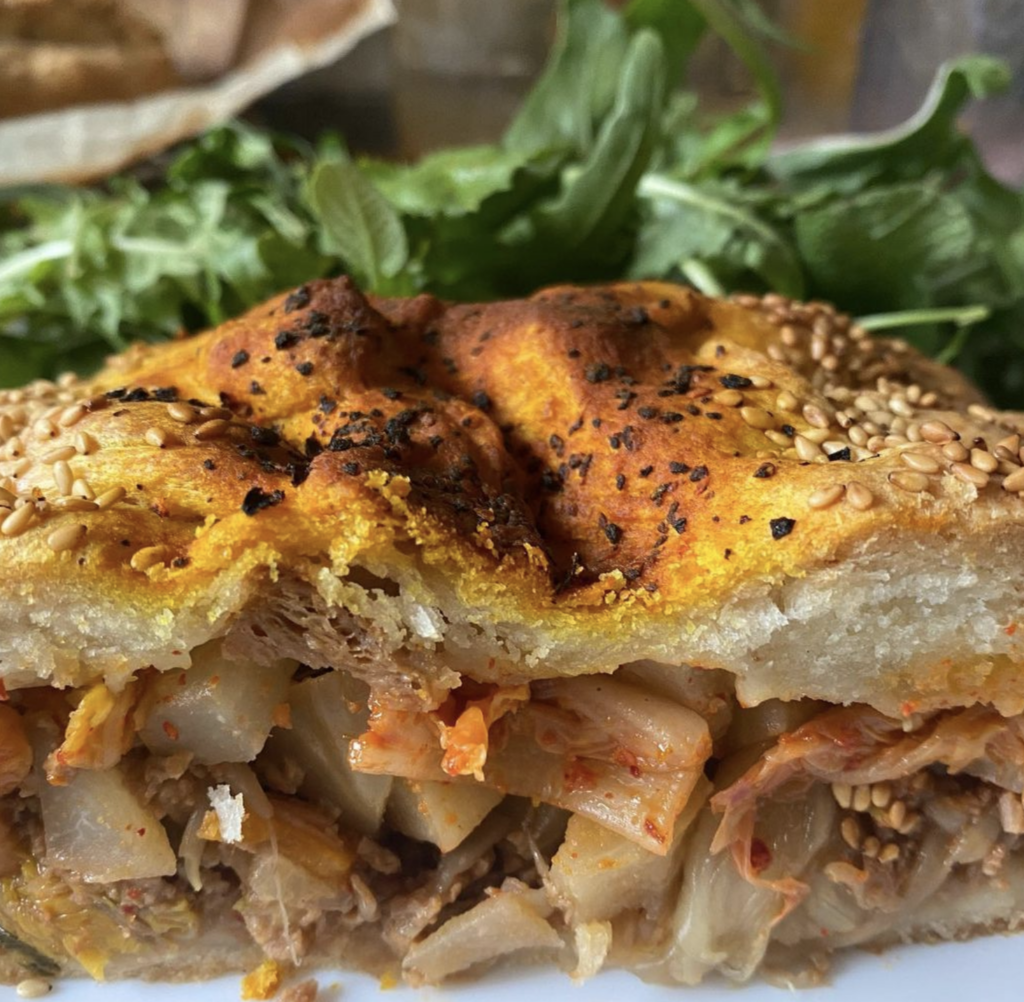 Didn't know Italian and Korean food worked together? Neither did we. Throw an entirely vegan menu in the mix and you may think the owners of Vegan Yes are actually crazy. However, this vegan fusion restaurant stands to prove us all wrong because this clever restaurant has created a menu that we can't say no to. Chef Mauro and his wife Dr. Min found inspiration in their own mix of cultures that they share and wanted to replicate that in their food. Due to being health conscious, chef Mauro also only used natural ingredients and avoids refined sugars, no heated oils, and no preservatives in his cooking.
Fountain Tap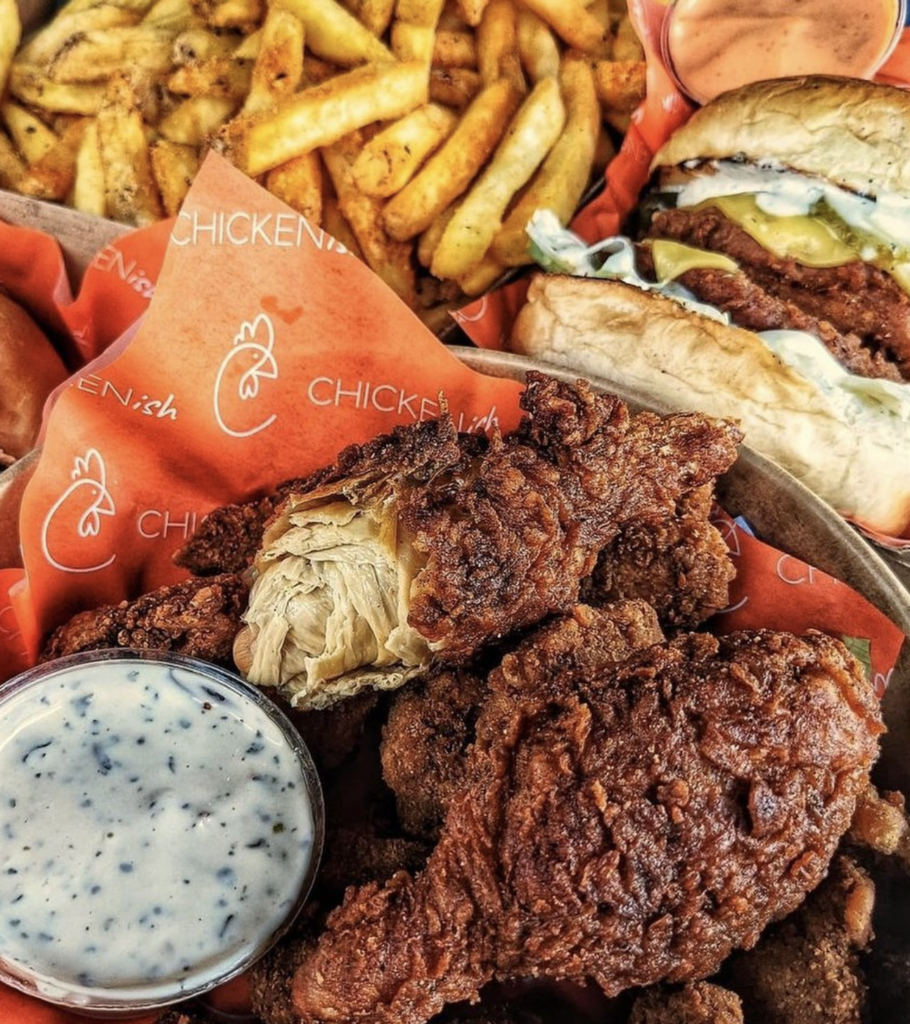 Fountain Tap is a craft beer taproom situated in Shoreditch. Serving up a whole range of craft beers from classic IPAs to quirky rhubarb ciders, this modern sitting pub meets bar is the future of what casual drinks will look like. Furthering its vision is the Chickenish vegan menu that's served alongside for the perfect pub-grub after a few drinks. The Fountain Tap menu offers up a range of Chickenish burgers (0% chicken), along with popcorn bites, combo meals, and even a Chickenish bucket. It's the perfect way to get the weekend started.
E3 Vegan Supper Club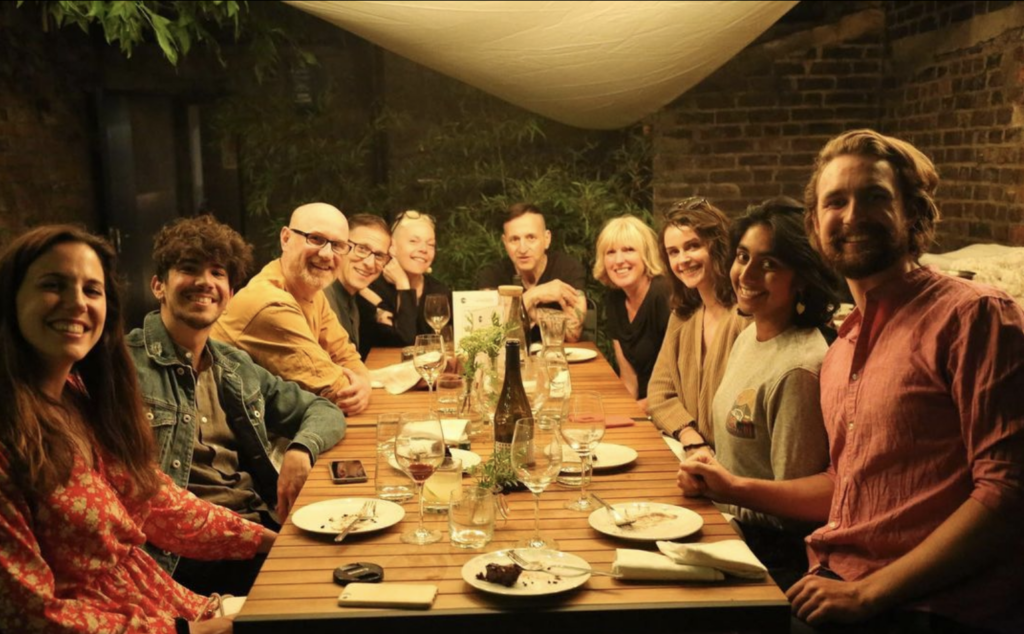 The first ever vegan fine dining supper club in the UK, E3 Vegan set up its grounds in 2022 in hopes of creating a vegan experience like no other. The restaurant combines a welcoming and tranquil space with exciting and cutting-edge culinary magic to create the perfect vegan fine-dining experience. The menu is refined and intelligent, complimenting the restaurant style just as it should.
Lele's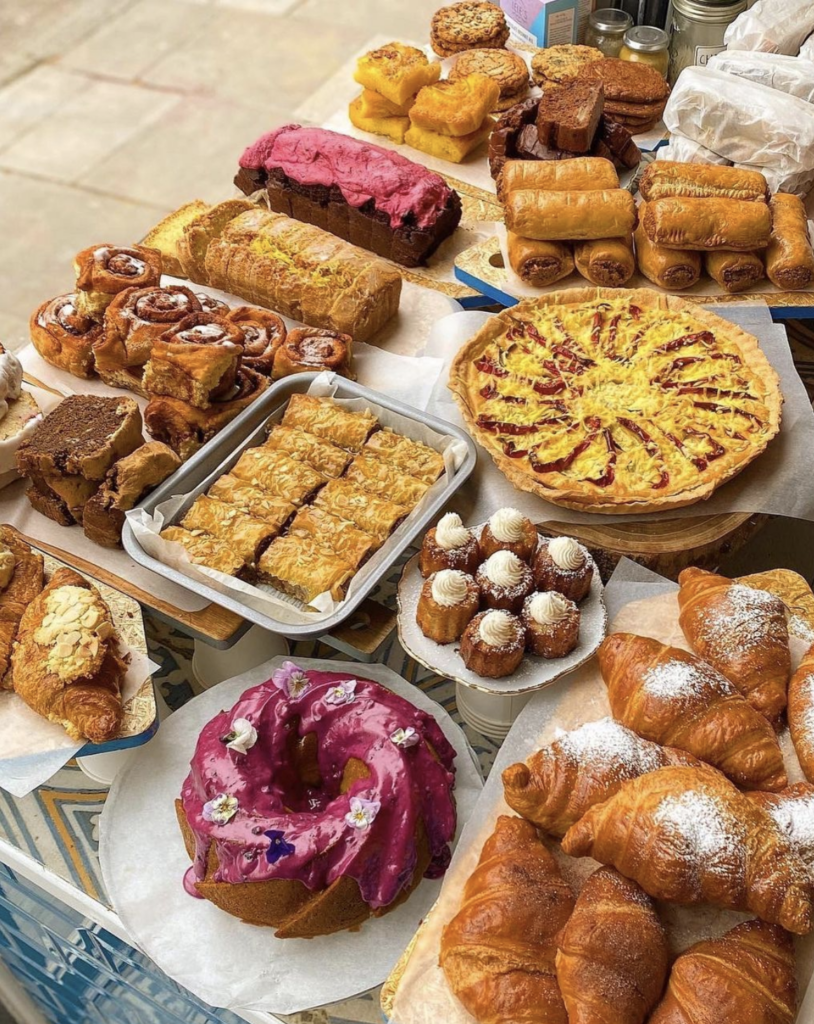 This coffee shop and bakery have good food, great company, and even better coffee at the heart of all that they do. The café was started by Valentina, who was inspired by her Italian heritage, which placed emphasis on the importance of cooking to bring people together. That's why Lele's was set up, to create a space where people could come together to eat and enjoy one another.
No menu available but full menu is vegan and partially gluten-free.
The Spread Eagle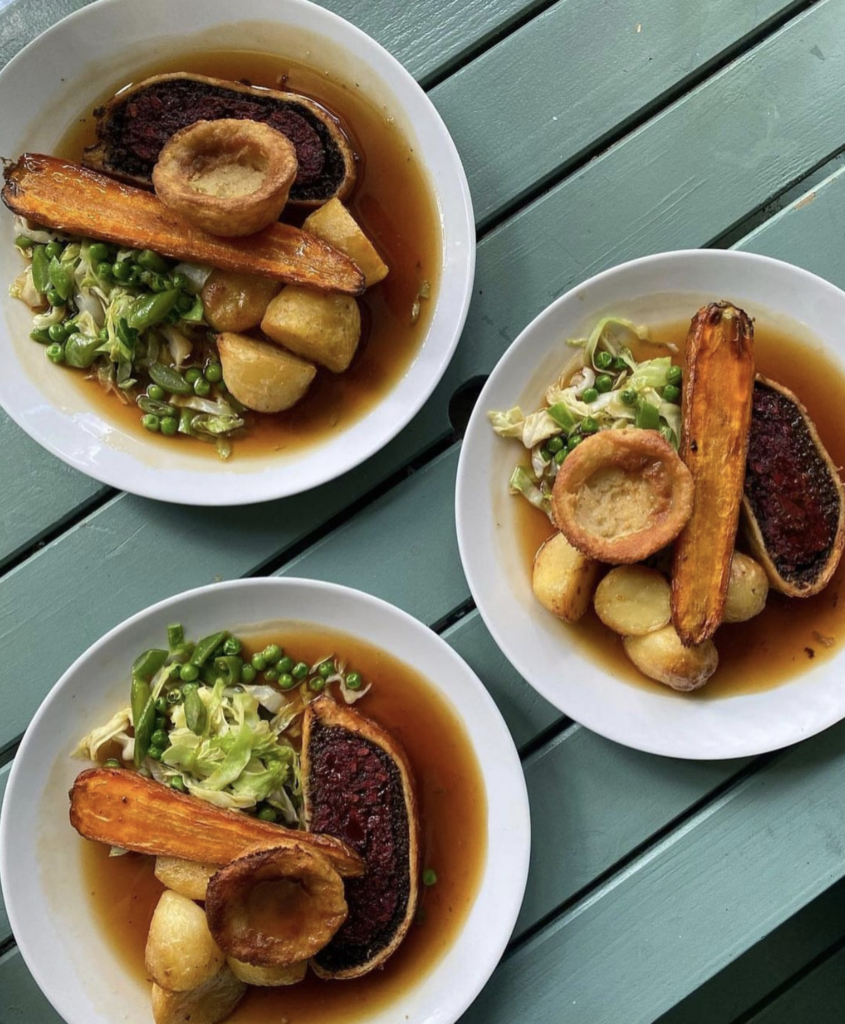 London's first ever fully vegan pub was launched in East London for all to enjoy. Going to the pub is about as quintessentially British as the queen herself and although a great pastime for just about any occasion, pubs haven't always been the most accommodating to a vegan lifestyle. Well, that's all changed because The Spread Eagle is entirely vegan and serves up all of the British pub classics that we know and love. The kitchen runs by a seasonal menu to be as sustainable as possible, and ingredients are of the highest quality ensuring every dish is the best it can be.
Temple of Seitan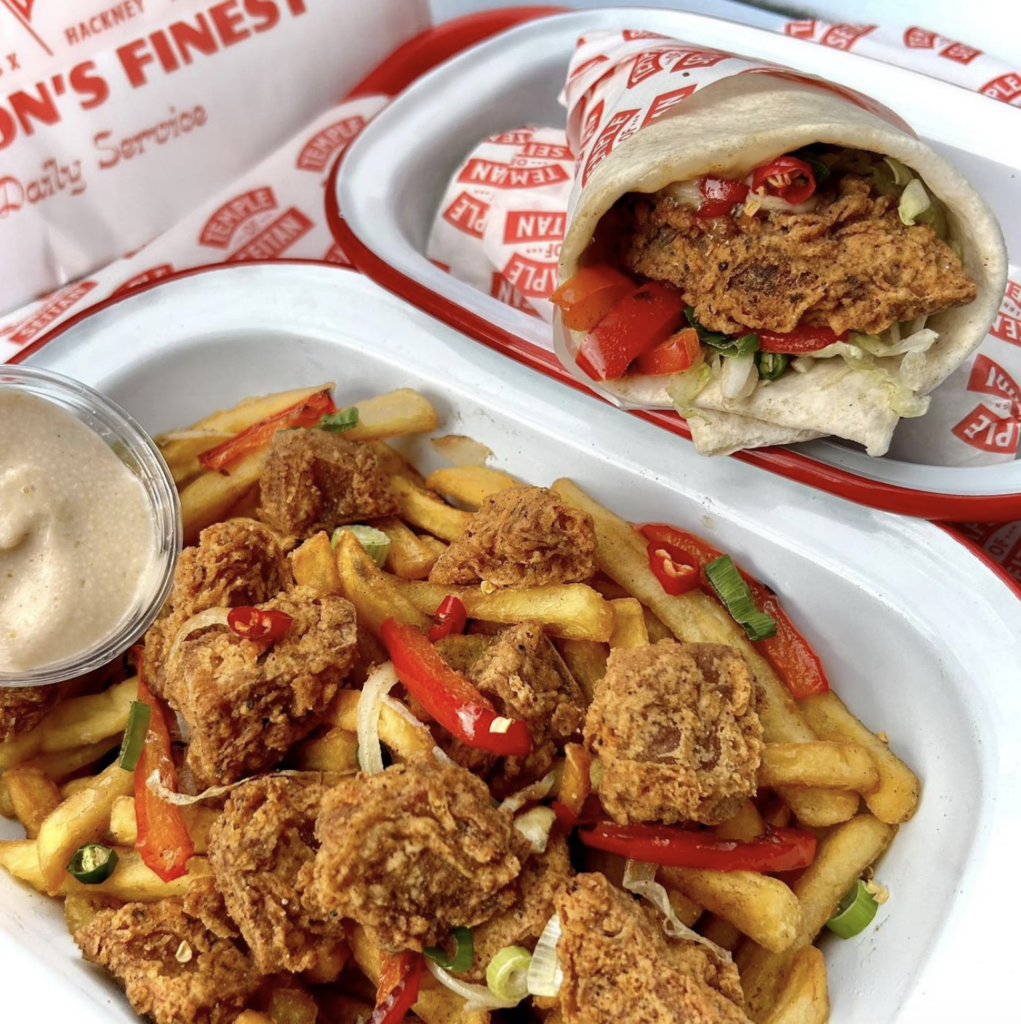 Created by Australian born Rebecca McGuiness, Temple of Seitan was the first 100% vegan chicken shop. After moving to the UK in 2015, Rebecca missed the chicken shops that she loved pre going vegan. After plenty of experimentation, she created a seitan chick'n that was too good to keep to herself. Temple of Hackney, the first of the Temple of Seitan restaurants, was named the Best Vegan Restaurant in the UK at the VegFest Awards, winning with more than 20% of the votes. Now with locations in Hackney, Brixton, Camden, Hammersmith, and more, it's one of the most successful vegan chicken shops around.
Tendril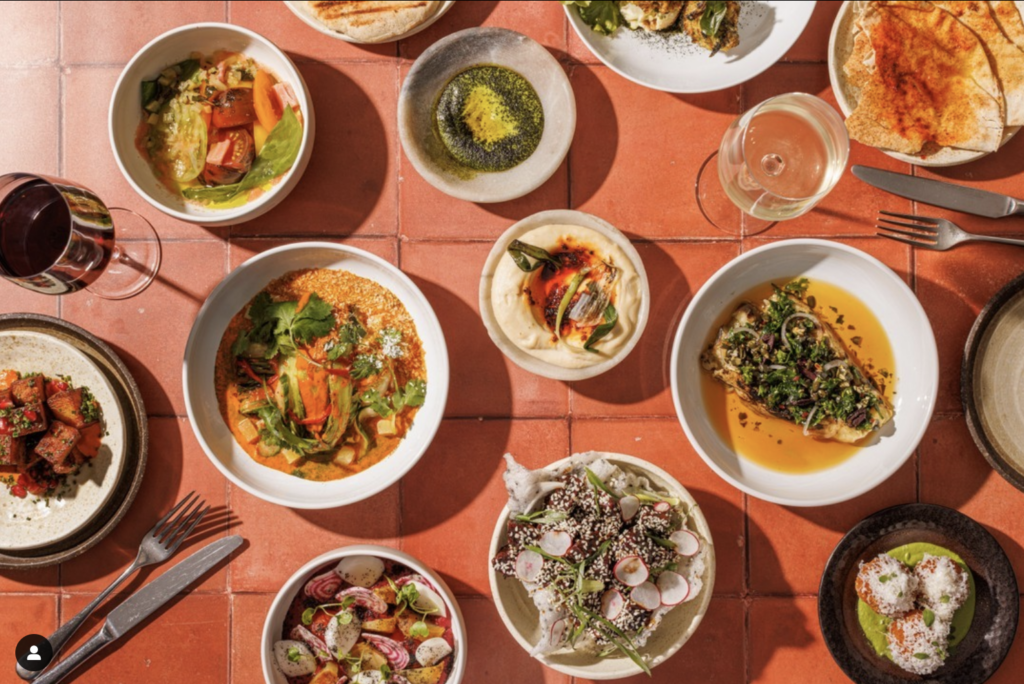 'A mostly vegan kitchen, with flare' – that's how Tendril would describe themselves and they're not wrong. This plant-based restaurant is roughly about 90% vegan, and the remaining 10% vegetarian, but it is certainly 100% delicious and that is what is most important. Chef Rishim Sachdeva is the Head Chef at Tendril, who brings his own, personal love of plant-based seasonal cooking to the kitchen to ensure that the food is created from a place of passion.
Black Cat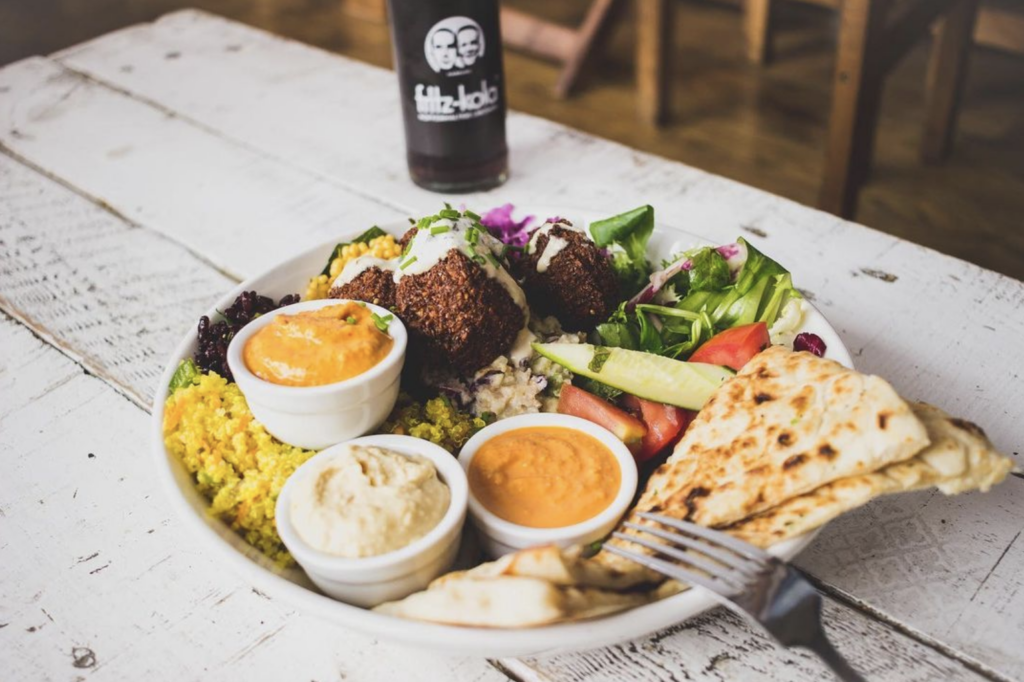 A vegan and cruelty-free café, if you happen to cross paths with this Black Cat we can assure you it'll bring you plenty of good luck. The café is entirely plant-based from the high-quality cooking ingredients to the cleaning products and materials, making sure that everything is cruelty-free. The space hosts not only an area to enjoy delectable treats but also a small bookshop to learn about animal rights and other topics related to veganism. So, why not tuck into a NY bagel, and find out what good you are doing just by eating a delicious vegan meal?
Spice Box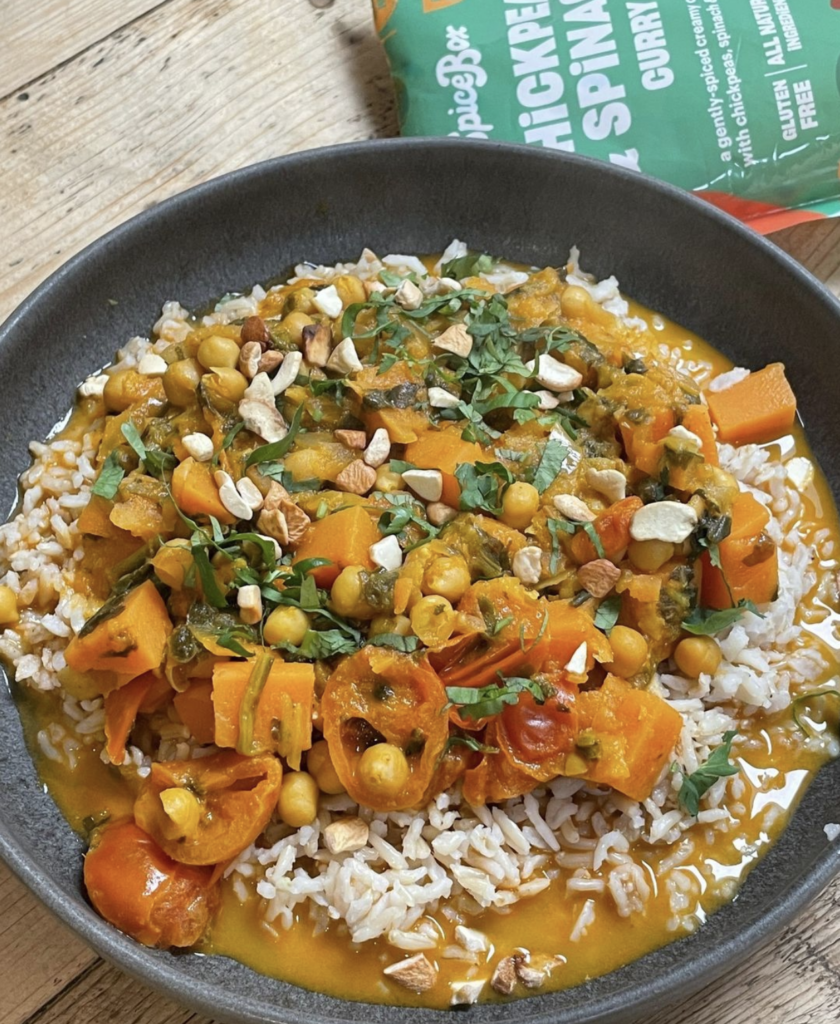 Your local curry house just turned vegan. A restaurant that the English curry awards named 'best takeaway in East London', this vibrant and flavourful restaurant knows what it takes to make a great curry. Offering an extensive menu of England's most loved curry classics such as the Tikka Masala, along with tasty add-ons such as their award-winning Tarka Dhal- which was voted the best Dhal in Britain.
WAVE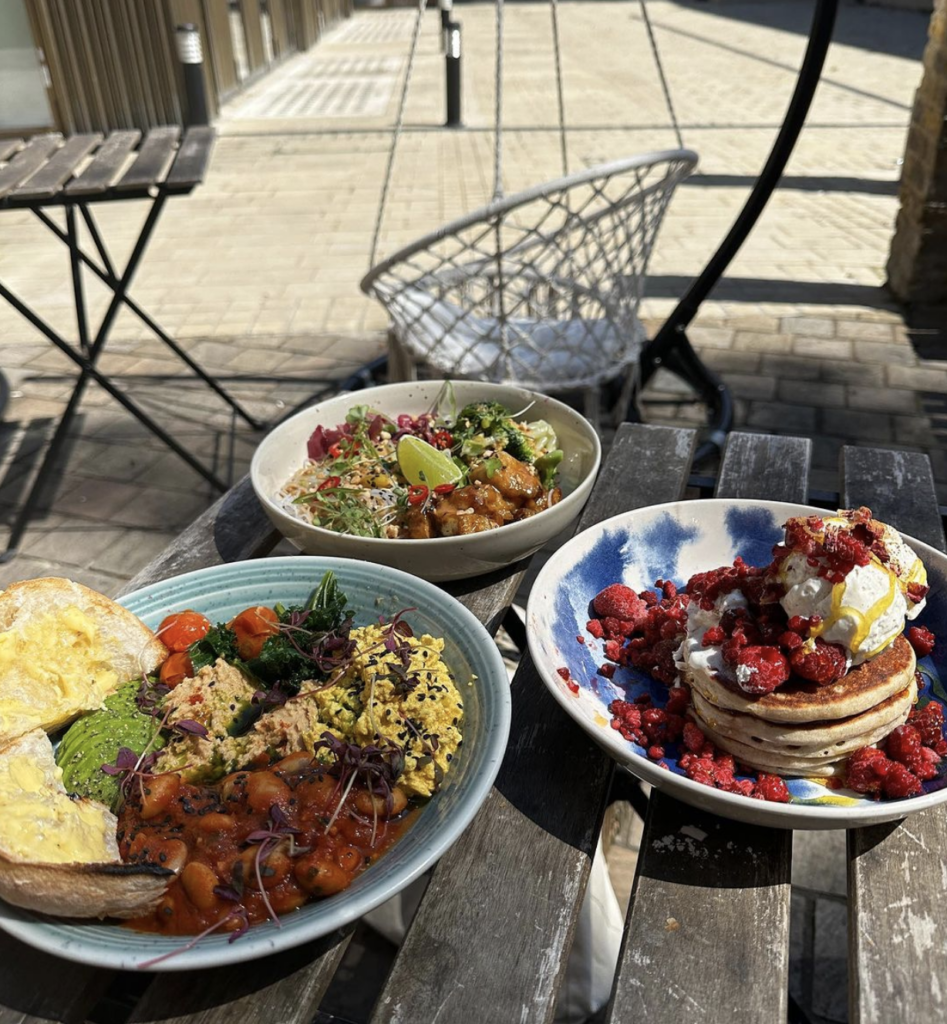 The name WAVE stands for We Are Vegan Everything and sums up quite simply the café mantra. If you're into extremely Instagrammable locations, then you have come to the right place. The bohemian-chic décor perfectly matches the serene nature of the WAVE and will have you feeling as though you've strolled off of the streets of Hackney and into a little Ibizan wellness retreat. All of the menu is vegan and a lot of it is also gluten-free, so there are healthy options for everyone.
Andu Ethiopian Café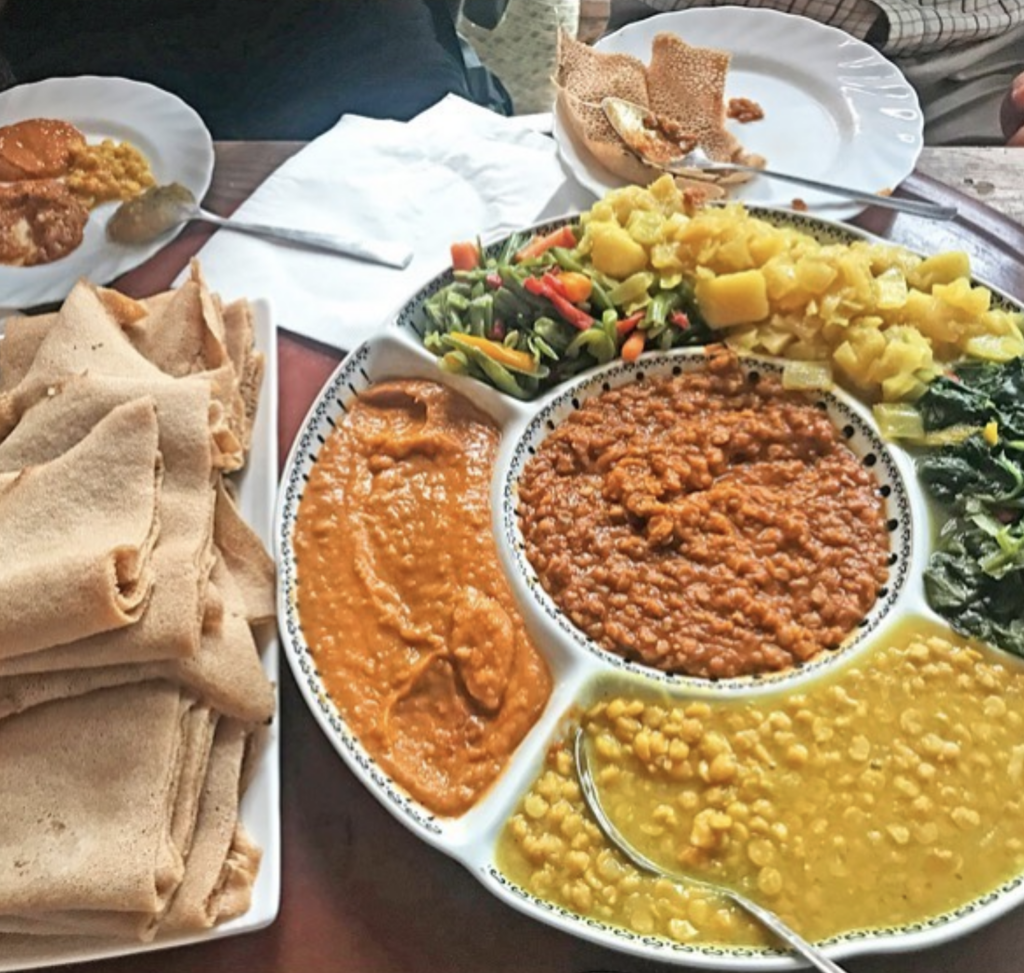 Located in one of London's most exciting areas, Andu serves up traditional Ethiopian vegan cooking to warm the soul and get your tastebuds buzzing. As the first even vegan Ethiopian restaurant, Andu wants to make sure that every customer has an experience to remember with both unforgettable flavours and unmatched service. This is comfort food with a healthy revamp.
Mooshies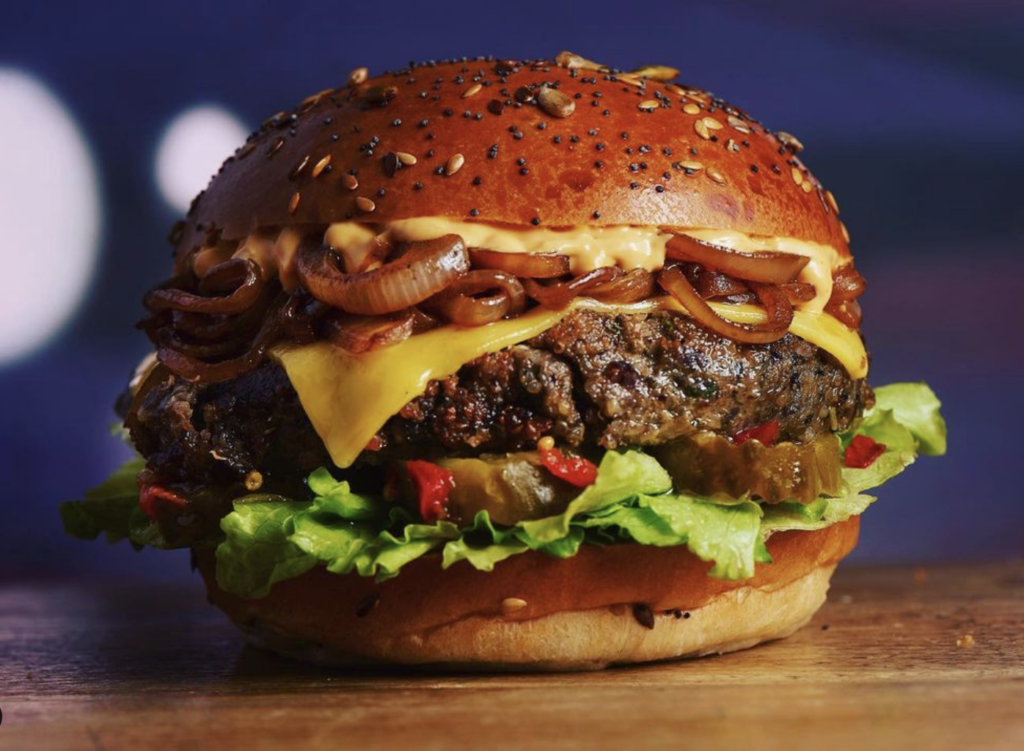 This vegan burger bar could make even the most certain of meat-eaters tempted with its irresistible collection of meat-free burgers, shakes, and loaded fries. Started by couple John Marulanda and Nelly Habibzadeh, the restaurant has been a success story for vegan diners and non-vegan diners everywhere. The couple says that their secret was to trial the recipes on their vegetable-hating friends and if they loved so would everyone else. Well, they weren't wrong because this Shoreditch- based restaurant often has hordes of individuals waiting to get their hands on a delicious burger.
Unity Diner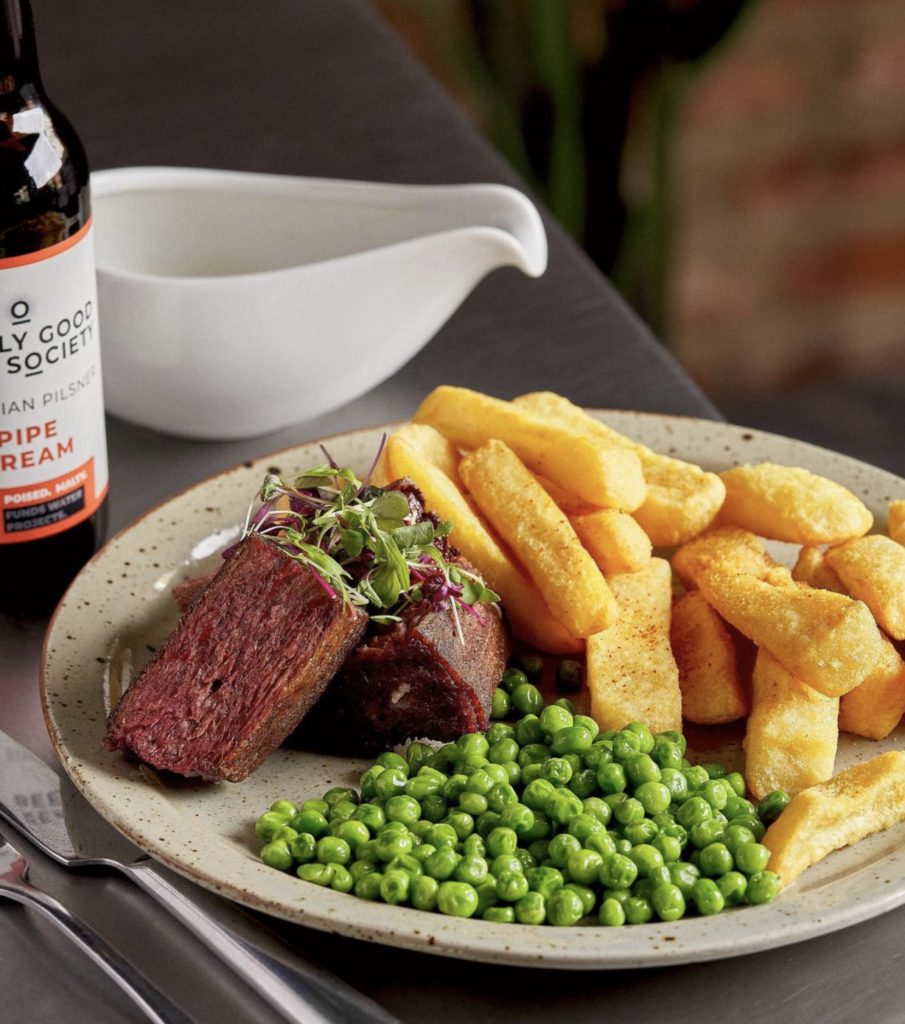 At Unity Diner, their focus is on great quality food that is also kind to our planet and the creatures on it. As a non-profit organisation their mission is to create a more compassionate future for animals, which is why their profits go directly towards animal rights work, and they have even created their very own animal sanctuary. As well as their ethical practice, Unity Diner has a brilliant plant-loving menu that includes its award-winning tofish and chips, which can be seen in the image above. Unity Diner was founded in September 2018 by a group of close friends on a mission to make a positive difference, including vegan educator 'Earthling Ed', who you can find over on our post 'Top UK Sustainable Living Bloggers & Influencers Worth Following'
---
South London Vegan Restaurants
Wulf & Lamb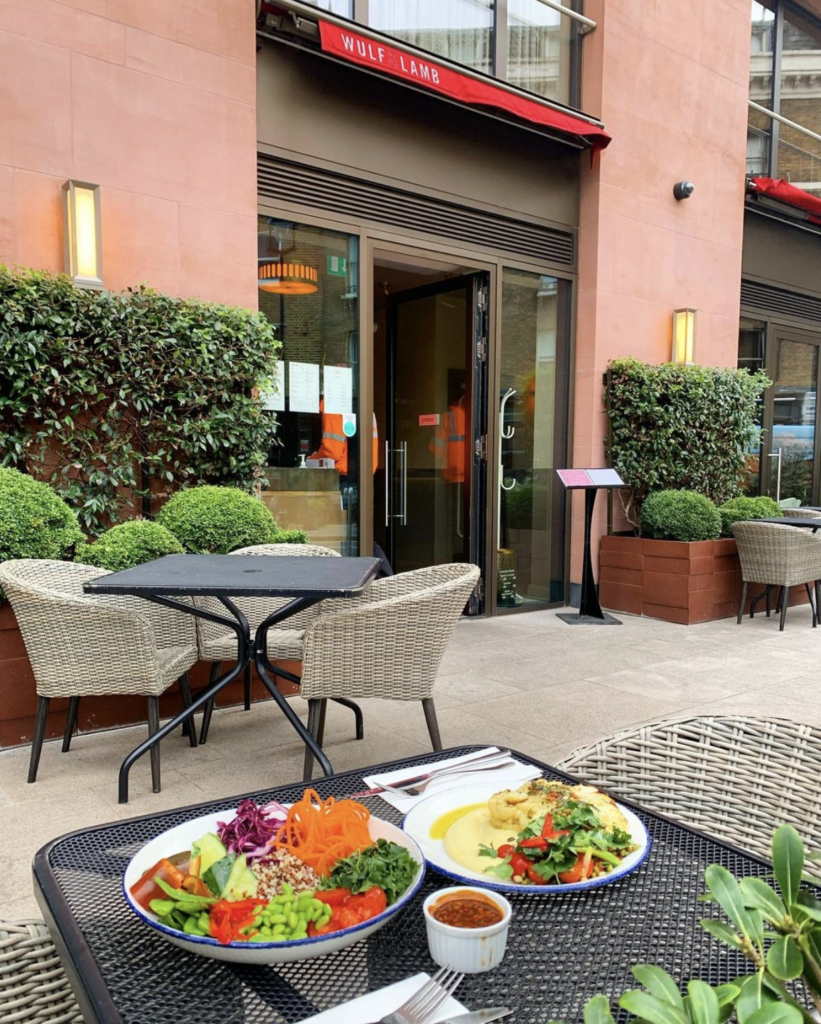 This plant-based kingdom has drawn the attention of celebrities, influencers, and everyday shoppers and it's easy to see why. Their all-day dining menu has managed to recreated comfort food classics with a vegan twist. Known best for their gooey vegan mac n cheese and fluffy bao buns, they also have included a range of whole foods and salads for the days that you're feeling something a little lighter. The restaurant has two locations, one in the heart of Chelsea, and the other in Marylebone. The perfect spots to grab some warming vegan comfort food to refuel after a busy day of shopping.
Mali Vegan Thai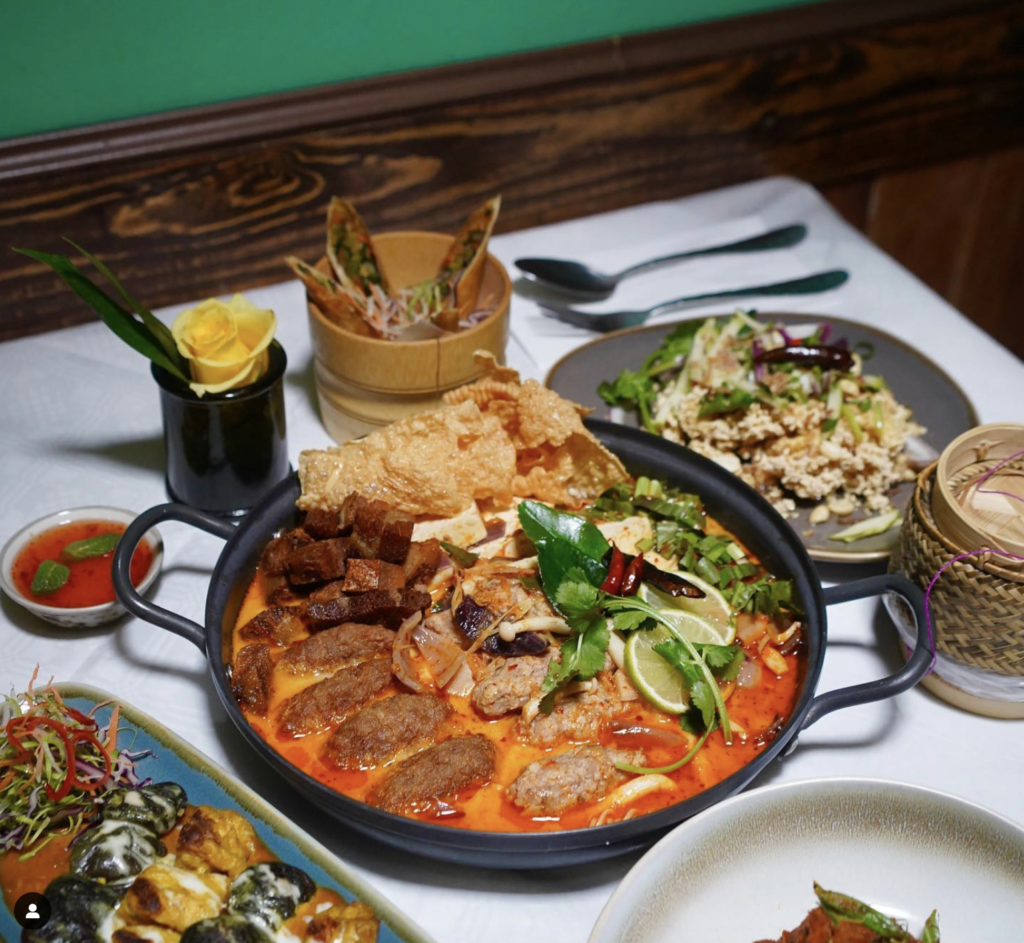 Veganism has a long-standing influence over Thai cooking and culture. Jae festival is a huge vegetarian cooking celebration in Thailand that highlights the greatness of vegetarian and vegan cuisine. This is where much of Mali Vegan draw their inspiration from. Taken from the traditional meals of home-cooking or Thai school cafeterias, the recipes are simple yet authentic and bursting with flavour. Something to warm you from the inside out, their menu features dishes such as Pad Thai and a Chickpea Massaman Curry. Their relaxed environment is perfect for a meet-up with friends over great food.
VE Kitchen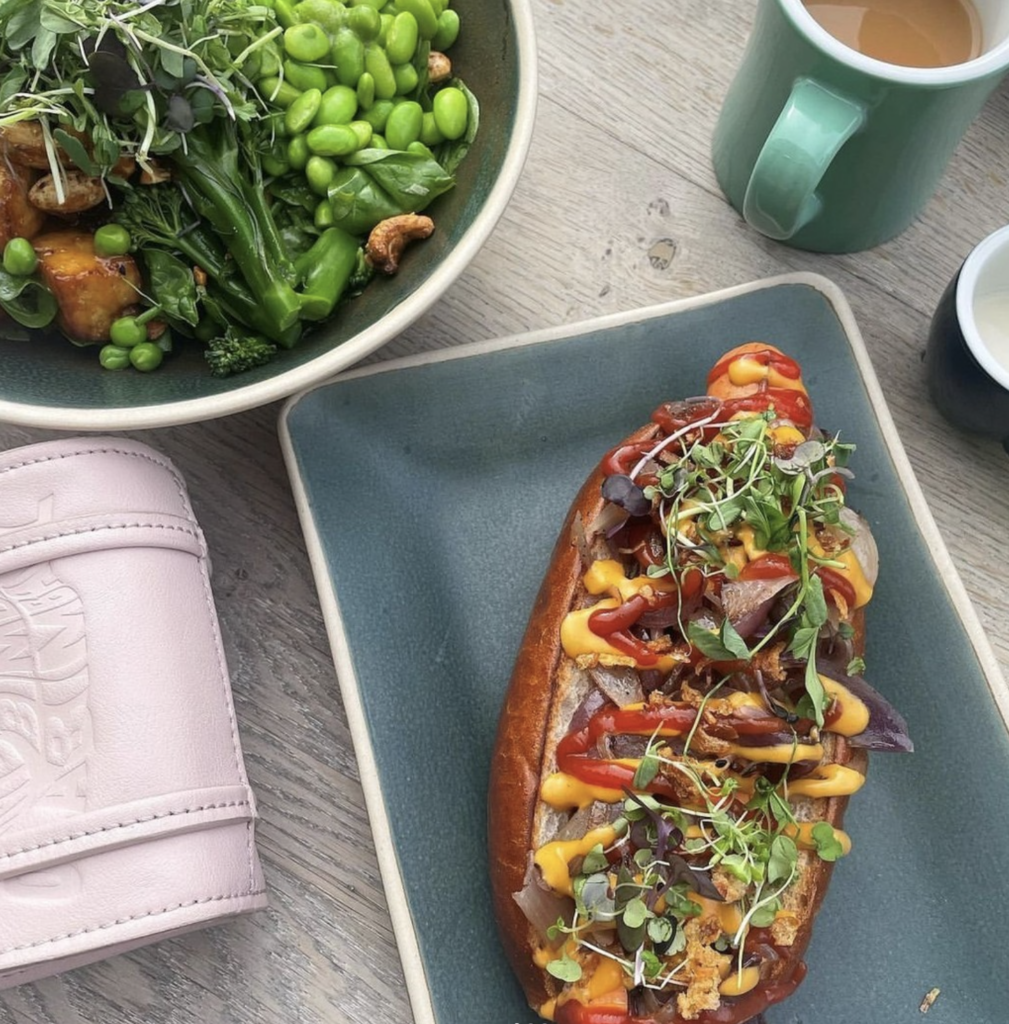 The ethics of VE Kitchen are clear and simple- to serve delicious, plant-based food packed with flavour in a green kitchen. The restaurant works on being as kind to the planet as it is to our bodies and that's why it is entirely electric operated with 100% green energy and delivering with no plastic. The food itself is also pretty great serving up a whole range of dishes from burgers to power bowls. So, whatever you're in the mood for head over to VE Kitchen because they've got you covered.
Tribe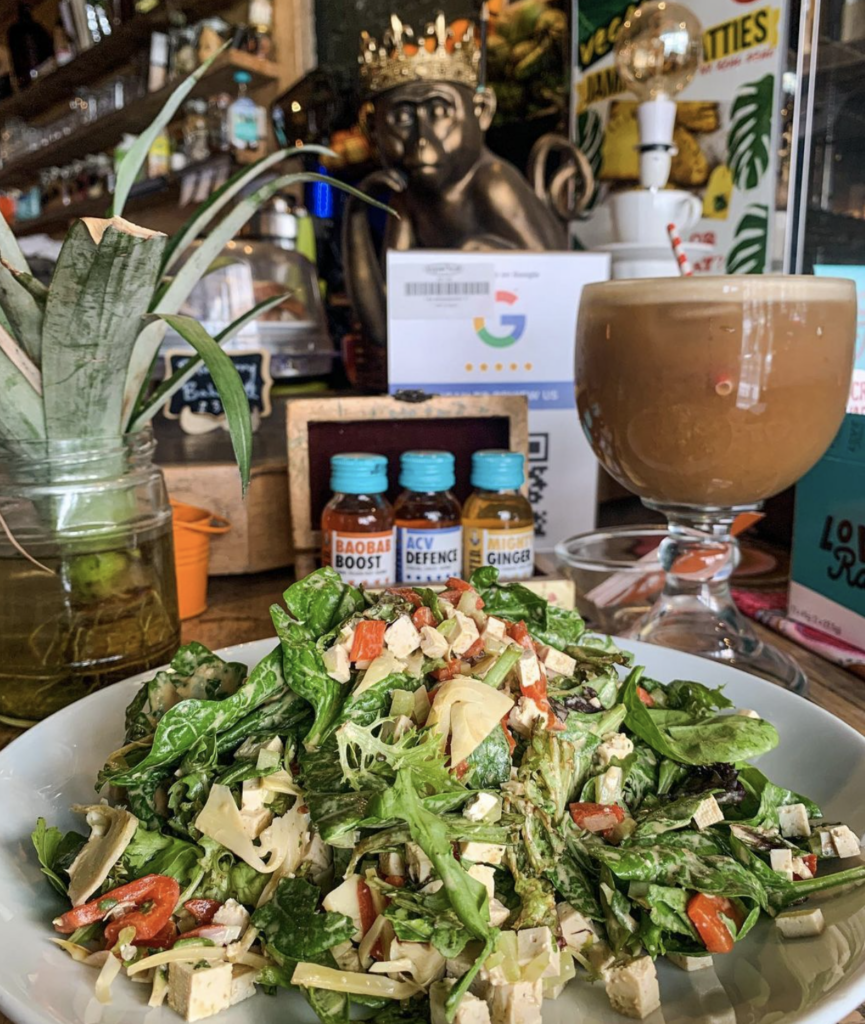 With cosy ambience, this unique establishment seamlessly combines a vegan cafe, refreshing juice bar, fragrant flower and herb shop, and a versatile workspace. The culinary journey on offer is a delightful blend of diverse cuisines, ranging from the comforting familiarity of beans on toast and the indulgence of French toast to the wholesome goodness of quinoa porridge and the creativity of a plantain sandwich. For those seeking more intense flavours, the options extend to a delectable coconut chickpea curry and a tantalising African stew. Beverage aficionados are in for a treat, as the menu boasts an array of options ranging from the aromatic allure of coffee and tea to the revitalising freshness of juices and the creamy richness of lattes. Indulgence finds its sweet expression in offerings such as the tempting blueberry bakewell, the classic banana bread, the irresistible chocolate brownies, and a selection of ice creams that provide the perfect conclusion to your culinary journey.
Tribe_Streatham Instagram page
No menu online – available on Uber Eats app
En Root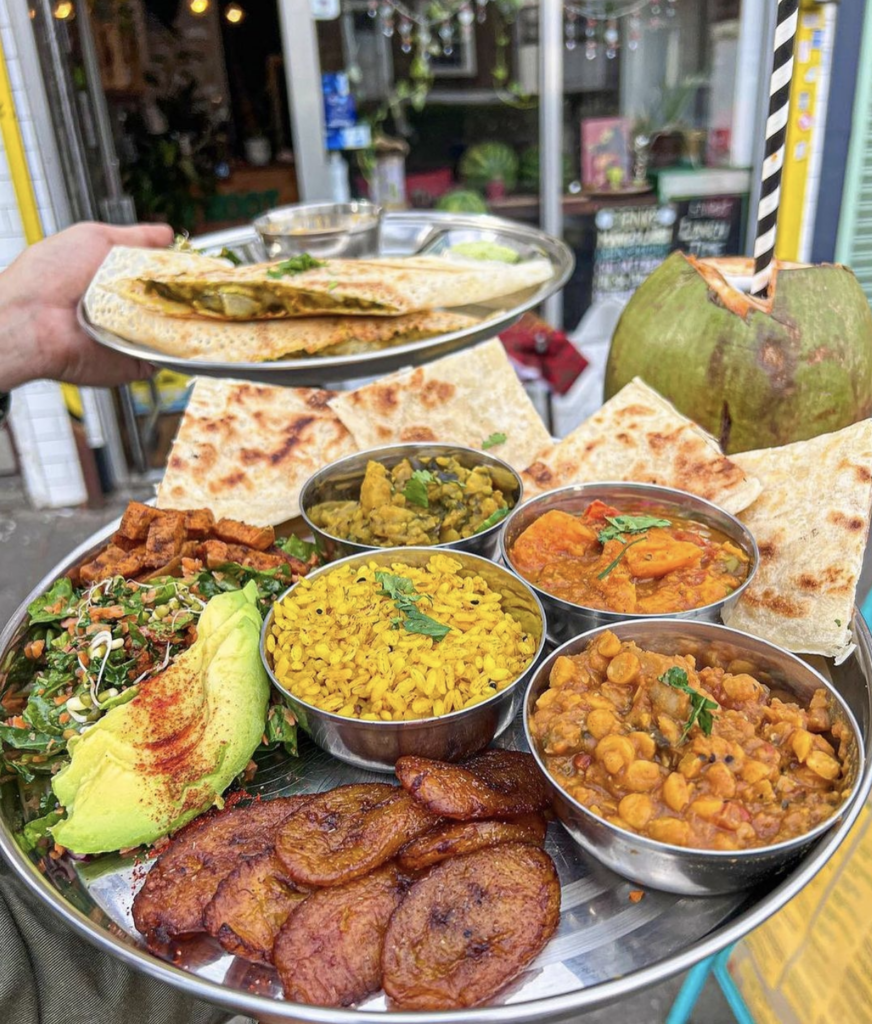 Take your tastebuds on a trip, with En Root's Indian-inspired vegan dining. With unique culinary creations and authentic Gujarati spices, this is dependable Indian cooking that has been transformed into a plant-based menu. With locations in both Brixton and now Peckham, there are multiple spaces around south London dishing out this exquisite hearty food. If you like a little spice in your life, they also sell their own Raja Bonnet Sauce.
Vegan Flavours (previously known as Joy's Health Sanctuary)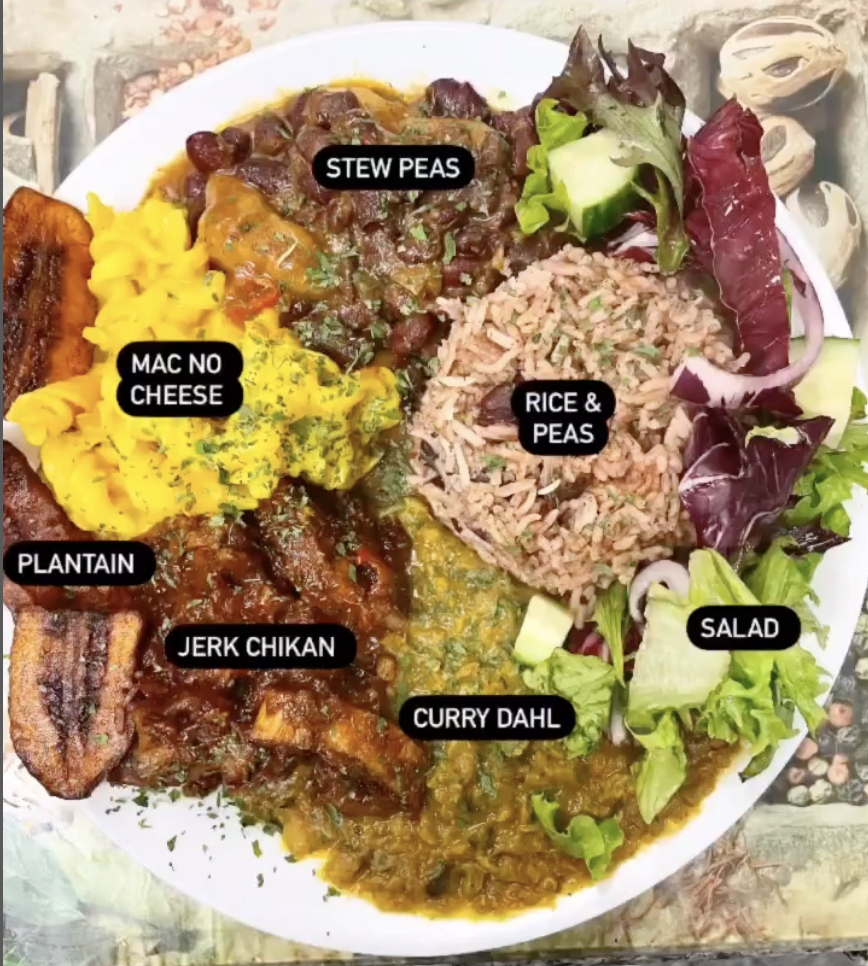 Heart-warming food straight from the coast of the Caribbean to the heart of Southeast London. Joy's is a juice bar and health food store, looking to feed your soul and fill you with goodness at all times of the day. The café is intimate a welcoming, with a chilled-out vibe so that you can stroll in at any time and know you are going to receive something great. The menu has plenty of both hot and cold options, including gluten-free baked goods and vegan oxtail.
Joy's Health Sanctuary Website
Amrutha Lounge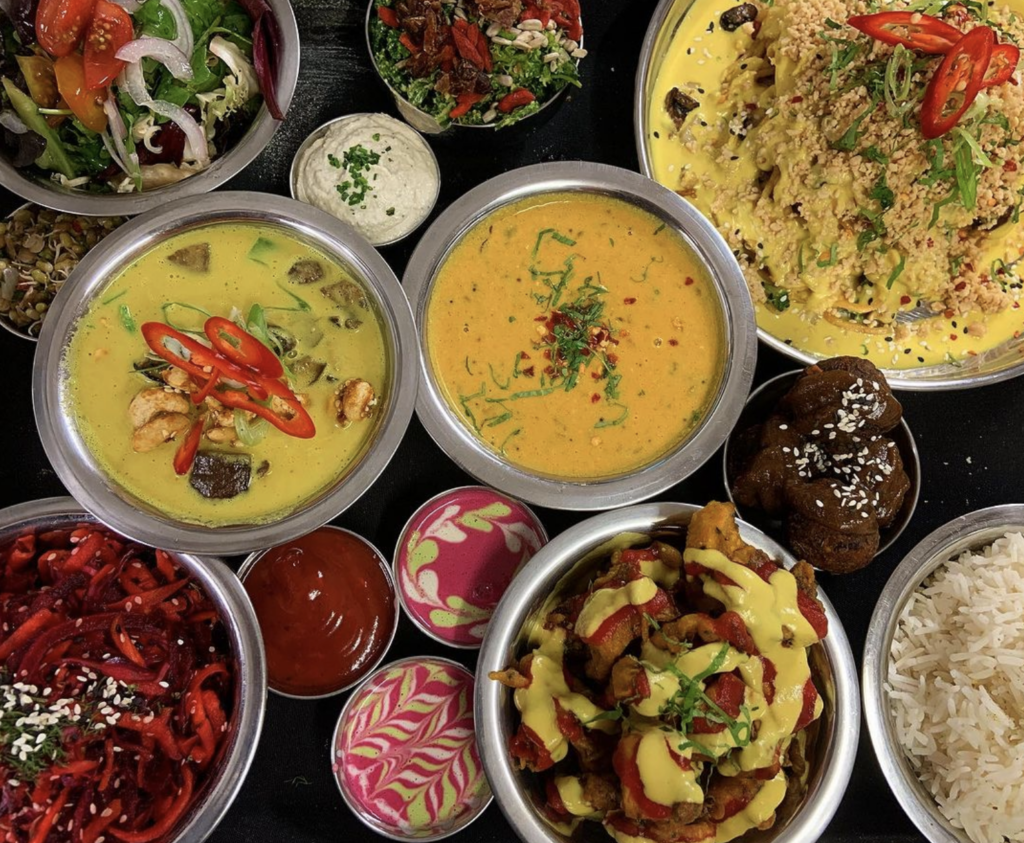 Amrutha Lounge is an innovative, organic vegan restaurant. Their aim is to create healthy and super tasty dishes, that focus on taking humble ingredients and creating them into something spectacular. Everything that they offer is made fresh in-store every day, so you know that every meal has been made with love, making it all that bit more delicious. Committed to helping people achieve a positive, healthy lifestyle Amrutha Lounge also offer Detox and Nourish Packages to offer a little guidance in healthy living.
Café Van Gogh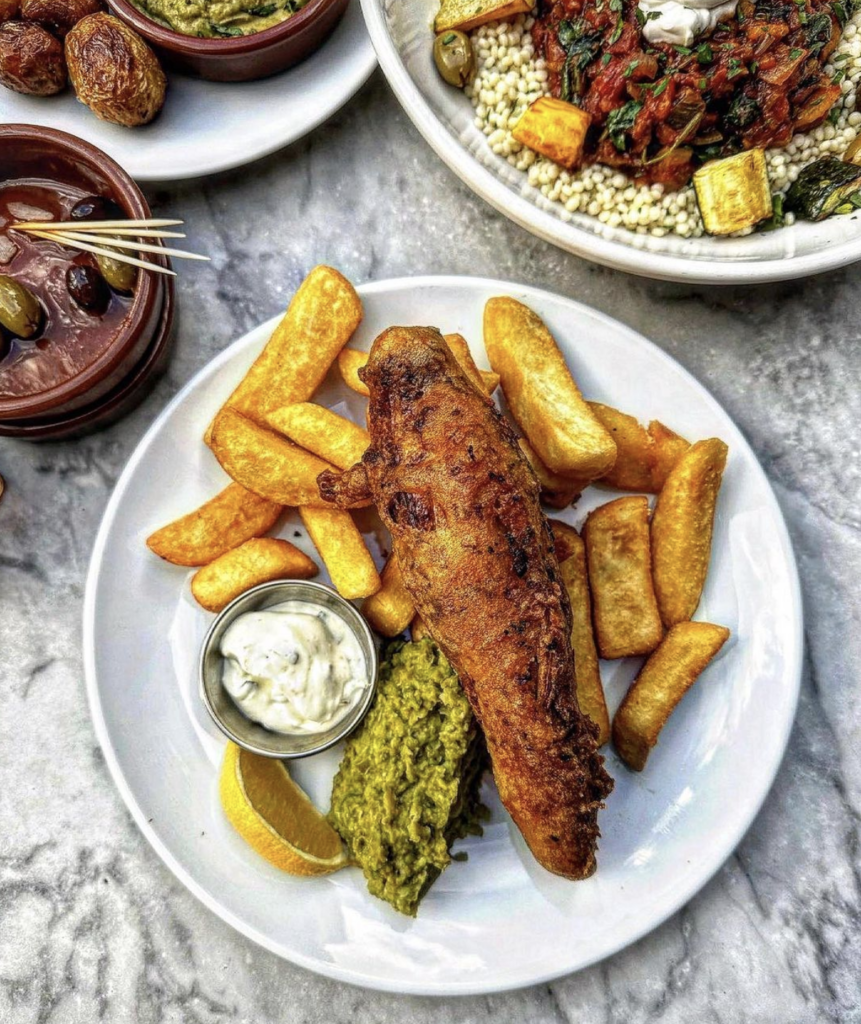 Like the artist himself, these chefs create works of art every day in the kitchen. Café Van Gogh situated in Southwest London is a not-for-profit restaurant, which means that its focus lies on social enterprise rather than making money. With a strong community spirit and a flavourful menu, which is also entirely vegan, Café Van Gogh is like a sustainable, vegan dining haven. The menu has plenty of options, including their vegan roasts (which can be seen above). A great restaurant if you ever need a reason to treat yourself to delicious food that does some good.
---
West London Vegan Restaurants
Farmacy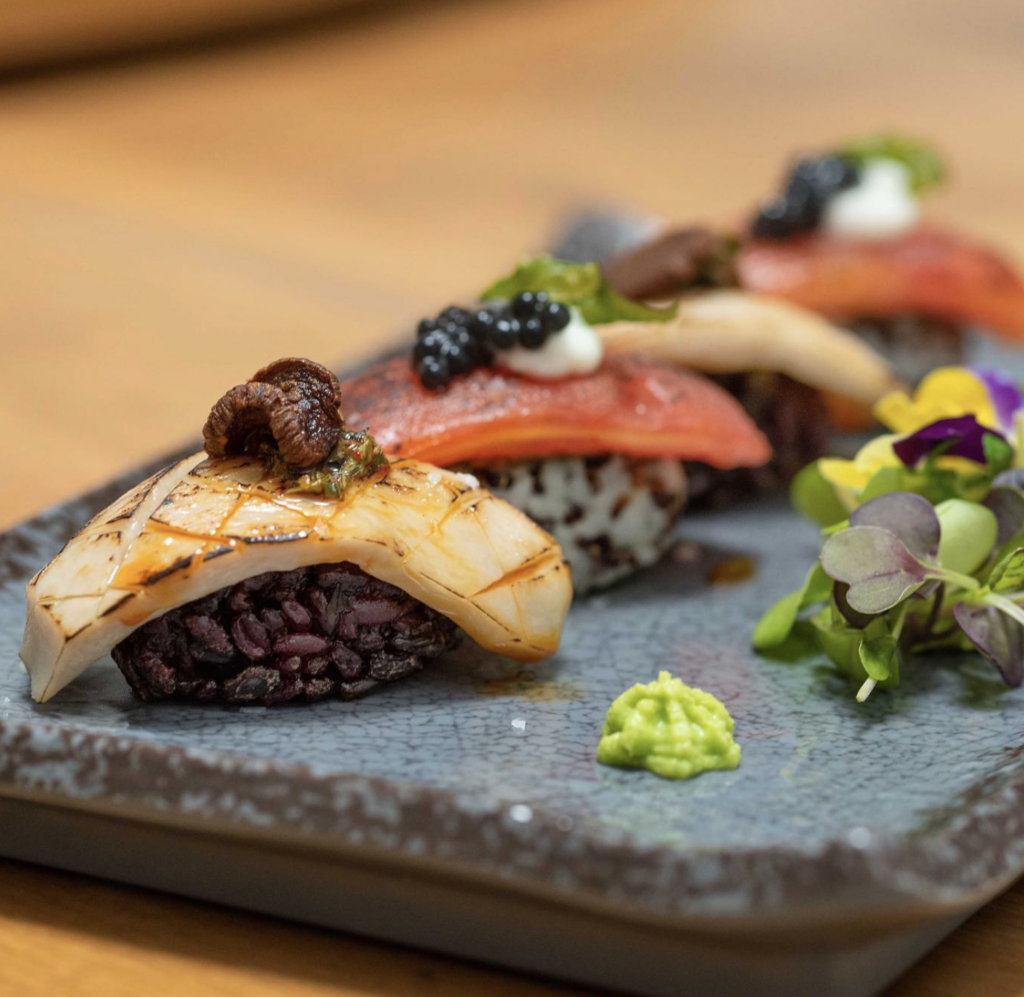 For a colourful dining experience that is as welcoming as it is exciting, look no further than Notting Hill's Farmacy. The concept behind the restaurant is on pulling back from the modern way of over-processed eating and reconnecting with food on a much simpler level. Everything that is served in-store is grown organically from their own farm so that ingredients are fresh and vibrant. Although the food is bursting with colour, the restaurant décor takes a simpler approach bringing the outdoors in with plenty of plants and natural light.
Erpingham House at Cloud Twelve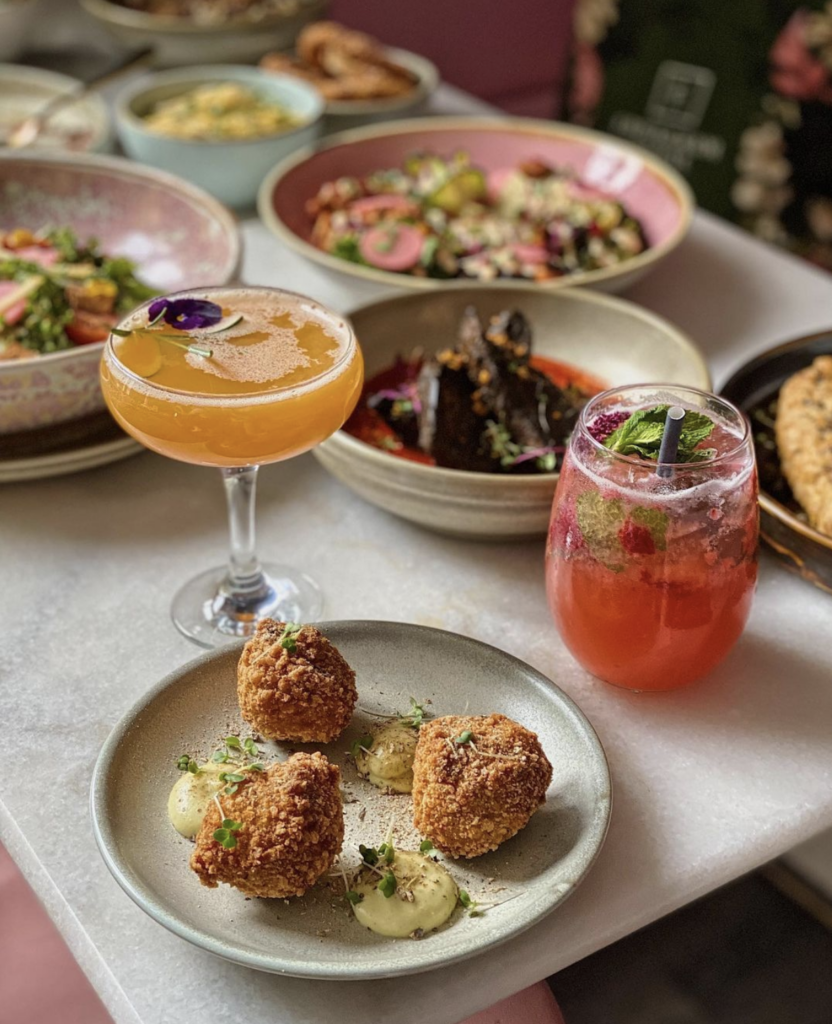 The UK's largest ever vegan restaurant has landed in The Brasserie at Cloud Twelve, bringing their mouth-watering array of plant-based delights along with them. Cloud Twelve is a unique wellness club in the centre of Notting Hill, with each room designed specifically following the Feng Shui, so that all experiences are optimised. They promote holistic healing and caring for our bodies and environments, so it's easy to see how this is the latest home for a restaurant that promotes wellbeing through great food filled with nutrients.
Plants by De
Plants by De is the vegan restaurant founded by plant-based cooking sensation, Deliciously Ella. Taking her ethical and wellness approach to a restaurant, Plants by De celebrates natural food that is filled with goodness for the body and soul. Highlighting just how delicious plants can be the restaurant menu features everything from pan-fried oyster mushrooms with orange jelly to confit delica pumpkin with whipped cashew cheese. The menu may sound complex, but the ingredients are all simple and wonderful.
The Gate, Hammersmith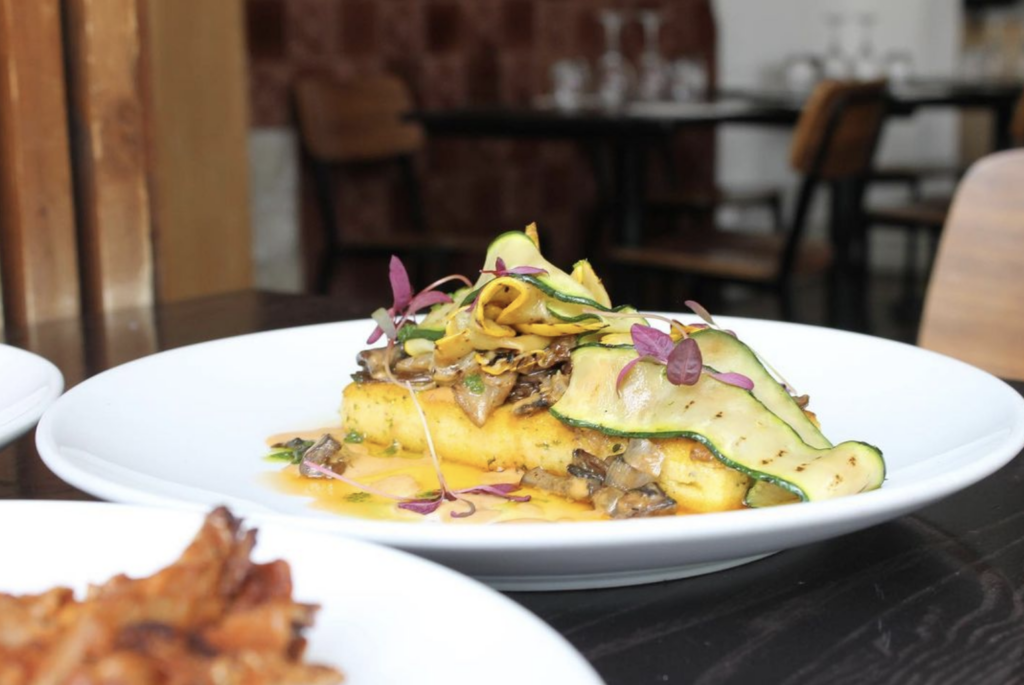 This light and airy restaurant offers an elegant and simple aesthetic, leaving the food to pack the punch. Established in 1989, The Gate is one of the most-loved vegetarian restaurants in London. With dishes inspired by the owners mixed Arabic, Indian and Jewish heritage, flavours are pulled from all over the world and channelled into vegetarian cuisine that is as good for your soul as it is your body. If you're a real foodie who wants to be transported through love of food to warmer climates, then give The Gate a go.
222 Vegan Cuisine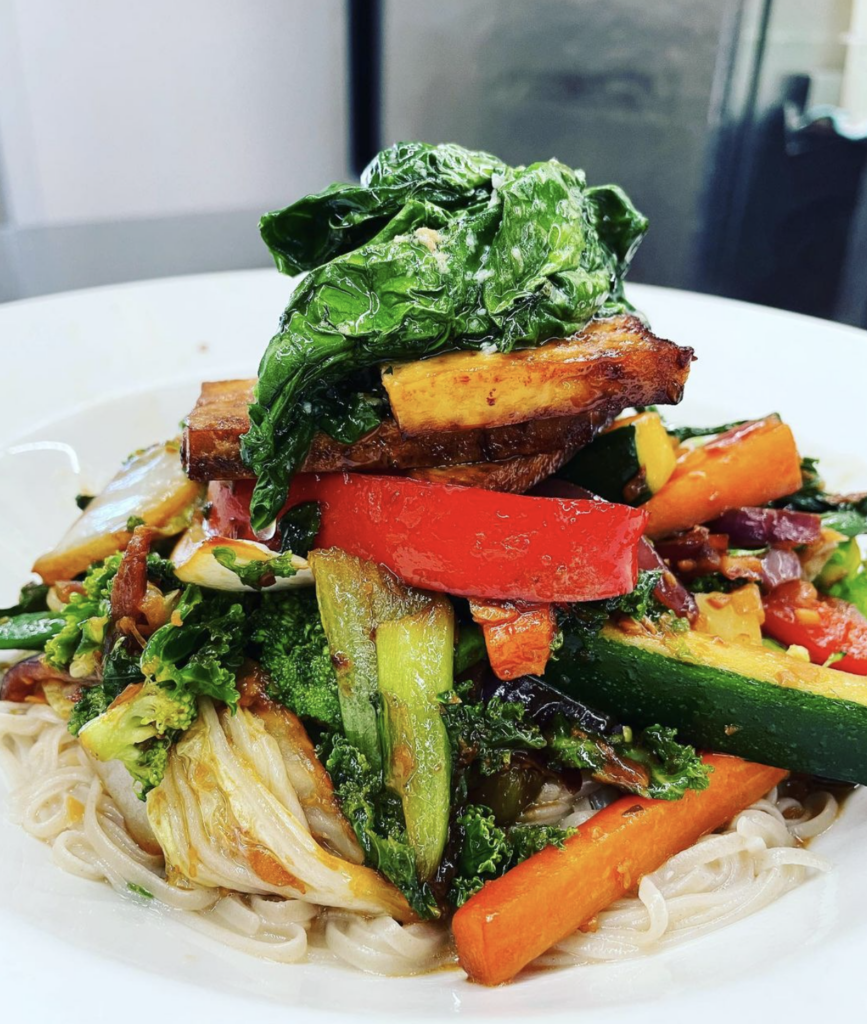 Having been around since 2004, 222 Vegan Cuisine has had a little more experience in the world than most vegan kitchens, and that means plenty of practice to reach perfection. The aim of the restaurant is simply to create great food that's also good for you. Chef Ben Asamani and the team lovingly create each dish by hand in the kitchen, so they know exactly what's going into each dish. As much as possible, the menu is low-salt, low-fat, non-GM, and organic, as well as obviously being completely vegan.
Eat of Eden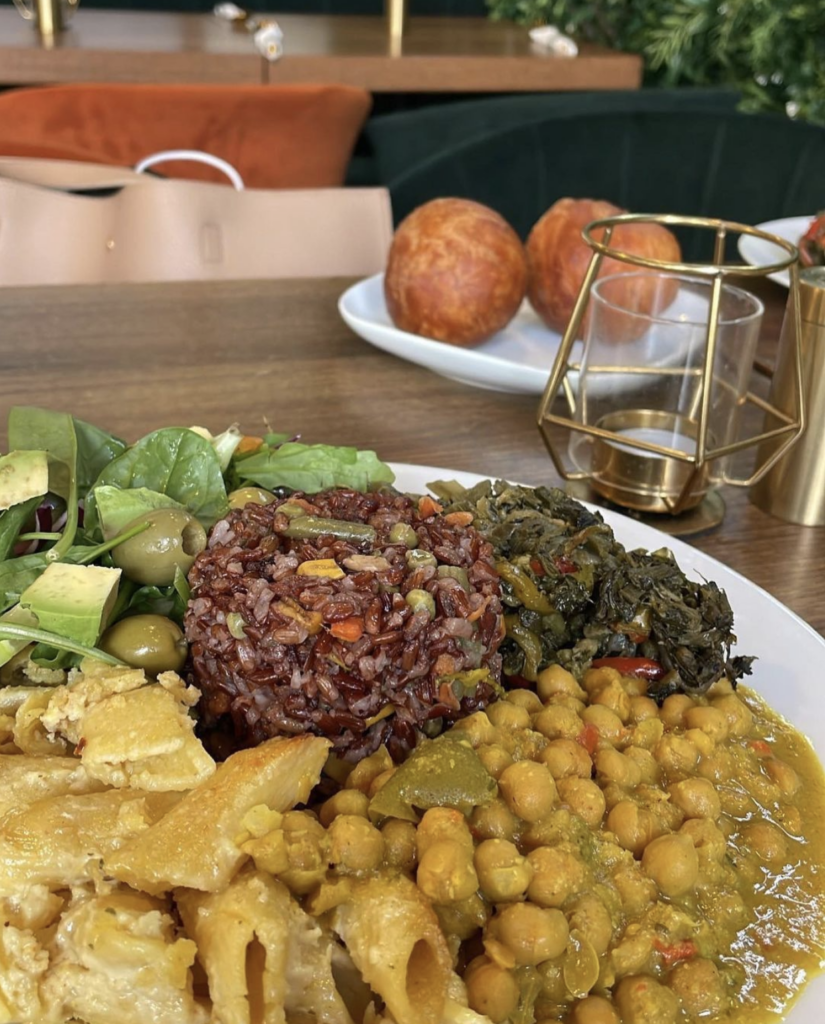 With over 4 locations in South London, one in West London, and one in East London, Eat of Eden is one of the most loved vegan Caribbean restaurants in London and it's easy to see why. Each dish on offer provides a home-cooked comfort that is created from organic, vegan ingredients that are packed with nutrients and flavour. Inspired by Caribbean flavours the menu features dishes such as Ackee and Sweet Pepper meal, and a selection of patties, as well as wraps and burgers for all to enjoy.
QuirkyDough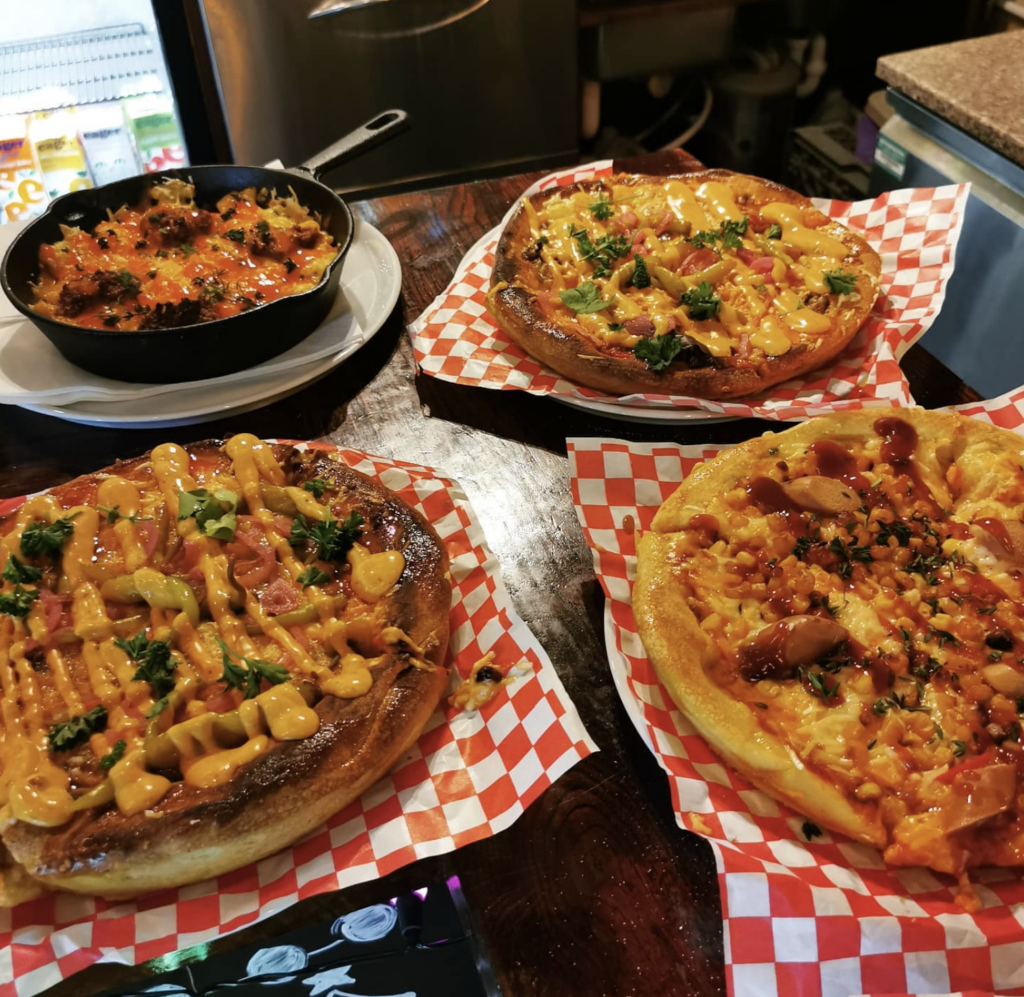 Looking for deep-dish Chicago pizzas with gooey cheesey goodness that's completely vegan? Of course, you are. Well, QuirkyDough has answered our prayers and brought to Beerkat in West London the best vegan Chicago-styled pizza. Beerkat is a taproom and bottle shop serving up beers for the thirsty people of London. The buzzing social atmosphere makes it the perfect place to share a slice (or 5) with friends. With a recipe mastered, this is a great restaurant for vegan and meat-eaters alike.
Veto Meato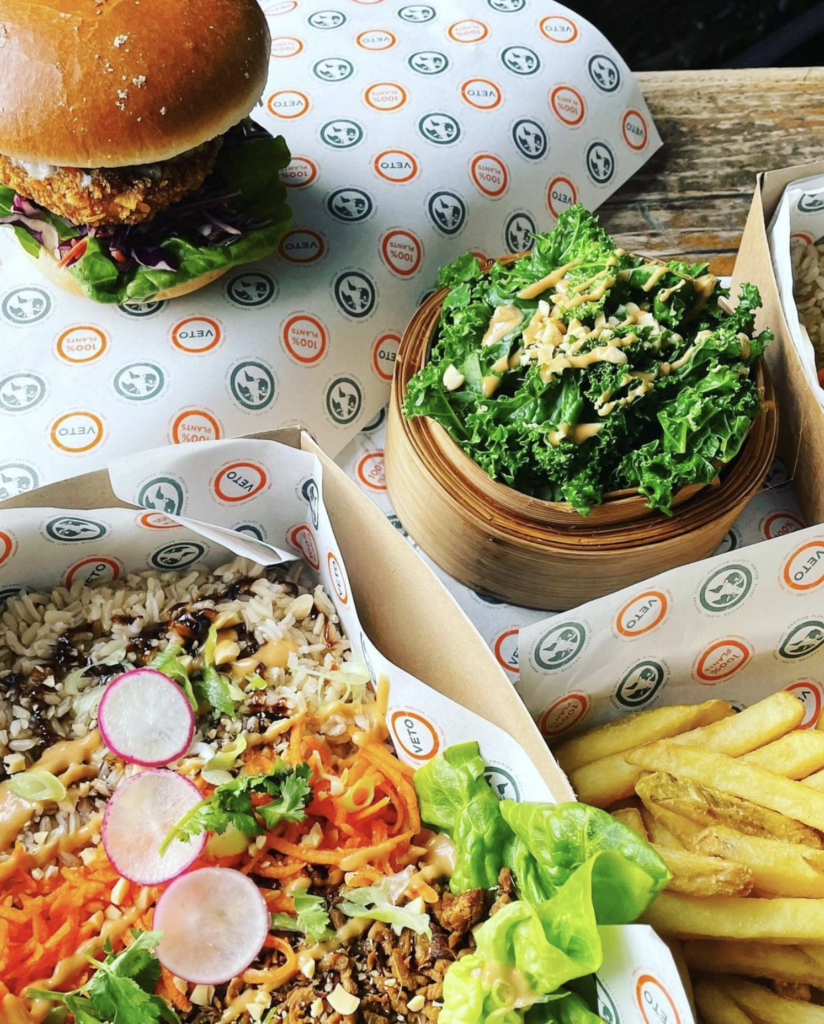 Working with bars and Cafés around London, Veto Meato set up their vegan eateries, to help reduce their carbon footprint. Inspired by street food from around the world, the restaurant aims to be 'heavy of flavour but light on the planet'. Currently plotted up in The Old Crown Public House in West London, just a short walk from Tottenham Court Road, this eatery is thriving with busy streets and shops around. Once inside though the restaurant is relaxed and welcoming, giving a break from the busyness of the day.
In this comprehensive guide to the 50 best vegan restaurants in London, we've embarked on a culinary journey that celebrates the city's vibrant plant-based dining scene. From cosy cafes to upscale eateries, we've traversed the diverse neighbourhoods of London to curate a list that caters to all taste preferences and occasions. Whether you're a seasoned vegan, a curious foodie, or someone simply looking to explore innovative and ethical dining options, these restaurants offer a symphony of flavours that prove plant-based cuisine knows no bounds. London's dynamic culinary landscape has truly embraced the vegan movement, and these 50 exceptional establishments stand as a testament to the city's commitment to sustainable, delicious, and creative dining experiences.
So, venture forth and savour the delectable offerings that these vegan havens have to offer, as London continues to redefine the possibilities of plant-based gastronomy.
If you fancy ordering some delights to enjoy home, be sure to indulge in our delectable assortment of delicious and healthy vegan food and drinks!
Check out our artisan snack collections, teas, organic coffees, and kombuchas, organic health foods, our planet-friendly, vegan alcoholic drinks, or even the full plant-based Snack Boxes & Hampers, all at the sustainable lifestyle destination.