We all know sleep is essential for overall mental and physical wellbeing and a good bedtime routine can help you get the best rest possible. Small nightly habits can have a big impact and really help us to unwind, relax and sleep deep. This even includes the type of pyjama's we wear. 💤
In line with World Mental Health Day 2023, we caught up with Nina, the founder of ethical sleepwear brand Nightire, to discuss all things sleep, wellbeing, sustainability and more.
What led you to create an ethical sleepwear brand, and how does it connect with your mission of promoting better mental health through sleep? 
When I moved to The Big Smoke from South Africa a few years ago, I started – thanks in large part to stressful days as a Brand Manager for a start-up soft drinks brand – to struggle with sleep. Which is when I did a whole bunch of research into the topic of sleep and picked up on a really interesting tidbit – that you can fall asleep faster and stay in a deep sleep easier if your body temperature is controlled, and a great way to do this is by wearing the right sleepwear and using the right bedding. "Right" meaning made of fabric that helps your body stay comfortable throughout the night as your body temps change. This, in turn, got me to focus on an industry that I felt had a LOT of room for innovation, which is where the idea for a functional sleep brand came about. 

And that's how I started Nightire – a range that's made entirely of organic bamboo – a fabric that is vegan, eco friendly and super soft, but most importantly regulates your body temperature for more comfortable sleeps (a real game-changer during monthly hormonal changes and seasonal shifts). PLUS bamboo is kind to skin and easy to care for too. 

Sleep and mental health are inextricably linked. You cannot have a strong mental state if you're underslept – the science has proven this time and again, but really, anyone who has had a bad night's sleep can attest to how rubbish you feel mentally, physically and emotionally the next day. Tackling bad sleeps, to me, meant championing a strong mind.
Can you tell us about the design and materials you've chosen for your sleepwear? How do these choices contribute to a more comfortable and restful night's sleep, and how does this align with your commitment to ethical practices?
As mentioned, all Nightire sleepwear, sleep accessories and bedding are made of 100% organic bamboo fabric. It's a wonderfully soft material that helps to regulate your body temps while wearing – a game changer for sleep especially if you suffer from hot flushes or night sweats. And as women, we all go through these body temp changes even monthly, or during and after pregnancy, or when menopause hit. It's also really important to wear sleepwear that is cut with plenty room to breathe, which is why I have designed all the styles to be roomy for ultimate relaxing.
We often hear about the importance of sleep for mental health. How does your brand raise awareness about the link between sleep quality and mental well-being?
Nightire was created for the sole purpose of helping folks to sleep better – through the products but also through the content that I put out on social, newsletters, blog posts etc. A lot of my content circles around the link between sleep quality and mental wellbeing, and I've even written a sleep book to drive the purpose home (this was my lockdown project and an e-book that any shopper at Nightire will receive for free to download with purchase). In the book, I share tried and tested tips on how to sleep better through everything from yoga poses to do before bed, scents and foods that can calm the nervous system, a bedroom aesthetic that gives you all the relaxed feels, and how to set up your day to work best with your own circadian rhythm. 
Your brand places a strong emphasis on sustainability and ethical production. How do these values fit into your broader goal of supporting mental health through improved sleep?
Another reason for my choice of fabric in the form of bamboo, was for its sustainability props. The bamboo plant grows quickly and without much need for water, it doesn't strip the soil when harvested and is vegan too. Nightire is a slow fashion brand, where everything is small batch made, slowly (literally, it takes me months to produce a small batch of stock). The idea of slowing down – for sleep and for life in general – of supporting brands who share this ethos, is woven into the fabric of Nightire's bedtime fashion.
Do you have any stories or examples of customers who have seen a positive impact on their mental wellbeing after using your sleepwear? In your view, how does sleepwear play a role in fostering better mental health overall?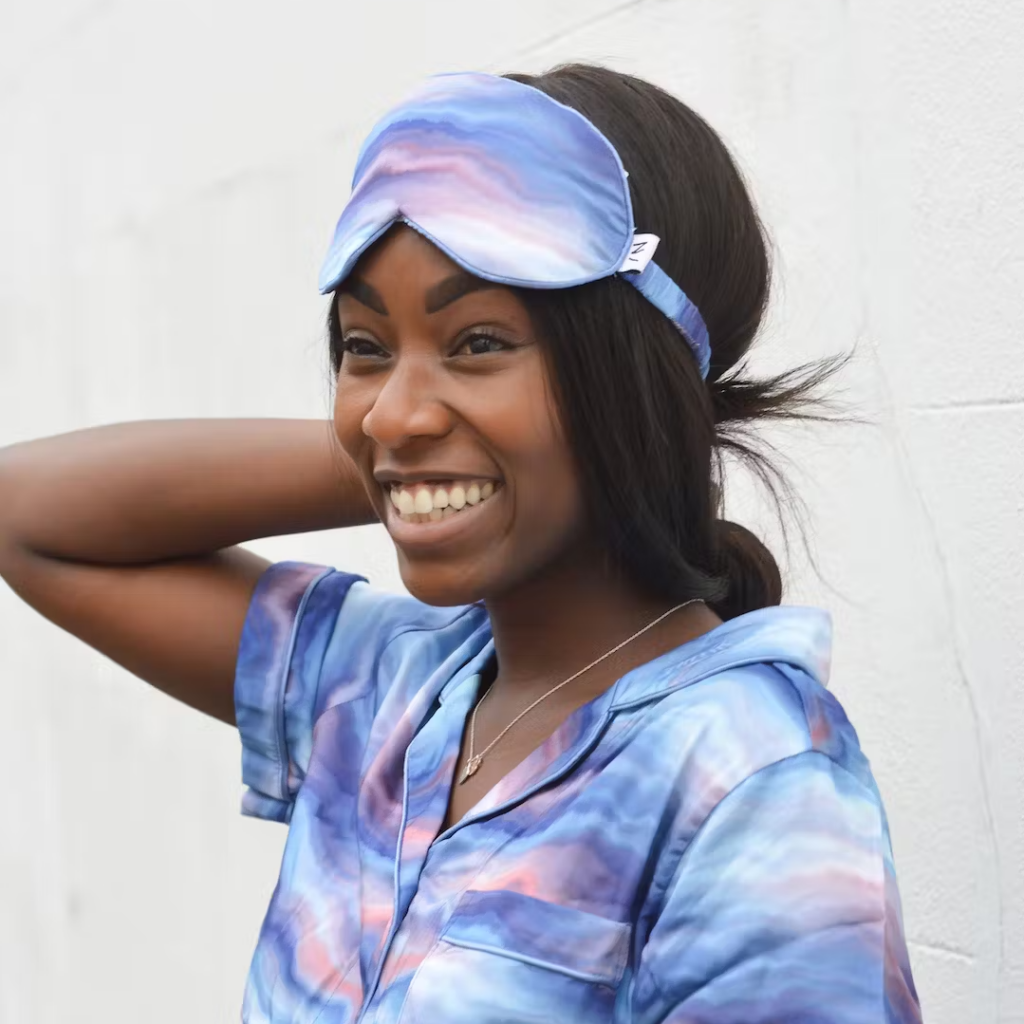 I've had many supporters of Nightire get in touch to rave about how much more comfortable they are at night since wearing the PJs, how their night-sweats are a thing of the past. And as we now know, if you're more comfortable at night and sleeping like a log, your mental health will be all the better for it. (Performance) sleepwear can play a key role in bettering your sleep – it's not a magic pill, so won't be the one and only tweak that you need to make to your daily routine, your bedtime hygiene and your inner dialogue, but lovely cooling threads worn at a time of the day when you need to feel relaxed, indulgent and comfortable, can go a long way.
You can explore Nightire's full product range at Veo, to help unlock your best nights sleep.
At Veo, we take a lot of pride in sharing important conversations, tips and even products that can help us to look after our mind and bodies. If you'd like to read more, check out further Wellness articles on our blog. You can also check out our Health & Wellness department on our website, which even has a dedicated section for Mindfulness Products.
If you are struggling with your mental health, please consider speaking to a doctor. Remember, you are not alone.