Many of us enjoy wearing beautiful jewellery, whether we've been gifted a piece to mark a special occasion, received it as a family heirloom, saved up to treat ourselves or acquired pieces in other ways. Jewellery has always existed as an embellishment of the human form and a manner of expressionism, even right the way back to its early ancient origins.
A brief history of jewellery
Jewellery made from shells, stone and bones has been found from prehistoric times. It's likely that from an early date it was worn as a protection from the dangers of life or as a mark of status or rank. Gold, regarded a rare and highly valued material, was often buried with the dead so as to accompany its owner into the afterlife, a common practice in places like Ancient Egypt or Celtic Ireland.
Jewellery in medieval Europe reflected an intensely hierarchical and status-conscious society as royalty and nobility wore gold, silver and precious gems. Heading into the Renaissance and the age's synonymity with splendour, the importance of religion could be seen in jewellery and spectacular pieces were worn as a display of political strength.
In the 19th century, amid vast industrial and social change, jewellery design focus often looked to classical styles from ancient Greece and Rome. Naturalistic jewellery, decorated with clearly recognisable flowers and fruit, was also popular at the time. However, the late 19th century saw a rejection of the changing industrialised world and machine-led factory systems and a consequential rise in the Arts and Crafts movement. Jewellers replaced the repetition and regularity of mainstream settings with curving or figurative designs with symbolic meaning.
Fast forward to the 1960s and the emergence of contemporary jewellery, it is clear that the boundaries of jewellery have been continually redefined. Conventions have been challenged by new generations of independent and avant-garde jewellers, often educated at art college and immersed in new social ideas that reflectively push the boundaries of jewellery.
Today jewellery still carries much symbolism and significance across cultures and traditions all over the world. Engagement rings given to a spouse signify a commitment to marry our loved one, the mangalsutra, a sacred necklace in Hinduism is tied around the bride's neck on the day of the wedding in a ceremony called Mangalya dharanam; deep-rooted significance of materials in Native American jewellery for both decorative and ceremonial purposes are common, such as the use of turquoise which is believed to have mystical healing properties.
Whilst much of jewellery today still incorporates the same materials, like gold and precious stones, it is arguably less about signifying the power or status of high society and rather more closely related to sentimental symbolism and personal occasions.
How exactly is jewellery made?
Jewellery used to be made entirely by hand, with metals being moulded into shape and gemstones being painstakingly placed into their clasps, but thanks to technological advancements, machinery can help to craft pieces much quicker.
Unfortunately though, for an industry defined by luxury and aesthetic, below the surface it is rife with environmental and ethical issues, pertaining to sourcing raw materials and sometimes dubious production practices. Just because something is more expensive, that doesn't mean it's been made fairly.
Furthermore, from people displacement and deforestation to soil contamination and dangerous working conditions, unsustainable practices are commonplace in the mining industry, putting the entire sustainability of the jewellery industry into question.
The video below captures a glimpse into the disturbing hidden cost behind jewellery.
Click here to read the full report.
The key to ethical jewellery is transparency and traceability. If a buyer has full transparency as to a jewellery's material origin and production, it enables them to make an informed choice about who and where they buy from.
However, greenwashing can make it difficult to know who's ethical and sustainability claims you can really trust. On top of this, the rise in popularity of cheap fast fashion jewellery continues to undermines the real benefits of investing in high quality pieces.
Is fast fashion jewellery really that bad?
In short, yes. Despite fast fashion brands offering jewellery at often much lower price point making it more economically accessible, silver-plated or gold-plated jewellery quickly lose their plating and expose the cheaper metals they're really made of – often turning your skin green in the process. Fast fashion rings with plastic 'gem stones' that fall out, necklaces made of plastic pearls, plastic earrings and other micro-trend pieces, are doomed to spend the majority of their life as plastic waste in landfill.
The 'throw-away' mentality exists heavily when it comes to fast fashion jewellery, which is why it is nearly always a much better return on your investment, to buy quality, ethically produced pieces that are going to not only last but have been produced fairly for people and the planet.
Brands doing it better at Veo
According to Tracemark's Sustainable Luxury Consumer Report 2021, 94% of consumers believe jewellery brands should be more transparent about the origin of the raw materials they use like gold and diamonds. 71% said they would choose a piece of jewellery for its traceability, and up to 77.5% of consumers would pay more for a traceable product. These figures a promising and show a demand for sustainable and ethical jewellery.
So is it possible to put this into action and actually buy, own and wear jewellery in an ethical and sustainable way? Well, buying jewellery that is made from responsibly sourced gold or silver, and using ethically sourced gemstones, will give you better quality jewellery that will last you a lifetime, whilst also minimising the risk of exploitation of people and resources. Here's a handful of our brands at Veo that are committed to doing jewellery better.
Claire Hill Designs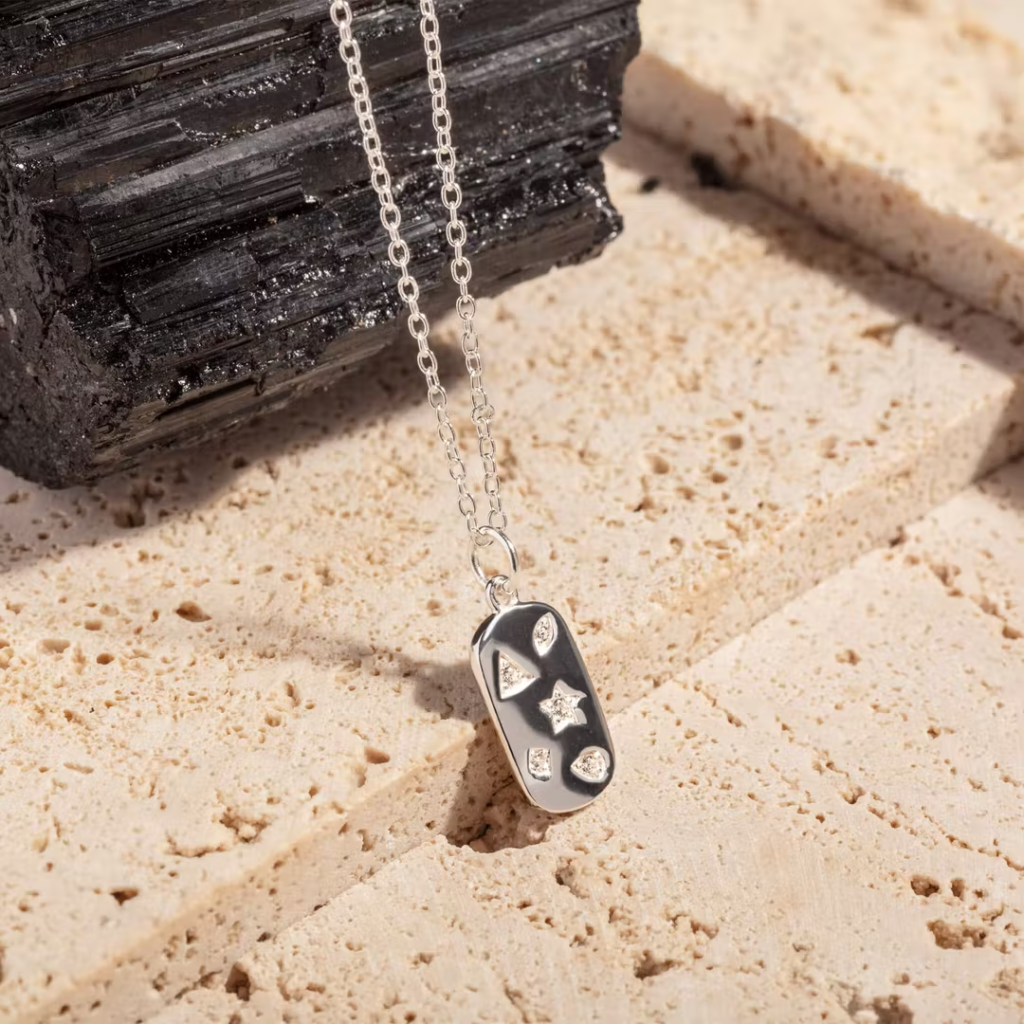 Claire Hill Designs offer a range of timeless, demi-fine jewellery with a modern edge. It's all about effortless style that never goes out of fashion, elevating everyday looks with touches of luxury. Using thick vermeil plating and sustainable metals like recycled gold and silver, there are coin necklaces to inspire and chunky gold hoops to make you feel good. These are pieces to fall in love with, over and over again.
Claire Hill Designs is committed so sustainable production throughout the whole production process ensuring the use of recycled silver, ethically mined and lab-grown stones, responsibly handmade pieces with versatility, timeless design as well as a jewellery fixing service.
Click to shop Claire Hill Designs.
Harfi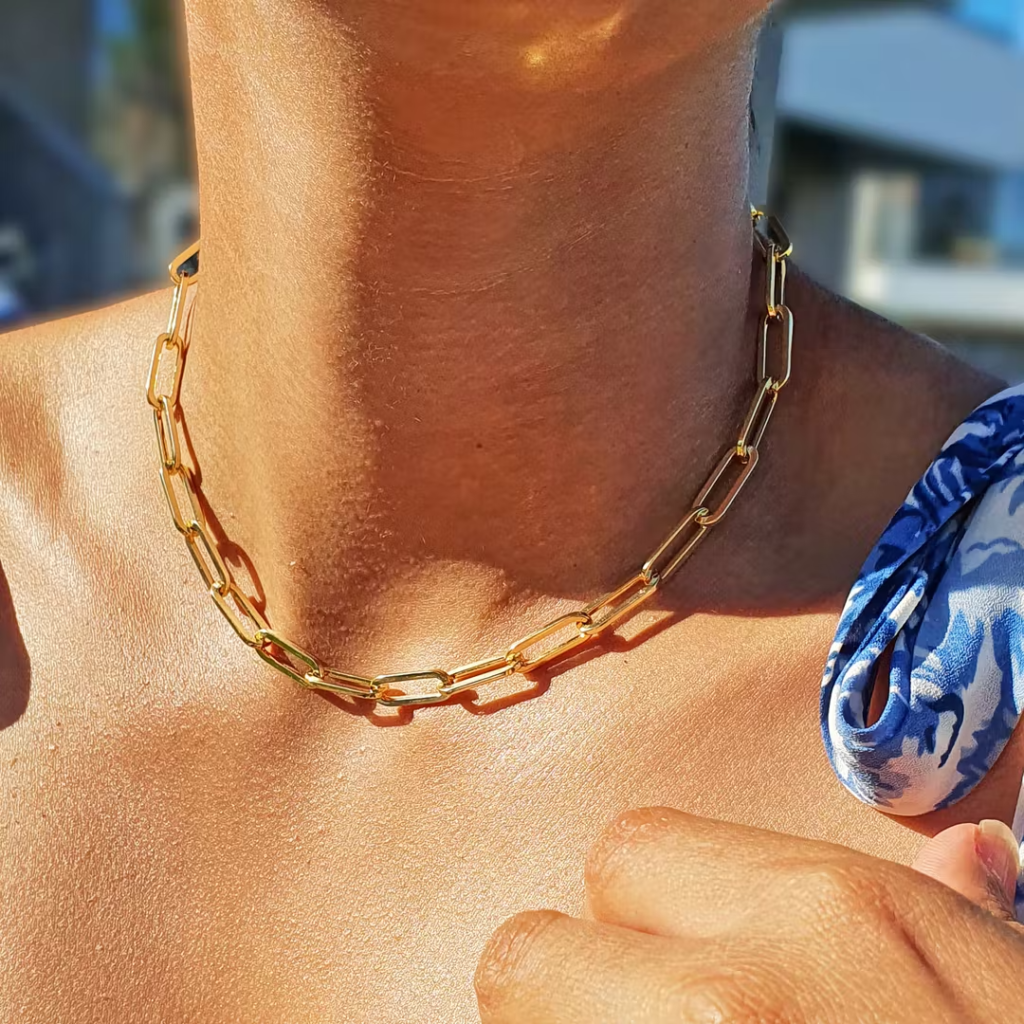 Harfi brings you a range of demi-fine jewellery that doesn't cost the earth, so you can make a statement every day. By removing the middlemen and keeping the supply chain as lean as possible – no distributors or resellers – and working directly with artisan partners, Harfi are able to offer the same quality of jewellery at a much more affordable price, without compromising on quality.
Every jewellery piece comes in 18k gold vermeil. Far more durable than regular gold plating, gold vermeil provides a premium alternative to solid gold. The collections consist of base earrings and chains, complemented by a range of interchangeable statement pendants to customise your look.
With a focus on high quality craftsmanship, affordability and timeless design, Harfi is on a mission to make it easier than ever to inspire effortless confidence in your look.
Little by Little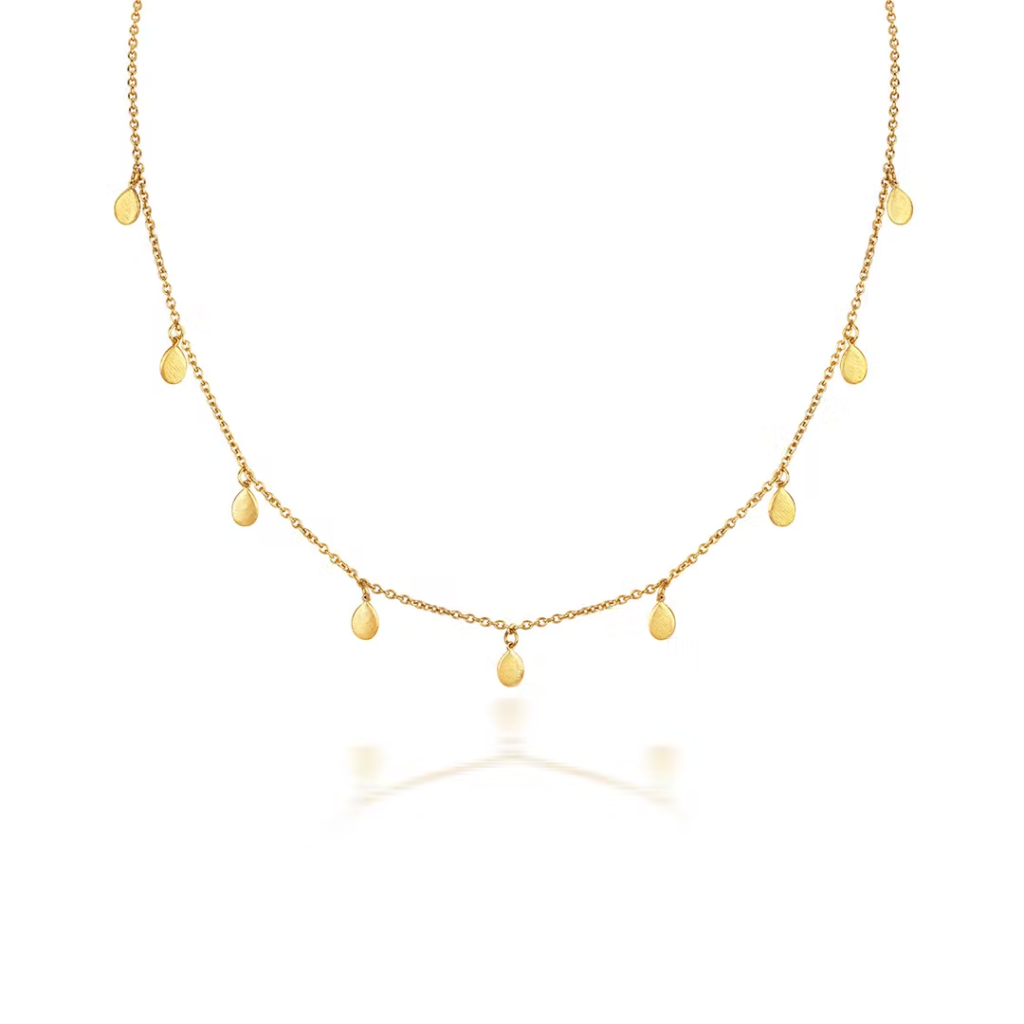 Little by Little was founded by Annabel Cox and Georgina Fuggle. Their collections are uniquely inspired by the natural beauty found in food and are lovingly created to bring a little ethical luxury into your life.
Little by Little's key sustainable values lie in the championing of transparent, responsible, (both socially and environmentally) and revealing supply chains. The collections are designed by Annabel in the UK and created by a well-established jewellery producer in Lima, Peru. The Peruvian factory has been running for 32 years and employs 350 people, which Annabel has visited to ensure that it's a safe, well-equipped place to work.
They use local Peruvian silver, some of which is recycled, whilst the virgin metal used is supplied by companies with environmental certification that meet with strict labour standards and comply with human rights laws. Their ethical goal for 2021 was to strive for closed-loop production and find a 100% traceable source of Peruvian silver, further enabling them to support local miners and communities, whilst reducing their environmental impact.
Click to shop Little By Little.
Ana Dyla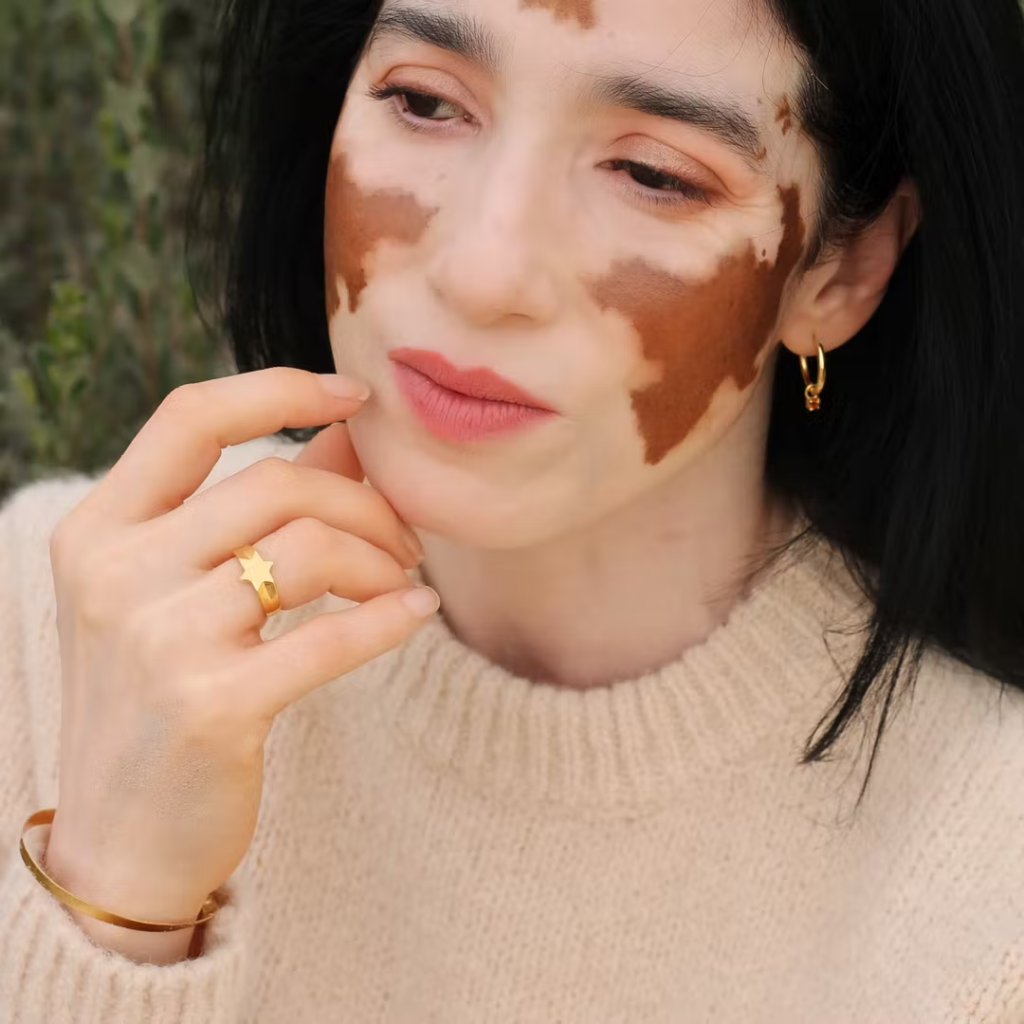 Ana Dyla create unique collections of handcrafted jewellery, utilising the art of nature (gem stones) and further refined by local Turkish gem cutters and artisans. They create one of a kind pieces in which the old Ottoman traditions are harmoniously blended with modern design aesthetics.
They aim to create a positive impact on the communities and societies they engage with, by improving their value chain, looking after employees and customers, implementing recycling initiatives and locally sourcing materials.
Bound Studios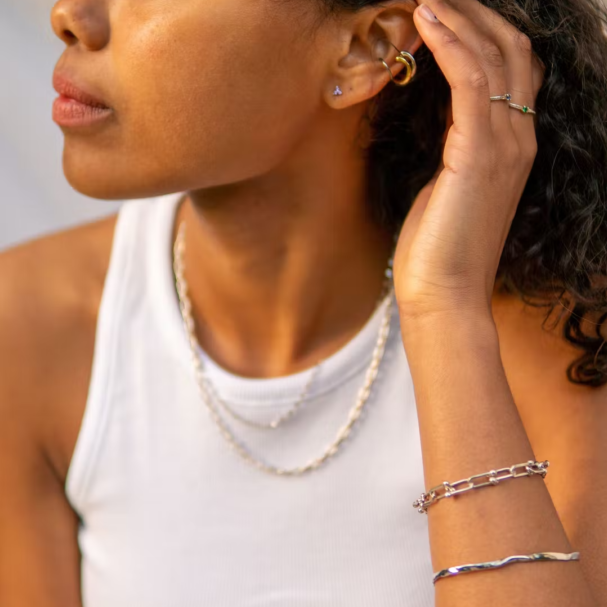 Bound Studios sustainable, timeless jewellery is designed in Amsterdam by women, for women. These go to timeless jewellery are available in silver, gold vermeil and solid gold and packed and shipped in recycled plastic-free packaging.
Bound Studios jewellery is made from 100% recycled 925 sterling silver, recycled 18k gold and recycled 14k gold. The silver jewellery is rhodium plated to avoid oxidation and the gold plated items are plated with 18k gold.
Sustainability for Bound means; using recycled materials, being plastic free, working with external partners that have good working conditions, not believing in fast fashion and designing timeless styles that will last.
Jewellery matters. But people and planet matter more.
To summarise, jewellery matters. It matters culturally, sentimentally, expressively, symbolically, artistically and more. All of these important values are part of what makes being human so special and immersive. Without these creative values, much of our individual and collective identity would cease to be.
Truthfully, there is no 100% perfectly sustainable or ethical way to consume jewellery (yet!). But that doesn't mean that we can't make better, more informed decisions in the meantime. As consumers and wearers of jewellery, there are things we can do to preserve our pieces durability, longevity and all whilst looking out for human and environmental welfare.
Investing in ethically made, quality, timeless pieces, crafted with love and care, that you intend to keep forever (and maybe pass on as an heirloom) is the best place to start. Looking after our jewellery and repairing pieces if they break (made even more easy to do thanks to brands like the ones featured above), by making using of repair services is also another great option.
In the words of Vivienne Westwood, buy less, choose well, make it last.