"Alexa, play Solar Power by Lorde on Spotify". Great! Now we've got the perfect accompanying summer song, let's jump right in!
When it comes to solar power, there are probably a few things that spring to mind, the sun (obviously), solar panels, solar farms, the song Solar Power by pop singer Lorde? How about watches? But before we get ahead of ourselves, time for a mini science lesson.
What on Earth is solar power?
According to the US Office of Energy Efficiency & Renewable Energy, the amount of sunlight that strikes the Earth's surface in an hour and a half is enough to handle the entire world's energy consumption for a full year! That's worth capturing, so, solar technologies convert sunlight into electrical energy through photovoltaic (PV) panels that concentrate solar radiation. This energy can be used to generate electricity or be stored in batteries or thermal storage.
Solar power is one of several forms of renewable energy sources, in which greenhouse gas emissions are entirely omitted, once set-up and in operation.
Solar power is also biologically fundamental for life on Earth. Whilst we seek to harness the sun's energy to power our gadgets, homes, transport, cities; our future, it's worth remembering that all life on Earth is solar powered. Plants need sunlight to grow. Animals, including humans, need plants for food and the oxygen they produce. Without the sun, Earth would freeze, there'd be no winds, ocean currents, or clouds to transport water.
When we really appreciate how intertwined solar power is with every aspect of known life and our modern livelihoods, it seems only fitting that we continue to harness and mirror the sun's life-giving energy into more aspects of modernity.
Why on Earth do we need solar power?
Despite the high-level academia often surrounding the scientific and technological conversations of renewable energy, the reason as to why we need it is actually very simple. Since the industrial revolution, we've relied primarily on burning fossil fuels (like oil and gas), to produce our energy.
However, it should be a shock to no one, that burning fossil fuels is having a devastating impact on our planet, with the release of toxic greenhouse gases, resulting in the quickly deteriorating climate crisis. Clean and renewable energy alternatives, such as solar power, are not just desirable, they are essential if we are to have hopes of reversing the effects of climate change and allowing humanity to keep progressing forward with creating, innovating, exploring and discovering. After all, it is these attributes that make humanity so unique, our innate pursuit of survival, curiosity and progress. Speaking of innovation and progress…
A few years ago, university friends Samuel Leroux and Alexandre Desabrais embarked on a journey to find a business idea that would have a positive impact on the world we live in. Watch lovers at heart, they spent a lot of time analysing the sector. This analysis, combined with their curiosity, their passion and their burning desire to have a meaningful impact on the world, made them realise that it was time to challenge the status quo of an industry anchored in overconsumption…
1. It all started in Montreal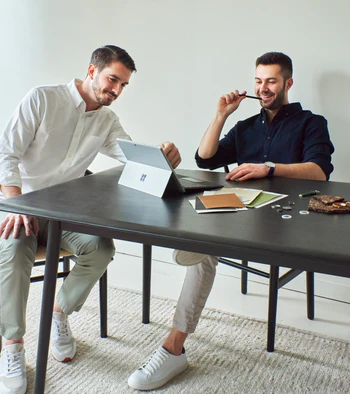 Sam and Alex, two Montreal-born university friends, decide one night to watch Before the Flood, a documentary on climate change. This is a life changer: entrepreneurs at heart, they realised that they need to create a business that would have a positive impact on our world and challenge our current life habits and industries.
2. Hello Greece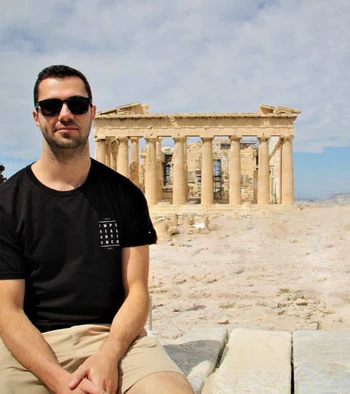 The light bulb moment came somewhere between Paros and los. The founder noticed how minimalistic fashion was increasing in popularity. Being watch fanatics since their young age, a product idea emerges under the bright Greek sun: a statement accessory that would combine minimalism, sustainability and solar technology.
3. Researching Materials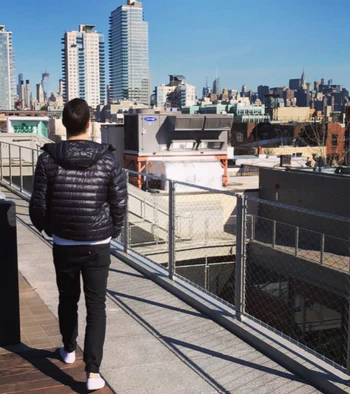 In the heart of trendy Brooklyn, Alex and Sam discover a unique material that wasn't really used in fashion; silicone-based leather. This fabric was revolutionary as unlike many plastic-based vegan leathers, that were commonly utilised in fashion at the time, this material was a far more eco-friendly alternative.
4. The Solar Technology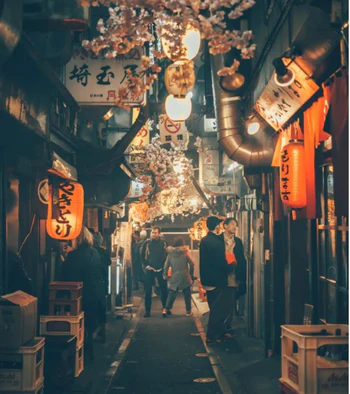 Because they wanted the best for their watches, the founders flew all the way to Japan, where the first quarts timepiece was created. Surrounded by experts in the field, they discover how solar technology works and how it could be applied to a watch. They leave the country elated: after all, they now had the necessary pieces to start creating and manufacturing Solios watches.
5. Meeting New Experts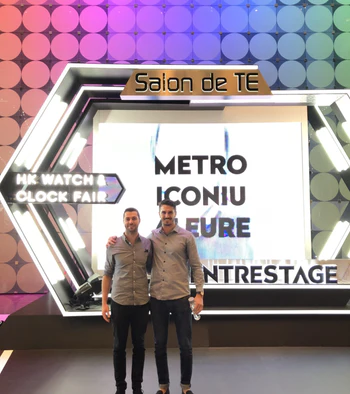 A few months later, after realising how complex their idea was, Alex and Sam go to their first trade show, where they meet partners from all around the world. Their new networks gets them excited: these experts could help them build solutions to turn their idea into a reality.
6. Kickstarting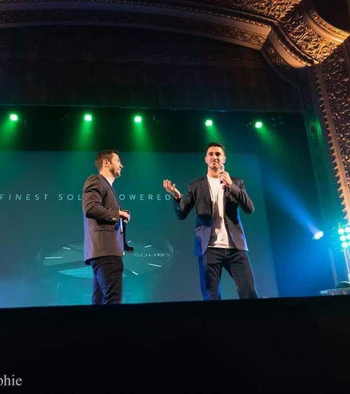 Two years after watching the documentary that changed their lives, they launched a Kickstarter campaign in Montreal in front of 550 guests. Their concept was massively supported by their peers: in one night only, they get three times the campaigns targeted amount- without any marketing investment.
The founders surmise their journey and mission fondly: "We decided to rethink the traditional watch and to infuse a touch of innovation and disruption by going back to the source – the Sun. Immutable over time, it's always been a powerful source of energy, and will make the world of tomorrow shine even brighter."
A fellow B Corp
Those of you who have been familiar with Veo for a while will likely know that we are B Corp Certified. A credential we wear proudly. Well, as it happens, Solios is a fellow B Corp organisation. Solios was created from a burning desire to make the world a better place and proudly gets to boast that they were the first watch company to get the certification.
A wearable marriage of solar, sustainability & beauty
Solios say the rule is simple: wear the watch, then forget about it. Go on about your life and enjoy every moment without thinking about charging your watch or having to replace a battery. Wear your Solios proud and loud, and it will do the rest for you.
To make things even easier, the solar technology works with any light. So whether you are out and about under the sun getting your tan on or inside your office building all day preparing for a big presentation under neon lights, you are good to go.
No matter your personal style, they have timeless and statement designs to suit all tastes and preferences. You can find a few of Solios best sellers below.
Classic styles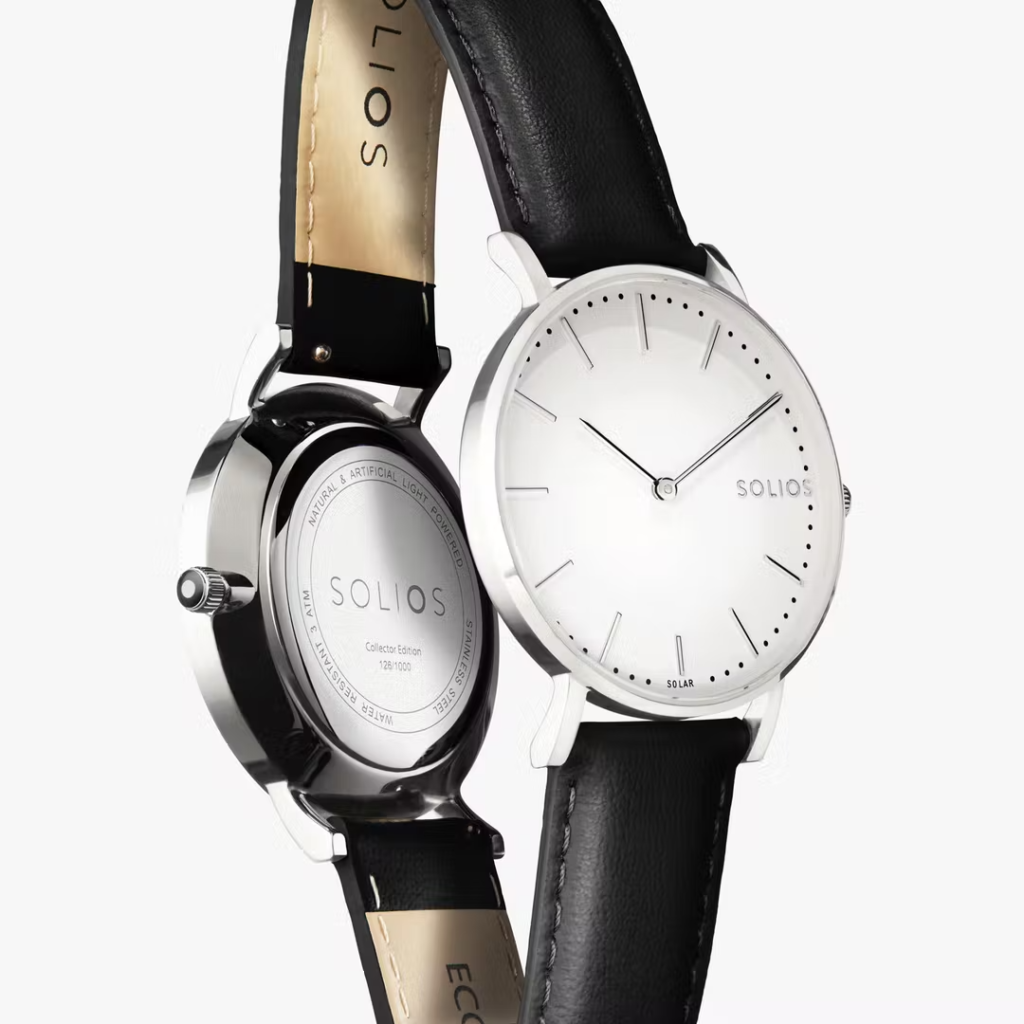 For truly timeless time pieces, these vegan leather, white face watches are a go-to. For any outfit, any occasion, these solar pieces will compliment your look.
Statement styles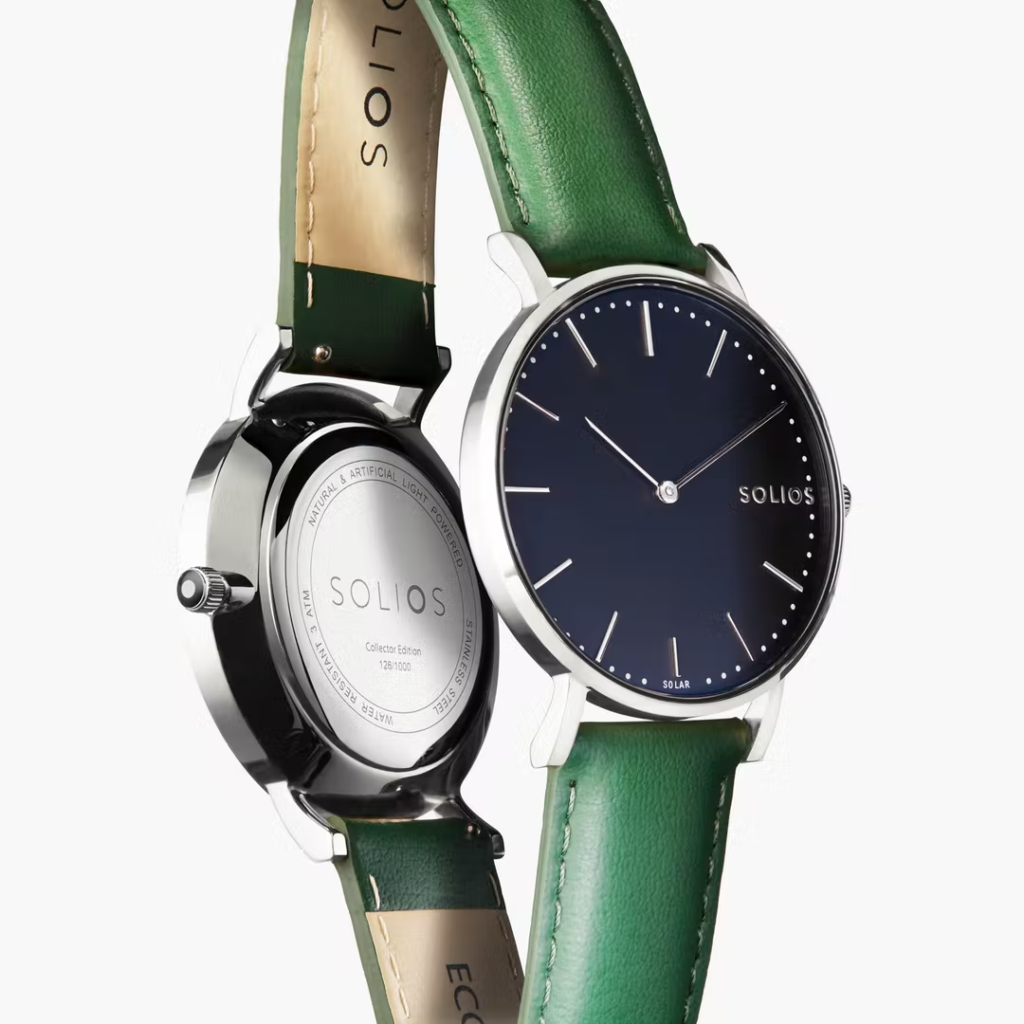 For the bolder amongst us, opt for luxurious and indulgent colours, from British racing green, to electric azure blue, contrasted against a dark-toned face for a guaranteed fashion statement.
Mesh straps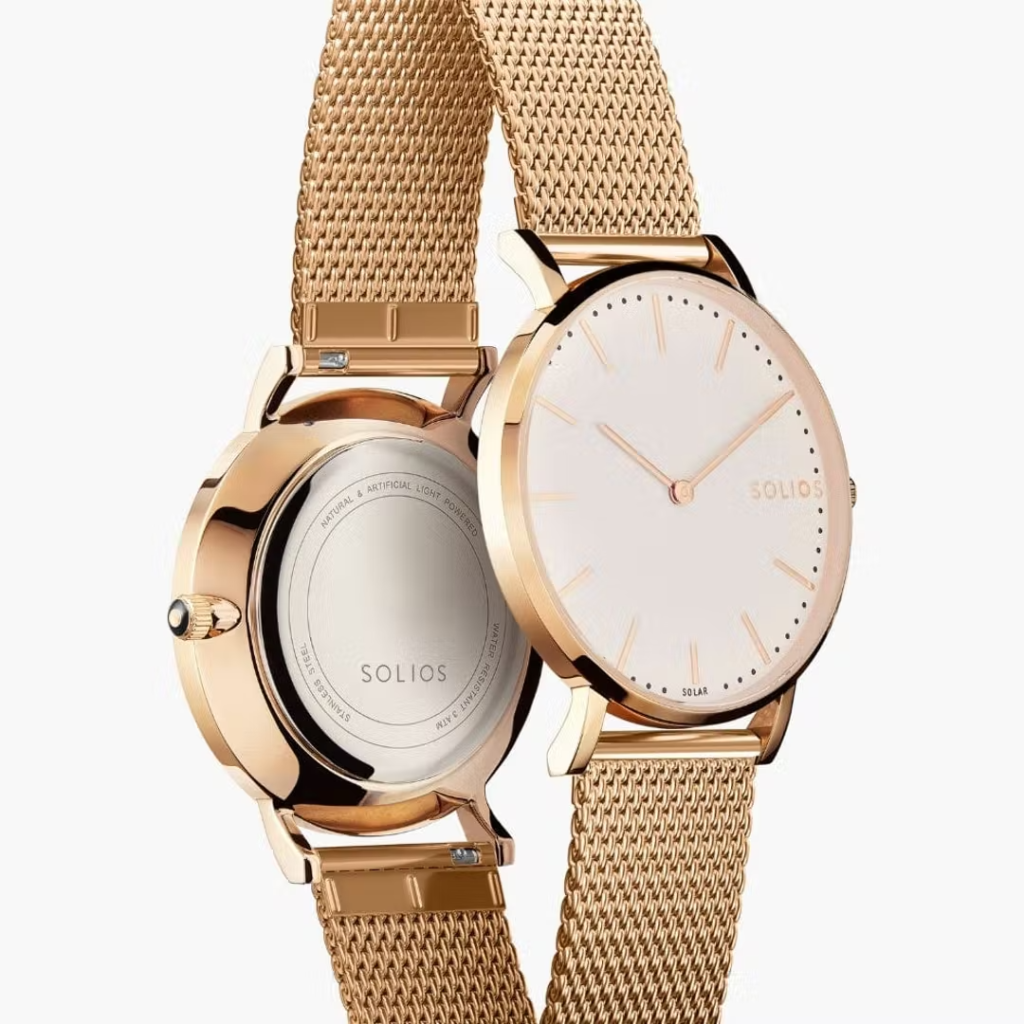 If more bling is your thing, these mesh strap Solios are sure to do the trick. The thick mesh metal strap and clip attachment allows the bracelet to perfectly fit any type of wrist.
Bundles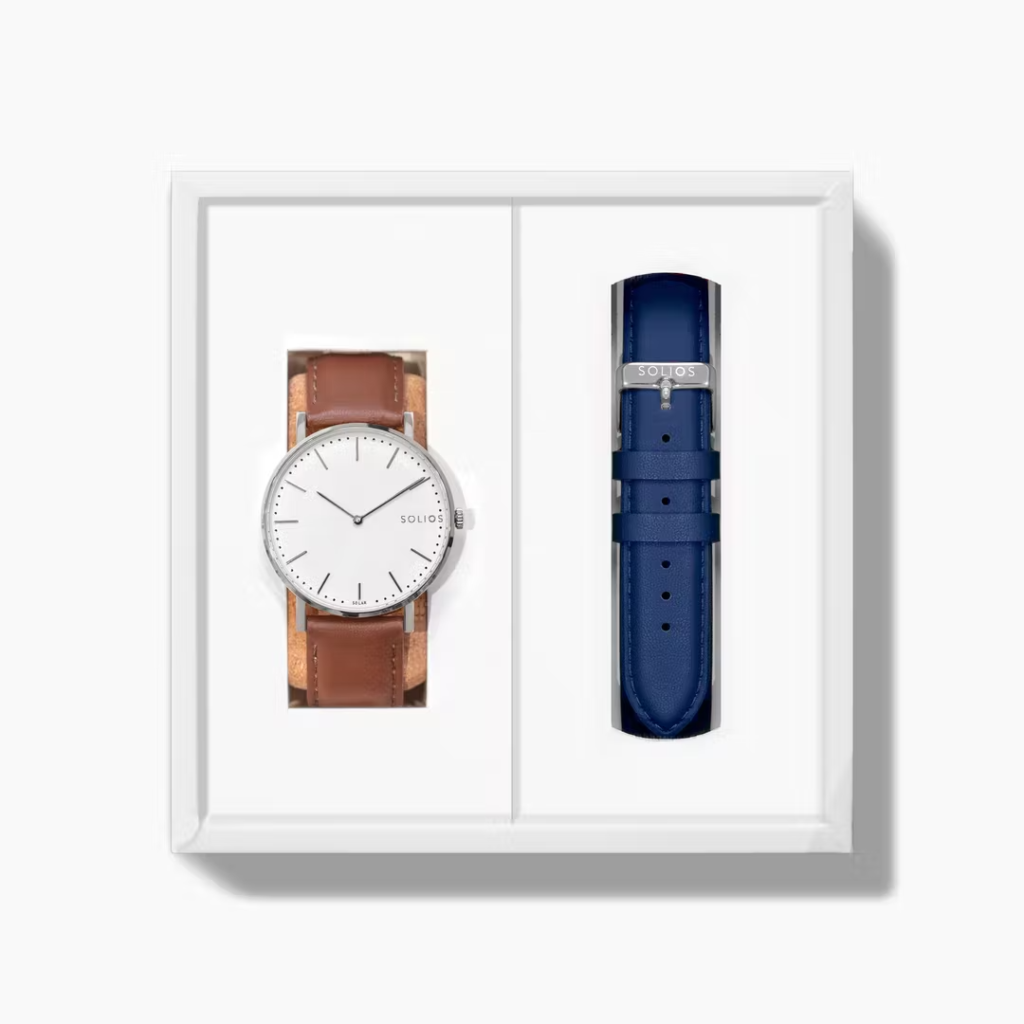 Can't decide on a single strap? Then don't! Solios straps are interchangeable and they offer bundles of beautifully complimenting watches and straps.
Good to know
With solar power watches, you can officially let go of the times when you would have to bring your watch to a jeweller to get a battery changed or for an annual maintenance check up. No more time-wasting and no ore planned-obsolescence. Your planet – and your wallet – are thanking you. Solar power is proving itself to be a game changer not just in energy, but technology and now fashion too. For that optimistic news, a celebratory outro tune is in order, "Alexa, play Here Comes the Sun by The Beatles on Spotify…"
Click to shop the full range of Solios solar watches, straps and bundles.