After having enjoyed a couple of times eating in V Revolution at its original location on Oldham Street, I recently ventured to its brand new improved premises at Edge Street in the heart of Manchester's Northern Quarter.
I knew I was in for a treat when I saw their new catchphrase "Burgs Bakes Booze – All plants – No Pain."
V Rev Vegan Diner in Manchester
It's 6 o clock on Tuesday 6th Dec about a week after their new opening when I arrive, and I'm psyched, looking forward to a huge "dirty burger" ! Whilst it is #VegFestUKAwards2016 Best Vegan Restaurant 2016 it doesn't mean nice clean "rabbit food", these guys are here to make seriously tasty junk food indulgence!
It's pretty busy when I get there, and the bar guy tells me it might be a 30-40 minutes wait by the amount of diners in the front room bar area… but after a quick 10 minutes I get a table (table for one #win)!
The Menu
I take a look at the brand new menu and realise it's going to be a tricky decision to choose.
But I'm already salivating by the look of the trays of food coming out of the kitchen, and I'd already perused the menu while I waited for my table- so was ready to order..I'd spotted the 'Barbecute without the E' from the Beefy Burgers section, with a beefy patty, cheez, pulled porq, chipotle cola bbq sauce, coleslaw, and onion rings.
Yep, one of those, and a side of Mac & Cheez.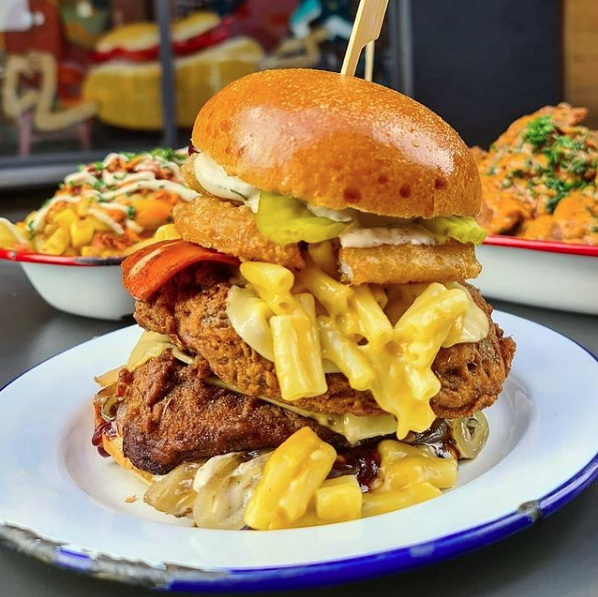 Amongst the other delights to choose from is chikn burgers, hotdogs, lobsta, loaded fries, full range of alcoholic beers and cocktails, shakes and desserts. The menu tells me:
We hand-form our beefy patties in-house out of seitan (or a gluten free alternative) and soy. Our homemade fried chkn seitan is triple dipped in buttermalk, breaded and deep fried. And yes, absolutely everything on the menu is 100% vegan!
Then it arrived…
In a small basket with fries my towering monster arrived, laden with all the porq, onion rings, cheez, coleslaw, patty with a basket of french fries. It looked a challenge, but one that I was ready for!
In order to get the whole thing in I had to first eat the onion rings, and once I had tackled the logistical issue I could fit the whole thing in for the first bite. And it was glorious.
Just what you can imagine from a good old-fashioned burger joint, and like something resembling an episode of Man v Food*, this is not trying to be anything but a downright tasty junk fest- but a plantbased one at that! (*Incidentally, Man V Food host Adam Richman has since turned vegan in 2015 after leaving the show, citing health problems linked to meat eating. Well Adam, you should get yourself down to V Revs for all your favourite burgers without the cholesterol and saturated animals fats! It's a win-win .
Friendly Staff
Overall it was a brilliant experience, awesome food, friendly staff, and cool premises with their yellow branding and retro wall art and memorabilia.
Owner Dom Moss and the team have seriously outdone themselves in the move from the Oldham street venue, as now everything is bigger, better and more delicious.
The new menu is so good, even my non-vegan mates want to go! [EDIT: and as of January 2017, after a surprise council inspection, they now hold a 5 Star Food Hygiene Standard for their kitchen and in-house bakery.
Whether you're veggie or not, if you like your burger joints this place is definitely worth a visit. From speaking with others who've been it looks like it has been a rave with vegans and meat-eaters alike. And it even led popular vegan blogger @FatGayVegan to declare in his "sweeping" but no less salient proclamation
"The new @vrevmcr is the best #vegan restaurant in the UK and I'm confident in saying it is in the top 5 vegan restaurants on Earth. Flawless food, a giant killer wine list, craft beer menu (bottles, cans and draught), shakes made with soft serve, stunning desserts made in house, righteous artwork everywhere inside, gender neutral toilets, vegan condom dispenser, tampon vending machine, hardworking servers, kitchen staff who are running to keep the food fresh and the nicest business owners you could ever hope to meet. This has catapulted the UK vegan scene forward about 10 years."

– @FatGayVegan, Instagram


Have you visited this place before?

Let us know your thoughts in the comments section below we would love to hear from you.

All the best,

Sarah