The ongoing e-waste crisis is an issue rooted in modern living. Whilst technology has improved our livelihoods in countless way, it's also had a knock-on effect on our planet. As technology is cemented as a modern essential, it's vital that we are conscious about what are devices are made from and how they're discarded after use, even when it comes to something as humble as a charger.
According to the European Parliament, unused and discarded chargers add up to about 11,000 metric tons of e-waste in Europe annually (The Verge, 2022)!
Syllucid, offer a simple yet profound solution. One USB Cable for all devices, that charges everything while prioritising sustainability. From using recycled minerals to designing for longevity, Syllucid reduces energy consumption, raw material usage, and emissions. Join us as we get to know better the brand and this huge win for the future of sustainable tech…
What's the inspiration and story behind your brand?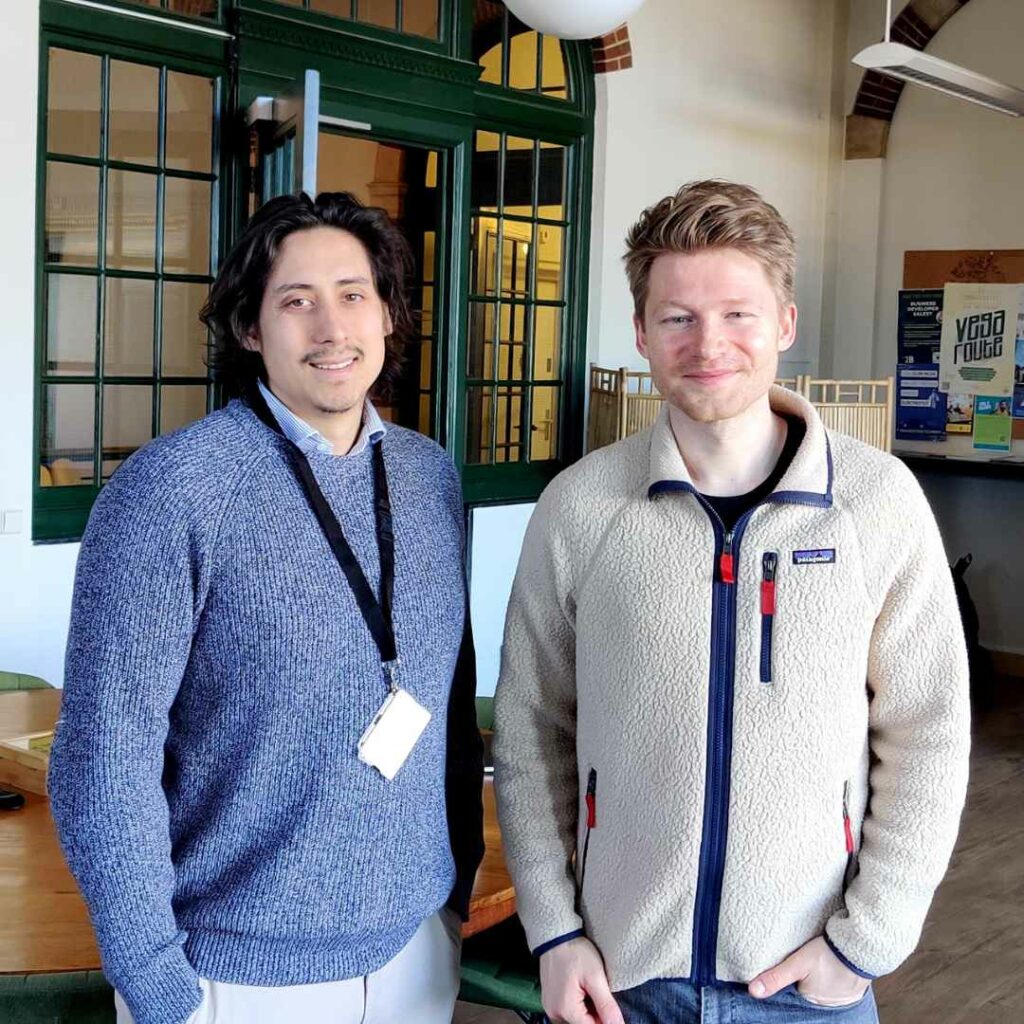 The idea for better USB cables came to life in 2020 when founders Andrew Appleby and Fabian Hühne — who met working at Fairphone — became frustrated with the damaging electronics in unloved segments of the industry, like poor quality cables that break easily. The longer electronics work and the more recycled and fairly sourced materials, the better they are for people and the planet.
Syllucid is dedicated to producing fair, sustainable and long-lasting electronic products. We started this company to give consumers responsible alternatives, to show the true cost of electronic products on the planet, and to work towards reforming our industry.
Our products are a magnifying glass on the electronics industry. By researching their supply chains, they show us what challenges the industry is facing and how they can be solved.
There are serious labour and human rights issues in consumer electronics supply chains with unfair pay and unsafe conditions for miners and workers.
Plus consumer tech has high emissions contributing to global warming, environmental destruction in supply chains and short product cycles creating e-waste and increased demand for raw materials.
Our work is creating change from the inside out, as an example and creating change in the supply chain. We are working with industry partners, sales partners and manufacturing partners to transform the supply chain. For example, we created the first cable to support Fairtrade Gold.
How does your brand mission align with current cultural movements and societal needs?
The world is facing a real climate crisis induced by excessive industrial activity. Sadly, the electronics industry has a large carbon footprint and a damaging impact on the environment, from metal mining from the earth for production through to electronic waste in landfill.
At the same time, our appetite for electronic devices is putting pressure on the planet.​​⁠⁠ With nearly 7 billion smartphone users in 2023, there will always be a demand for new technology. It's crucial that we improve the way we mine metals, use recycled metals and recycle our tech to reduce environmental damage. ⁠More and more, people are choosing to shop based on brands that are doing good, with a particular focus on fashion and food. But the electronics industry has less visibility. So we're raising awareness to help people choose better electronics.
Have your brand mission and values evolved at all since you first launched?
Our values have held true since we first began. Our mission is to create a world where economic, social and environmental aspects can sustainably coexist and flourish. We encourage conscious production and consumption through trust, transparency, accountability and innovation. That's where the name Syllucid comes from: Syl (together with) + lucid (understanding and transparency).
That means creating meaningful, impactful and positive change by giving people the power to make a difference and being the leading manufacturer of responsible and sustainable electronic products. We want to become the Patagonia of consumer tech.
Have there been any defining moments or turning points in your brand's journey so far?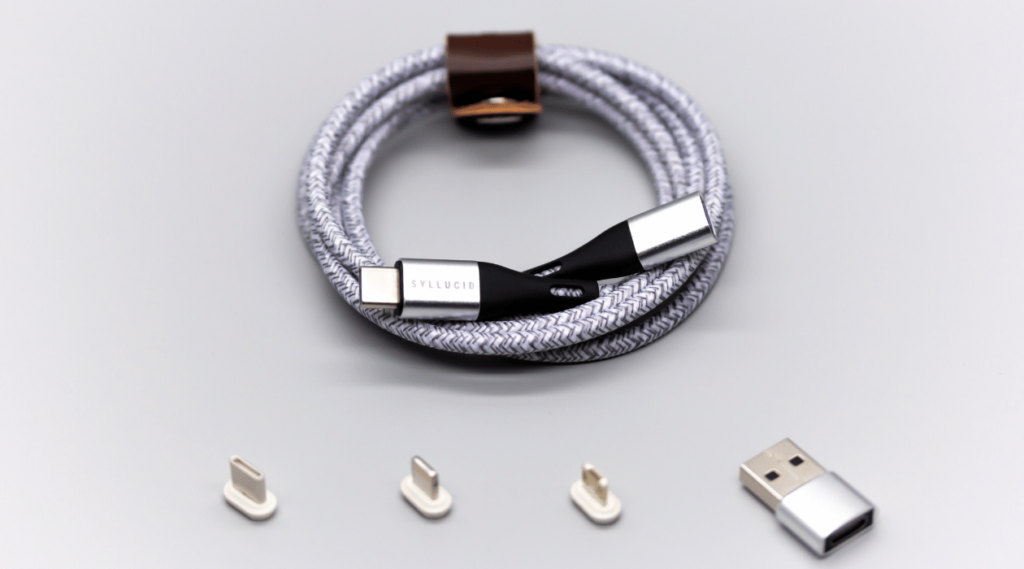 Product launches have been turning points because so much work goes on behind the scenes to develop a more fair and sustainable product with manufacturers. From recycled materials to durable design details, our USB cables are made with the utmost care.
One milestone was the launch of our flagship cable – a modular option so you can charge all devices with one cable – the Syllucid All-in-one crowdfunding campaign where we raised nearly €30k. We're currently launching our Origin Range, which is an affordable charging cable for people and planet, and will be available to buy very soon.
Could you share any testimonials, features or recognition that particularly showcase your brand and its impact?
One of Our Happy Customers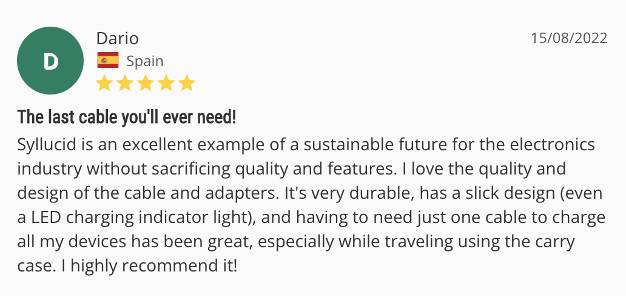 Media Award
We were one of the winners of TechRound''s Sustainability60 Competition 2023 – celebrating the U.K. and Europe's most innovative sustainability companies! 'With hundreds of entries submitted, the top 60 showcase some of the most innovative sustainability businesses across the globe.' Read more at TechRound.co.uk.
Rabobank Innovation Award
Raised €150k loan for our environmental story and business potential.
Workplace
We work from the SDG House in Amsterdam, where recognised sustainable businesses share office space to work towards Net Zero in 2030.
As you're on Veo, we know that you're an ethical and 100% vegan-friendly business. Could you expand more upon the sustainable practices and initiatives you prioritise and implement?
A charging cable has many parts, meaning it has a much more complex supply chain than, say, chocolate. Our focus is on responsible sourcing, recycled materials and durable design because we believe in a world where electronics are made with care for the environment and are fair and safe to the people in the supply chain.
Five ways we make our tech more sustainable and fair:
♻️ Recycled materials
Using recycled materials saves carbon emissions and the earth's natural resources. Recycling materials like plastic and aluminium, and using circular design practices reduces e-waste, environmental damage from mining metals and CO2 emissions. Plus our cables are easier to recycle, too.⁠ Our circular materials reduce CO₂ pollution by approximately 80% compared to new-material cables. All Origin cables are made responsibly in a carbon neutral certified factory.
🌎 Fair minerals
By using conflict-free tin solder wire and integrating Fairtrade Gold to the supply chain, our charging cables don't contribute to war. It also means gold miners have more safe work, fair pay and can build a secure future for themselves, their families and communities, as well as protect their local environment.⁠
💪🏼 Designed to last
The longer your electronics work, the less e-waste and resources used, the better for the planet. High quality, durable materials and design practices like adding bend protectors, woven braiding, thicker conductor wires and 10k bends ensure the charging cables break less and work for as long as possible. Our Origin cables come with a 5-year warranty so you can keep it for a long time, save money and reduce e-waste.
🌱 Regenerating nature
We are investing in an agroforestry project in the Peruvian Amazon with PUR Project. Re-forestry helps to heal an ecosystem that is being devastated by mining and provides an income to local farmers, taking a holistic approach to making supply chains fairer and more sustainable.⁠ 5% of profits from every cable are donated to agroforestry in the Peruvian Amazon where it is particularly affected by illegal deforestation for gold mining. Our partner PUR supports cocoa and coffee farmers in Peru.
💡 Design innovation
How can we improve how we use charging cables? One way is modularity with one single USB cable to charge all your devices with universal and swappable magnetic connectors. This reduces the number of cables needed, and overall impact on the planet.
Have you faced any challenges or obstacles in becoming sustainable and if so, how did you overcome them?
One of the biggest challenges was finding suppliers and manufacturers who share the same vision to make tech in a sustainable way. We work closely with our industry partners like Stannol to improve production and our CEO Andy went to visit our factories and tech fairs in Shanghai recently where our cables are made responsibly.
How do you plan to improve upon your sustainability and evolve the brand story in the future?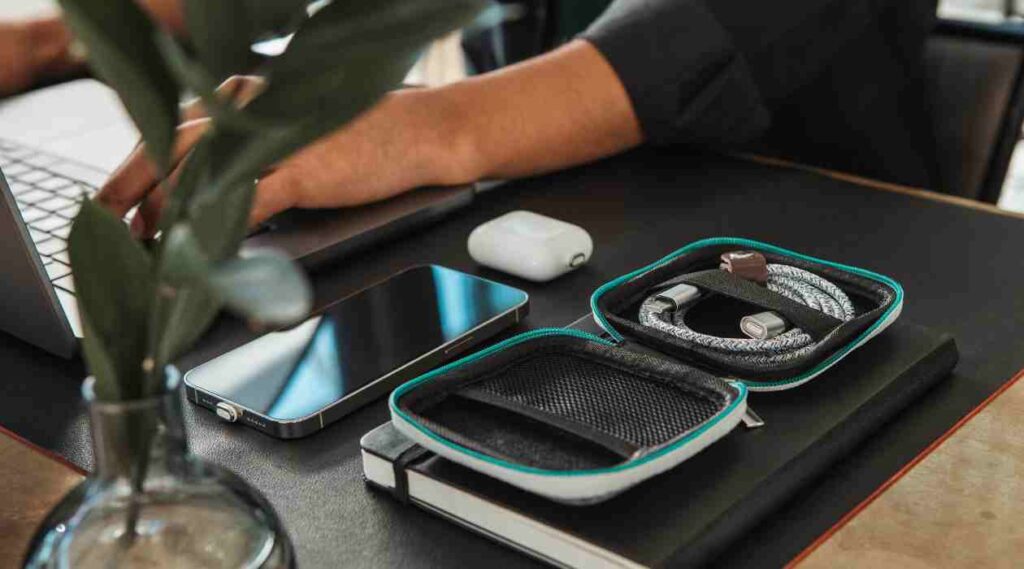 We believe in the power of an ethical electronics industry. We are reforming our industry from within by raising awareness, creating best practice examples and motivating industry peers to follow our charge. In doing so, we work towards making greater accountability, more sustainable materials, better working conditions, fairer pay and durable products the norm. We make progress with every product. And we will continue to grow our range in the coming years so stay tuned, tell your friends and thank you for supporting our small business with a big vision!
Power up your sustainability game with future-proof charging solutions from Syllucid.